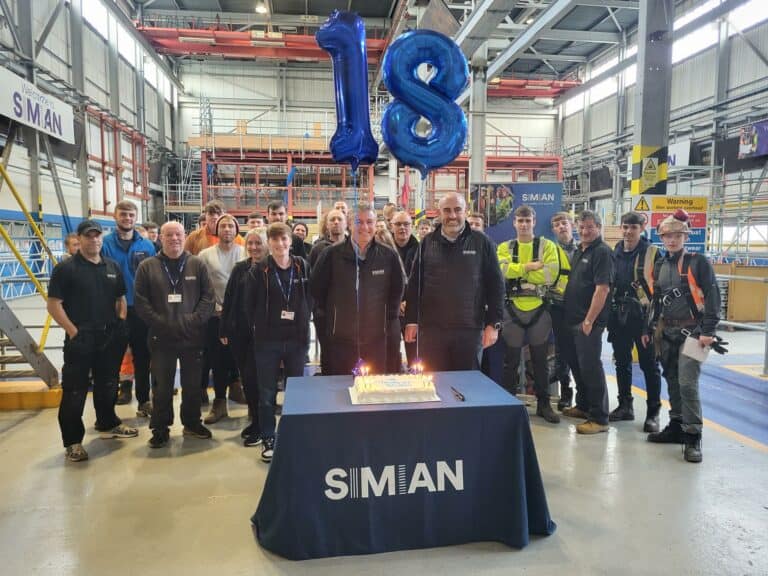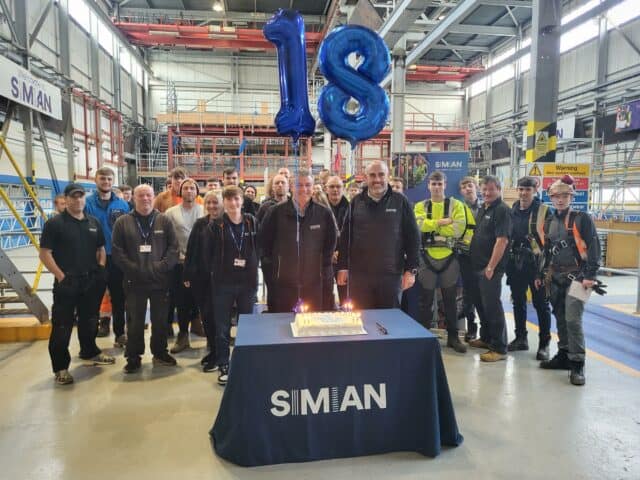 In a celebratory milestone, SIMIAN, a leading name in the construction training and support services sector, proudly commemorates its 18th anniversary this month, marking nearly two decades of successful operations and invaluable contributions to the scaffolding industry.
Founded in November 2005 by Simon Hughes and Ian Fyall, SIMIAN was established with the vision of revolutionising the Safety Consultancy market by offering specialised advice tailored to the scaffolding industry. Since its inception, the company has charted a remarkable journey characterised by rapid growth, an expanding customer base, and a commitment to excellence in its services.
A pivotal moment in SIMIAN's history occurred in 2007 when the company opened its Warrington training centre and SIMIAN Headquarters. This milestone marked the beginning of a period of expansion and innovation. In 2019, the Weston-super-Mare Centre was established, followed by the LASC in Leytonstone in 2021.
One of SIMIAN's significant achievements has been developing its scaffolder apprenticeship program in 2008. This program has since grown to become the largest scaffolder apprenticeship provision in the UK, reflecting SIMIAN's dedication to nurturing and developing the scaffolding workforce of the future.
Dave Randles, who initially served as a specialist scaffolding Health and Safety Advisor on a consultancy basis, was promoted to the Board in 2008, a testament to the company's commitment to nurturing talent and expertise within its ranks. This growth continued with the addition of Commercial Director Jackie Thomason, leading to a dynamic and experienced leadership team.
Throughout its journey, SIMIAN has steadfastly pursued excellence in all facets of its operations, setting industry standards and continually raising the bar. Whether it's delivering top-notch training, offering consultancy services, or managing apprenticeships, the company has consistently aimed for the highest standards.
Reflecting on 18 years of success, SIMIAN's Managing Director, Simon Hughes, stated, "I am most pleased with the positive impact SIMIAN has had, and continues to have, within the Scaffolding industry. We've had a part to play in changing the industry for the better, and I am confident that the work we have done over the years has played a part in saving lives in the industry."
Hughes also noted that many specialist Health and Safety litigators now recognise SIMIANs as the go-to organisation for expert witness services, which is a remarkable endorsement of their expertise. Additionally, the company's consultancy and training services are regarded as some of the best in the UK, a source of immense pride for the team.
In acknowledgement of the pivotal role played by its dedicated and professional team, Hughes expressed his gratitude, stating, "Our journey could not have happened without our dedicated and professional team, and I would like to say a special thank you to them all. We have always been dedicated to helping people develop and grow, and this has been a key to the success of the business."
Today, SIMIAN boasts a team of over 80 members across three dedicated training centres and field-based advisors and coaches in the UK. The company has supported more than 150,000 learners and numerous commercial customers over the years. Remarkably, some of SIMIAN's first customers from 18 years ago, including Allied Scaffolding and the ALTRAD Group, continue to rely on SIMIAN's services today, a testament to the enduring quality of their offerings.
Looking to the future, SIMIAN is enthusiastic about further growth and exploring opportunities to expand into other disciplines and industries. As they celebrate 18 years of excellence, the company remains a beacon of innovation, expertise, and dedication in the scaffolding industry, poised for continued success and impact in the years to come.