TWO building firms involved with the construction of the Radisson Blu hotel face huge fines after an accident left a worker with severe brain injuries.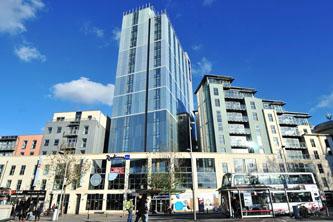 Richard Chodkiewicz, 53, now needs 24-hour care for the rest of his life after a scaffolding pole being used as a makeshift plumb line fell 15 storeys down a lift shaft and hit him in the head in July 2008.
Bristol Magistrates' Court heard that the 7lb (3.7kg) pole was being used to measure the shaft when a line holding it – made of either plastic or piano wire – broke and it fell to the shaft pit.
Mr Chodkiewicz, who was wearing a hard hat at the time, suffered a "catastrophic brain injury" that required part of his skull to be removed.
He spent six weeks in intensive care and was then transferred to the brain injury rehabilitation unit at Frenchay Hospital.
Prosecuting on behalf of the health and safety executive, Dale Collins said the accident had completely changed the lives of Mr Chodkiewicz and his family, who are receiving counselling.
He said: "This has had a devastating effect on Mr Chodkiewicz and also his five children and grandchildren. He now requires 24-hour care and is unable to work."
Reading a statement from his family, Mr Collins said: "Richard can't be left alone because he is always at risk, and he needs help with all aspects of daily living. Richard is very childlike in his abilities and needs prompting for all basic skills."
Yesterday Hoistway Limited, Mr Chodkiewicz's employer, pleaded guilty to failing to ensure the health and safety of an employee.
Miller Construction, the main contractor on site during the transformation of the former Bristol and West office block, also pleaded guilty to failing to ensure that a person was not exposed to risks while undertaking the installation of lifts.
Mr Collins told magistrates that Hoistway had failed to provide adequate risk assessments and did not identify hazards; that using a piece of scaffolding was not standard equipment checked by a competent person and was improvised; that there was inadequate site management and supervision, and that there was inadequate protection against people or objects falling.
He said that Miller Construction had carried out insufficient risk assessments, had left openings unguarded and at risk of falling objects, and had not fully checked and failings in Hoistway Limited's risk assessment.
Defending Hoistway, Ben Compton said it "accepted unequivocally" failings in a duty to its employees.
He added: "The offence was not a deliberate breach of the law. It was not reckless, but careless."
Simon Antrobus, for Miller, said the company's role was of "overview and monitoring", adding that its culpability in the case was "relatively low".
Magistrates said the two companies had failed in their duties "to a significant degree" and ordered the pair be sentenced at Bristol Crown Court, saying that their own powers, to impose a maximum fine of £20,000, were insufficient to adequately punish the firms.