A scaffolder and bricklayer who are Bristol City fans threw punches at Leeds United fans have been banned from all matches for three years.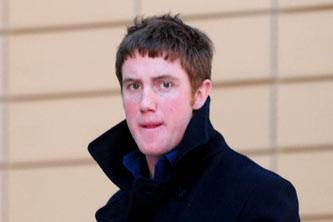 The pair were arrested by police shortly after City lost to Leeds United at Ashton Gate last month.
Both have been ordered to pay £200 in fines and costs.
Both men, from Shirehampton, pleaded guilty at Bristol Magistrates' Court yesterday to using words or behaviour with intent to cause fear of unlawful violence, after swearing and throwing punches at Leeds supporters after the match.
Scaffolder Francis Lloyd, 21, of Penpole Avenue, and Bricklayer Joseph Burns, 19, of Nigel Park, appeared separately in the dock.
Avon and Somerset police football officer Roger Thayer was present for both cases and successfully applied to the court for the three-year banning orders to be imposed on the men.
Lloyd, who was known to the police, ran across Winter- stoke Road and "threw a number of punches towards Leeds fans", prosecutor Gareth Giddings told the court.
Police officers were only about 20 metres away and quickly arrested the 21-year-old scaffolder to prevent further attacks or reprisals as they escorted the Leeds fans away from the stadium shortly after 5pm.
The scaffolder was fined £100 and ordered to pay a victim surcharge of £15 and costs of £85 by presiding magistrate Roger Dunster. Burns was given an identical sentence.
Mr Giddings told the court that Burns, a bricklayer who lives with his dad, was arrested at around the same time after walking towards a group of around 30 Leeds fans "with arms outstretched and clenched fists", swearing and shouting at them.
When he was about five yards away from the group Burns leaned forward and threw a punch, missed and started to square up to the group again before police officers close by arrested him, said Mr Giddings.
Burns apologised to the court and added: "It was really stupid."
The pair are now banned from all organised football matches in the UK.