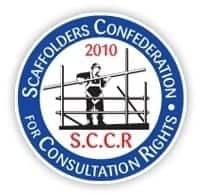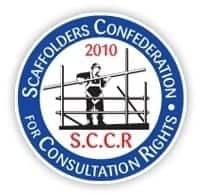 The SCCR (Scaffolders Confederation for Consultation Rights) today released a statement with a shock announcement that the confederation will be closing permanently at the end of this month (September 2013)
The statement released reads:
It is with great regret that I must inform you that the Scaffolders Confederation for Consultation Rights will be closing permanently on September 30th 2013.

The Scaffolders Confederation for Consultation Rights has worked hard to represent the whole of the scaffolding industry tackling issues regarding training, guidelines, clarity on the way work is undertaken, and becoming recognised as skilled tradesmen.  Over the years we have worked with companies & individuals alike. The SCCR has made ground on quite a few issues that have affected all of us.

However, due to the pressure & the need to work full time on representing the membership the committee have made the reluctant decision to close the organisation. This is not a decision we have made lightly, and the committee would like to thank you all for your continued support and effort over the years.

I have had the opportunity to meet with The Scaffolding Association, and discuss with them their aims and objectives. They were open and honest, and I believe that they will be able to continue with the work that we started. I am fully supportive of what they are trying to achieve within the industry.

You can contact them through their website:http://www.scaffolding-association.org/

It has been a pleasure to work with you all.

Stewart Quinney,

Chairman,

Scaffolders Confederation for Consultation Rights
Let us know your thoughts in the comments below.