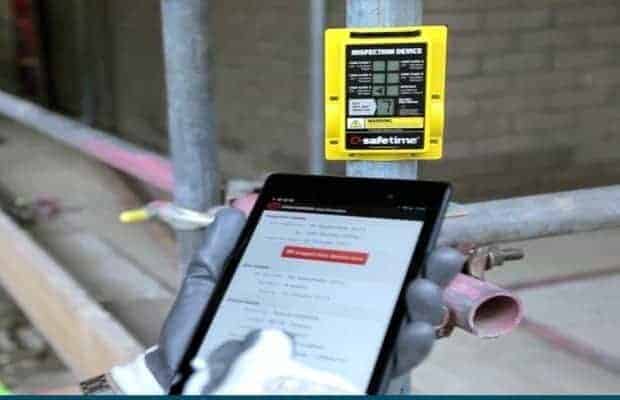 London company comes to market with a revolutionary new scaffold inspection device system.
A new company was born earlier this month with the launch of its innovative product at an event in Kings Cross London.
Using the latest cloud technology the new product is set to bring scaffolding inspection systems into the 21st century.
SafeTime®, the London based firm behind the system have designed the product from the ground up with simplicity as its first priority.
Readers of ScaffMag will know that it is a legal requirement to record weekly scaffold inspections, whereby a scaffold inspector would repeatedly fill in the same old tagging system onsite and then input the same data on a scaffold register. With SafeTime® this process is eliminated as this is all done at the same time using Near Field Communication (NFC) and cloud technology.
With the aid of the SafeTime® app and using an android tablet or smartphone the scaffold inspector can upload inspections instantly to the SafeTime® web portal. With this transfer of information everybody involved can view inspections in real time.
The device which is fixed to the scaffold structure displays the load class of the scaffold and the number of days until the next inspection. Once the device has run over the seven days since the last inspection a LED will flash alerting the user immediately. Along side this an email will have already been sent to the relevant parties to inform them that the inspections are due and reminder emails will continue to be sent until the scaffold has been inspected.

Feedback from SafeTime® clients has been overwhelmingly positive, David Martin, Project Manager at United House said:
"We have been using the SafeTime Scaffold Inspection Device on our project for the past couple of months with effortless ease.  We have engaged our scaffold sub-contractor to use the system and carry out all of the inspections on a weekly basis.  It has been incredibly efficient, once an inspection has been undertaken, anyone of my site team can access the SafeTime online portal and see the inspection information immediately in real time.  In addition should any of the site team see an element of scaffold that looks unsafe, they can immediately decommission the device; everybody will receive email notification informing them that the scaffold is unsafe and should not be used.  I will definitely be using this product on all my future projects."
For more information on this new product please visit the SafeTime® website.