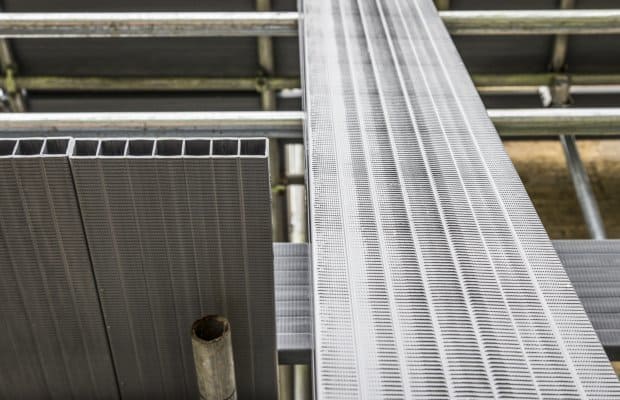 Introducing the F-Board a revolutionary scaffold board that the makers say is set to take our industry by storm.
Made from 100% recycled plastic to the same exacting size of traditional wooden boards. The F-Board is non-slip, constantly lightweight, quick to erect and easy to handle. The question might well be asked "Why hasn't this been done before?" For centuries now wood has been the only mainstream choice for a scaffold board but now at last a worthy successor has arrived.
Wooden scaffold boards have been about for a very long time! Indeed, they were used in the construction of The Great Pyramid of Giza which was completed around 2560 B.C., over 4,500 years ago. Surely it's time to move on? Whilst wood is an incredible material it is also a problem material and each board will have its own characteristic due to the nature of wood. We all know that a wooden board will have knots and irregularities and can warp, crack, splinter, even break. The weight can vary when water is absorbed leading to rot. How many new wooden boards are wasted in the first week, month or year? A casual remark to an experienced scaffolder back in 2006 about using plastic for a scaffold platform has led all the way to the development of the Patented F-Board system.
"Ultimately F-Board is not only better financially but additionally it will keep your site much safer"
F-Board is made from recycled UPVC making it fire retardant and impact resistant as standard. The manufacturing process gives a board that is stronger than wood. It is a consistent low weight so you can confidently load your vehicle and know exactly what weight you are carrying. F-Board has the same dimensions as wood. A Scaffolder can happily step on to a platform with its anti-slip surface knowing that the boards are safe and secure. The unique design of the internal profile means that you get the inherent strength of a manufactured product, ready to be used time after time. F-Board has a life expectancy of at least 2 to 3 times that of wood.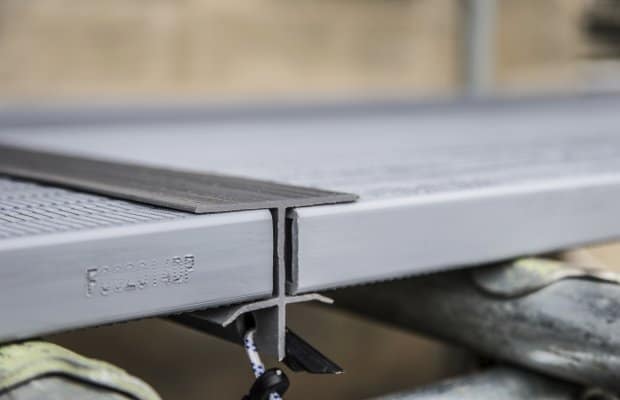 The F-Board system includes a retaining strip which neatly and quickly locks the platform to the ledgers. This retainer can also be used in conjunction with wooden boards during the changeover to using F Board, it also ensures that one of the major trip hazards found on construction sites is eliminated, namely, the end of a scaffold board 'tipping up' when a weight is applied to the middle of the board.
The use of the retainer also adds security in that boards cannot easily be 'borrowed' from the platform to be used elsewhere on the site. Trip hazards caused by warping are eliminated, no more falls through hidden internal rot, no end bands becoming dislodged, and no splinters. The boards can easily be cut to desired length using a hand saw.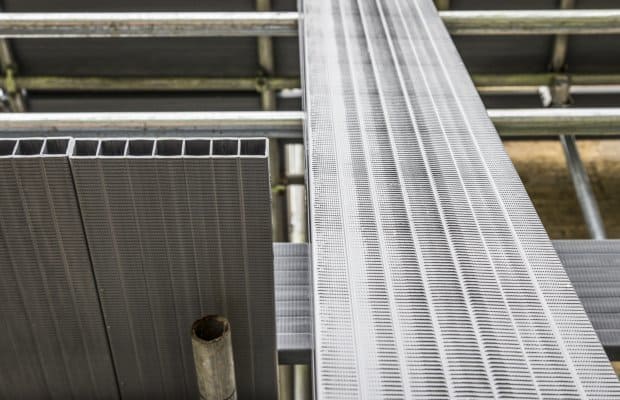 Another major application where this board excels is the specialist requirements sector such as asbestos and precision clean area environments. A carbon assessment comparing F-Board to a wooden board suggests that F-Board has just one-sixth the carbon footprint compared to its rival and at the end of life, F-Board Ltd will buy the boards back and recycle, subject to certain conditions.
So, what's the cost? Taken over a two or three year period for example, a cost comparison analysis clearly shows that the F-Board is the better financial option. The company has also introduced a leasing model which enables the boards to be purchased over time out of cashflow rather than the traditional method of having to pay 'upfront'. Ultimately F-Board is not only better financially but additionally it will keep your site much safer, your company greener, it will give you the competitive edge and make your business more attractive when tendering.
For more information on the F-Board visit:
Website: www.fboard.co.uk YouTube: http://youtu.be/Ohy_N8JYyH8