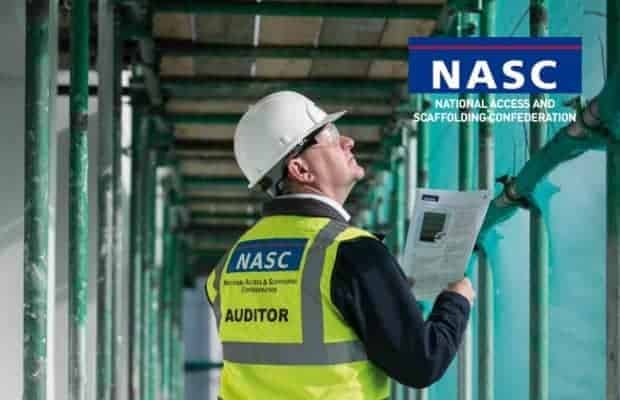 The NASC has launched its 2014 Safety Report which documents the statistics for scaffolding accidents for all (201) NASC full contracting member companies in 2013, covering some 13,749 operatives (estimated to be around 75% of the UK's total scaffolding operatives).
The report is being distributed from the NASC stand at the UK's largest health and safety event, the S&H Expo at London ExCeL, from June 17-19. The report is also available for download from www.nasc.org.uk/safety_reports and hard copies are being sent out to all NASC full and information members and construction industry contacts.
All NASC full contracting members are required to submit a completed annual accident return form as part of the NASC membership criteria. The NASC Safety Report is based on data generated by this exercise:
Injuries and fatalities to operatives, members of the public and third parties
Accident causes and types
Detailed analysis of accidents
Comparison of HSE/NASC accident statistics
What the NASC does to support safe scaffolding practice
In line with current HSE reporting procedures, the 2014 Safety Report now reports on 7 day incidents only. As such, the 2014 report appears to show a marked reduction in incidents, when compared with 3 day reporting, as detailed in the 2013 Safety Report, and previous years.
There were no fatalities to operatives in 2013, although 30 major injuries were reported, and the total number of 7-day injuries was 66.
The 2014 NASC Safety Report showed that there were 15 falls from height in 2013, with the highest reported fall being from 5m. Six reported falls were from scaffolds or working platforms, five of which were from under 4m, with one fall at 4m or above.
The report also highlights that slips, trips and falls (STF) on the same level were the major cause of accidents in 2013, followed by manual handling, falls from height, and falls of materials. This is the tenth consecutive year that STF accidents have been the major cause of injury, amounting to nearly 43% of all injuries reported.
Manual handling injuries have increased from 9 in 2012 to 17 in 2013, which is an increase of nearly 89%. The NASC is keen to reduce this trend, in line with its guidance 'SG6:10 Manual Handling In the Scaffolding Industry' and associated publications 'SG6 training DVD' & 'SG6 User Guide' (both published by NASC in 2013).
When incident and accident figures are analysed by grade of operative, scaffolders suffered the largest number of accidents across all age ranges, totalling 46 (48%). This was followed by trainees 22, labourers 14, advanced scaffolders 7, supervisors 1, drivers 3 and managers 3.
The NASC has identified an increase in the number of 7 day incidents involving trainees in 2013. This is currently under investigation by the NASC Health & Safety Committee.
The highest number of accidents occurred in the 21-30 age group (42%), followed by the 31- 40 age group (18%) which means that these two groups accounted for nearly 60% of all accidents.
Overall the most common injury was a fracture of the hand, fingers and wrists(13%), followed by a fracture of the feet, toes & ankles (10%), sprain to the feet, toes & ankles (8%) and strain to the back.
NASC President, Kevin Ward said:
"It is without doubt welcome news that the long term trend of NASC member companies in terms of standards of safety performance continues to show improvement. This fact backed up by data collated in the NASC annual safety reports is the overriding factor that translates to the coalface, resulting in year on year reductions in not only minor & major accidents but also unnecessary fatalities of scaffolder operatives, third party labour utilising scaffolding structures, and other parties such as members of the public who can also be affected by the activities of scaffolding contractors."
Adrian Rooney, Chairman of the NASC Health and Safety Committee, said:
"The NASC Safety Report shows yet again that the efforts and commitment shown by its member companies, and above all those who work on NASC committees and groups to produce safety guidance, training and associated literature, are succeeding.

"We have, once again, seen a fall in overall figures for accidents/incidents, despite an increase in the number of operatives. But most heartening is the correlation between member figures and those for our industry as a whole, which shows that NASC members continue to outperform the industry.

"The NASC Health and Safety Committee works tirelessly to produce best practice guidance for the industry which is accepted as a major contribution towards making our industry safer for all."
NASC Managing Director, Robin James added:
"Once again, the annual NASC Safety Report has revealed interesting and positive statistics and provided engaging analysis, which can be used to help raise standards and levels of safety in the scaffolding and access industry. The rise in manual handling injuries and injuries to trainees is being looked at closely, and we will be encouraging members to work towards reducing these figures immediately."