Back in 2013 the then new NASC President, Kevin Ward unveiled a grand plan to challenge it's members to create a minimum of 400 new scaffolder apprentices during his two-year term.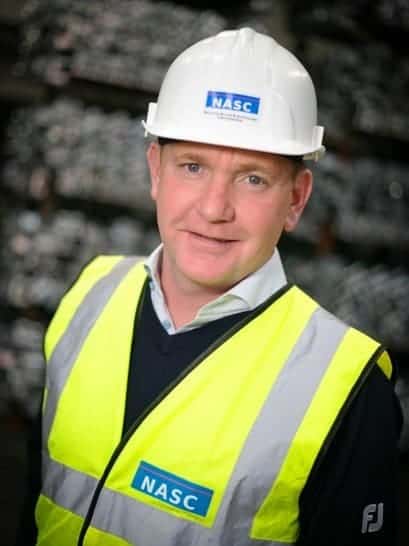 Fast-forward to the present day with just a few months left of his presidency Kevin's challenge is well on target to become a success, not only will our industry benefit from Mr Ward's challenge but The Teenage Cancer Trust are set to receive a minimum donation of £40,000 from participating NASC member companies.
Mr Ward who was a former scaffolding apprentice himself took time out of his busy scheduled to talk to us about his apprenticeship challenge.
Just as a recap please explain to our readers your apprentice challenge you set 2 years ago. How and why did your apprentice challenge come about? Did the NASC feel there was an inherent risk of a national shortage of CISRS trained scaffolders?
"It was an incredible honour for me when I was asked by my peers if I would take up the role of NASC President for a two year term. Indeed it was right up there with one or two of my other proudest achievements in my career within the Scaffolding & Access Industry.  Aside from the day to day responsibilities expected from me in the role of President I decided early on that I would embark on a challenge of sort that could benefit the industry and be the focus of my two-year term".
"Apprentices have always been the life-blood of our industry"
"It was apparent that the first signs of a recovery in the economy were starting to show and it made me reflect on skills shortages that were experienced across the construction sector when we came out of the last recession, when significant numbers of the workforce left the sector for good to seek other work. We were too slow to react to the turnaround in the economy and put plans in place to ensure an adequate supply of skilled labour would be available for our future requirements. With this in mind and having been employed at Scaffold Erection Services Ltd (SES) for many years where we have always been passionate and active in the CISRS Scaffolding apprentices scheme, also coupled with my being a former apprentice scaffolder myself, it was a no brainer for me to create a challenge that would hopefully help to reinvigorate the numbers of apprentices being put through the CISRS Scaffolding Apprentice Scheme by NASC Members – the 'NASC New Apprentices Challenge' was born and a stiff target of 400 new apprentices was set".
"After a short period of reflection I thought that it could also be a fantastic opportunity for NASC members to give some badly needed support to people who have been less fortunate in life and I decided that we would try and raise some much needed funds for the charity 'Teenage Cancer Trust' by piggy-backing some sponsorship onto the the challenge".
How does the recruitment of new apprentices help our industry ?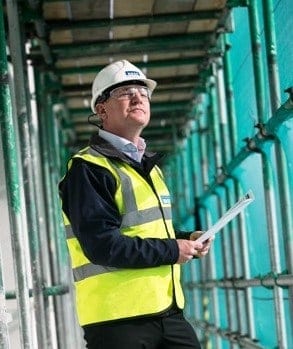 "Apprentices have always been the life-blood of our industry. As demand for training fell through the recent recession, the numbers of new people (especially young people) coming in to the industry followed suit and also declined. It is important that new entrants into the scaffolding industry enter it via a route that will see them properly trained and supervised, ultimately maximising the chances that they will become skilled tradesman becoming a valuable asset to the scaffolding industry and be rewarded themselves with good earnings and job security".
"The CISRS Scaffolding Apprentice Scheme is this 'route of choice,' where excellent levels of support are given and the highest standards of training are delivered whilst all being set within a realistic time frame that ensures highly skilled and motivated individuals are the product."
Nowadays the large majority of young people looking for future careers are overlooking the construction sector. How do you think our industry could improve its image to attract more young people to enrol to become apprentice scaffolders?
"One of the more troubling aspects has been the almost continuous cuts in funding for apprenticeship".
"There has already been significant work and investment on the marketing side by the NASC and many of CISRS approved training centres. However we cannot afford to be complacent, we must continue to get the message out there that the Scaffolding & Access industry is an increasingly professional and safe environment to work in and can offer significant personal and financial rewards to the individuals we are trying to attract".
"One of the more troubling aspects has been the almost continuous cuts in funding for apprenticeships. This has undoubtedly led to a reduction in the number of places made available by the training providers to employers for new apprentices. This is a regular complaint I hear from members all over the country so we must continue to work with other stakeholders and make sure sufficient funding remains in place to ensure our standard setting CISRS apprentice scheme continues to flourish".
With your apprentice challenge set to be a success within the NASC contracting members, would you also urge the wider industry of non-members to lead by your example and continue to employ new apprentices.
"With just under 3 months of the challenge remaining there have been occasions when it appeared that we would not make it to the target number of 400 new apprentices. However at the last count we have very nearly got over the finishing line".
"I have always had faith that the membership would rally and support the challenge and I am delighted and very grateful that they have collectively 'stood up to the plate'. Whilst it is encouraging that NASC members have taken on large numbers of apprentices via the CISRS scheme it has become apparent to me that many non-member companies have also demonstrated a strong commitment to creating the skilled workforce of tomorrow and have also put through good numbers of apprentices through the scheme and they also deserve recognition for this commitment".
"The final icing on the cake will hopefully be that we will have also raised a figure in the region of £50,000 for Teenage Cancer Trust via the very generous NASC member companies who have sponsored the challenge".
"In summary I hope we can continue forward with this positive trend, after all it seems like a win win for all to me – Employers, Training Providers, a charitable good cause and not mention most importantly for me – The Apprentices!"