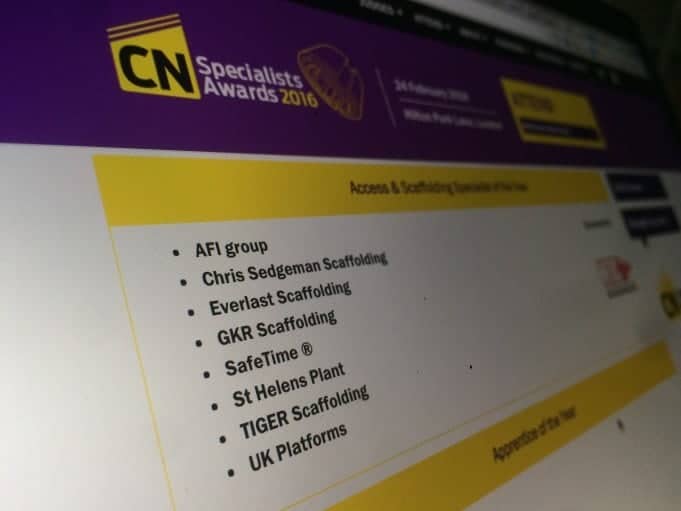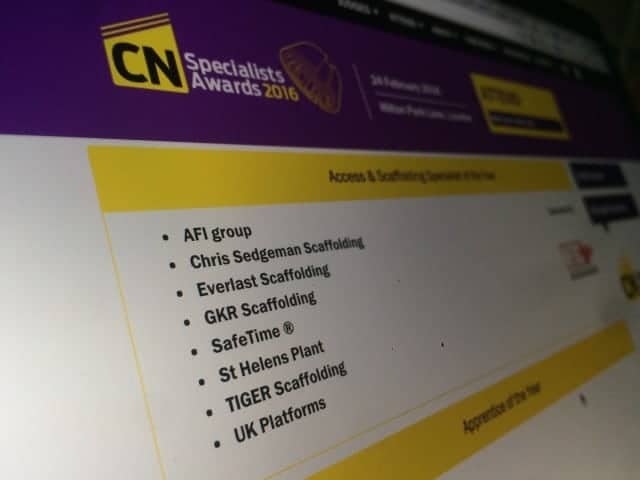 The Construction News Specialist Awards 2016 has announced it's shortlisted finalists.
The eleventh Construction News Specialist Awards will take place on 24 February 2016 at the Hilton Park Lane, London.
After stiff competition In the Access & Scaffolding Specialist of the Year category, judges have whittled down the entries to just eight companies.
AFI group
Chris Sedgeman Scaffolding
Everlast Scaffolding
GKR Scaffolding
SafeTime ®
St Helens Plant
TIGER Scaffolding
UK Platforms
Chris Sedgeman Scaffolding was also successful in being shortlisted for Project of the Year (subcontract up to £2m) category and Apprentice of the Year category.
Lynn Way, Company Secretary & Financial Manager for Chris Sedgeman Scaffolding Ltd commented: "We are delighted to be selected as finalists for the Construction News Specialist Awards for three categories; 'Access & Scaffolding Specialist of the Year', 'Project of the Year (subcontract up to £2m)' and for the first time 'Apprentice of the Year'. Everyone at the company are thrilled to be included in such a prestigious awards and eagerly look forward to presenting our company amongst some of the biggest and most respected in the industry."
A spokesperson at St Helens Plant added: "We are delighted to have been shortlisted in the Access and Scaffolding Specialists Awards 2016, and look forward to meeting the judging panel in December and have the opportunity to present projects and structures we have fabricated alongside the many B2B partnerships we have established."
Mark Parkin, MD at TIGER Scaffolding said: "To say we are delighted is an understatement, this is an huge achievement from everyone here at TIGER and we are so proud of them all."
Clint Hickmott at SafeTime said: "we are very pleased that we have been selected as a finalist in the Construction News Specialists Awards. We would like to wish all finalists the best of luck!"
The judges will reconvene for the final stage of the judging process, where they will interview finalists face to face before weighing up their achievements and deciding on a winner.