The leading scaffold supplier Beaver 84 will use Scaffold Designer to plan projects that require Plettac Contur system scaffolding.
Following an extensive search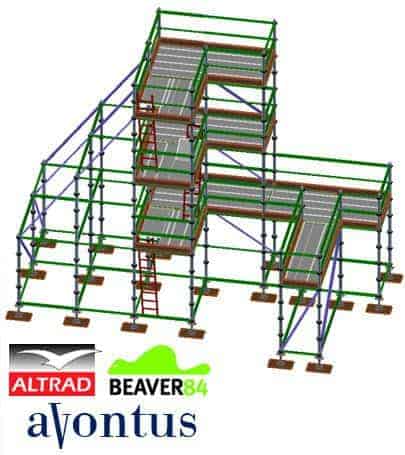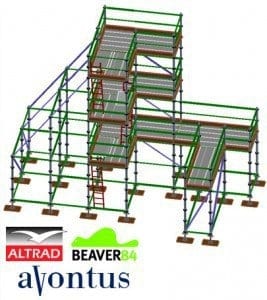 of available scaffolding design tools, Beaver 84 has selected Avontus' Scaffold Designer as its recommended software. With its 3D visualization, drag-and-drop design capabilities, and automatic materials calculation, Scaffold Designer takes the guesswork out of system scaffolding design. Beaver 84, a leading UK scaffold supplier, plans to roll out Scaffold Designer to each of its 9 depots in the coming weeks, and will make trials of the easy-to-use software available to its clients.
"We chose Scaffold Designer because it supports our Plettac Contur system scaffolding and it allows us and our customers to design scaffolding exactly the way it will be built," commented David Hughes, National Sales Manager of Beaver 84. "Avontus clearly understands scaffolding, and Scaffold Designer is developed to meet, and even exceed, the needs we and our customers have," he continued.
Whilst Scaffold Designer automatically supports Plettac Contur system scaffolding, Avontus will customize the software for Beaver 84 to support its other scaffold systems, giving Beaver 84's customers access to its full range of system scaffolding options.
Implementing Scaffold Designer will help Beaver 84 and its customers increase safety, order and allocate materials more efficiently, increase the use of system scaffolding, and provide superior service to their customers.
"We are looking forward to continuing to build our relationship with Beaver 84 as system scaffolding becomes more prevalent in the UK scaffolding market," added Andrew Smith, Director of Sales of Avontus. "The combination of superior scaffold materials and powerful scaffold software will give Beaver 84 and its customers a significant competitive edge."
About Avontus
Avontus has been producing quality software since 1995, both custom development for enterprises and packaged software for the general public. With a focus on the user experience, our software for the formwork, scaffolding, and shoring industries is the best in the industry. Our employees are highly skilled computer and business professionals who understand big-picture problem solving, team project management, and the latest technology. Avontus Software also owns and maintains web portals and web services for falsework (scaffold, shoring, and formwork) professionals. For more information, visit http://avontus.com/.
About Beaver 84
Since formation in 1984 Beaver84 has established itself as a dedicated supplier of non-mechanical construction equipment for both Hire and Sales. The strategy is supported by an understanding of investment and innovation and the need to maintain the service and Quality across all aspects of the business. Over many years Beaver 84 has continued to offer a unique and specialist product range from site set up, excavation, construction through to completion by working in partnership with its clientele. For more information, visit http://www.beaver84.co.uk.