An innovative scaffolding solution has saved more than a third of a million pounds of UK taxpayer's money in the clean-up of one of the most hazardous decommissioning projects at Sellafield.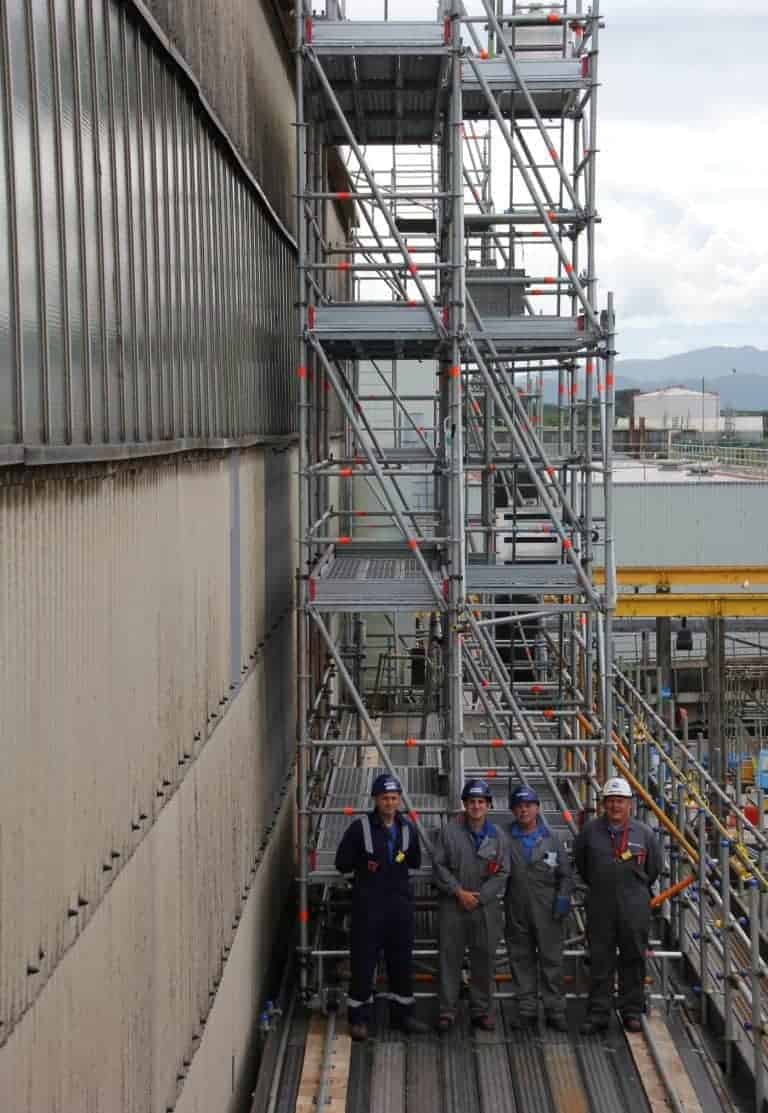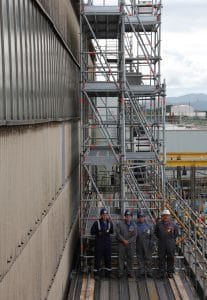 The unique rolling scaffolding system from Layher has been introduced for the first time to the Sellafield site to help speed up the decommissioning of the First Generation Magnox Storage Pond (FGMSP) and save £300,000 for the UK taxpayer.
The structure (created in collaboration with Kaefer) uses a state-of-the-art railtrack system which creates one easily-moveable structure that can shift side-to-side as sections of work are complete along the external pond wall.
Unlike traditional scaffolding, the system is cost-effective, lightweight and quick-to-assemble.
The use of the system has helped the project team make a considerable cost saving by cutting the amount of equipment needed and slashing the amount of man hours spent constructing the scaffolding.
It also increases safety for those working on the project as it eliminates the need to climb the scaffolds.
Ryan Blinco, project team member said: "There's a complex jigsaw of pieces that need to be in place to decommission FGMSP and the erection of the rolling scaffolding means we can take one step closer to seeing the picture on the box.
"It's another example of the innovation we have here at Sellafield and the substantial progress we're making in reducing the hazards on the site – our number one priority – while saving millions of pounds for our customer, the UK taxpayer."
Built in the 1950s, FGMSP is one of the priority decommissioning projects on the Sellafield site that Sellafield Ltd, the Nuclear Decommissioning Authority (NDA) and its regulators want decommissioned in the earliest possible time scale.
Before decommissioning, the structural integrity and containment of the 60-year-old building has to be improved to counter the degradation which has taken place over the last 30 years.  The building was not designed with decommissioning in mind and considerable work is also being carried out on the plant, equipment and services to allow the pond to be emptied.
Dorothy Gradden, Head of Delivery, Legacy Ponds, said: "This is a fantastic example of innovative thinking from the FGMSP workforce.  
"We're committed to accelerating decommissioning of the legacy ponds and silos here at Sellafield and we need to do this as cost effectively as possible, recognising the fact that we need to provide value for money for the taxpayer.  
"Saving a third of a million pounds on this project will mean the money can be spent elsewhere on the high priority decommissioning projects across the NDA estate."