Bounce Back charity launches first of it's kind scaffolding training centre at HMP Brixton Prison.
Criminal records are often a red flag for employers, often former prison inmates have little choice but to re-offend or consider re-offending. As a former scaffolding employer myself back in the late 1980s to late 1990s I will confess that I employed scaffolders and labourers with criminal records, including armed robbery, and had no problem with them at all. In fact, I will go further and say that these scaffolders often turned out to be better and more diligent employees than those recruited from the population at large. Right now, when skilled scaffolding operatives are in short supply a pool of highly motivated potential employees must be welcome.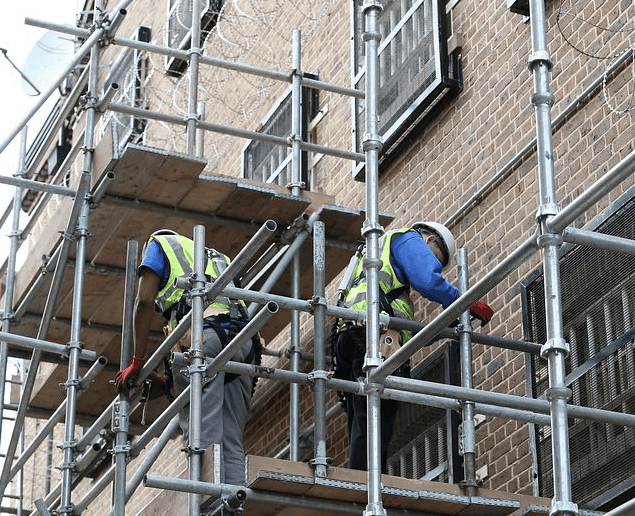 In what the UK Ministry of Justice says is the first centre of its kind in the UK, scaffolding training is now on the HMP Brixton prison agenda.  The centre was launched at an event at HMP Brixton prison that was opened by Paul Elliott, eminent football governing body ambassador and passionate supporter of youth engagement, and hosted by TV presenter and journalist Raphael Rowe on October 19.
The launch of the latest skills training centre in the Bounce Back portfolio is a very special event for two reasons. As a first in a UK prison all eyes are on it – not only to watch the progress of the 7 metre tower – but to see the impact in terms of skill levels it can deliver. Secondly it is a clear example of a response from the construction industry to an immediate need for scaffolding recruits. Alandale, through its relationship with Land Securities (who had already driven this model in dry lining), came into the prison and set up the training facility for Bounce Back so it could train up potential employees.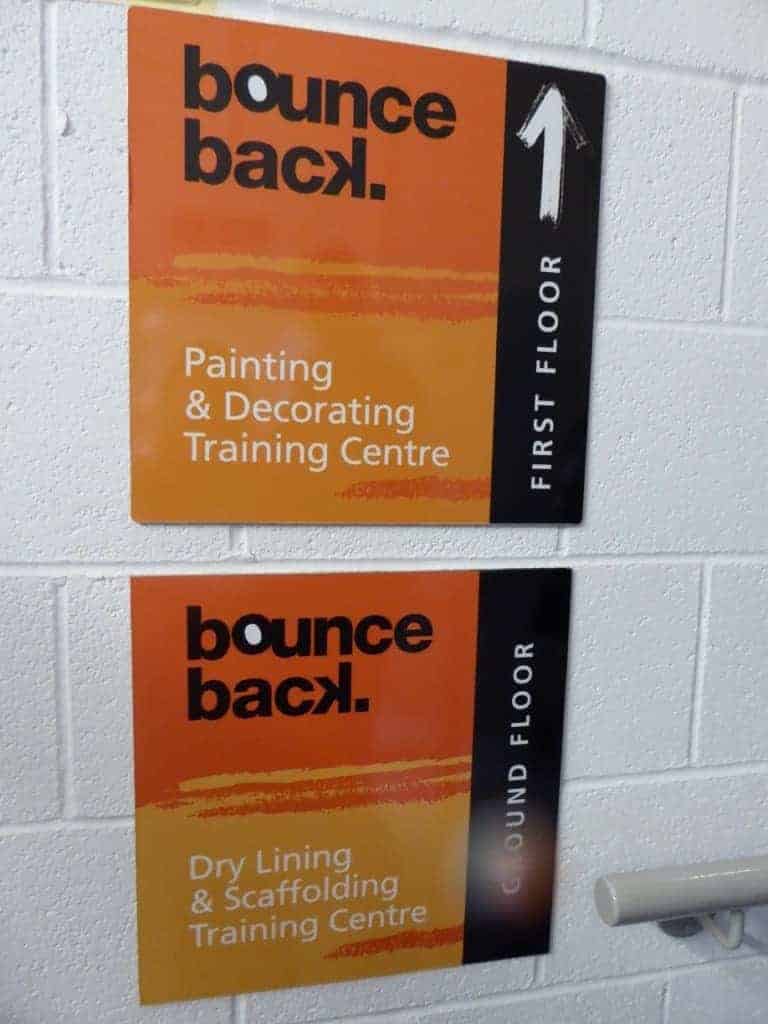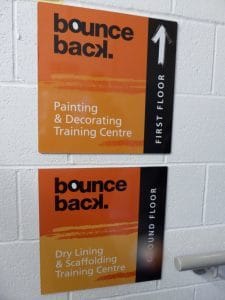 Bounce Back is a charity that trains in construction skills in HMP's Brixton and Wandsworth, as well as CSCS training in a number of other prisons.
It is also a painting and decorating Social Enterprise that employs people as professional decorators on release and works on projects large and small around London and the Home Counties with a team of up to 30 at any one time. Bounce Back says that it trains up to 60 inmates a day across both of its centres and says that it has an 85 per cent success rate on people leaving prison either going into further training or employment. The charity says that it was worked with just under 600 people thus far and reoffending rate is currently monitored at 12 per cent.
"This is a great example of true partnership working – the new Scaffold Centre will meet industry skills gaps and tap into the potential of people in prisons, it's a win-win situation for everyone' – people get a second chance, the industry gets skilled workers and our communities become safer by reducing reoffending rates," said Debbie Akehurst head of economy and communities at Land Securities.
"We have been delighted by the opportunity that this gives our participants to get into employment on release' says Fran Findlater CEO of Bounce Back. "As we focus on training skills that respond to the need of the construction industry, in this case we have more than fulfilled our objectives – we could easily place 20 or more scaffolders into work and we've only been open a couple of months.  This is all about getting our participants ready for work on site.  It is not about high levels of extensive training, it is to see if individuals have the appetite to go up a scaffolding tower and get involved in the hard work the profession requires. If participants do this, dry lining and painting and decorating in our three centres, we know they will have an aptitude on release.  Ultimately this has one end goal – stopping people coming back to prison because they have the skills, confidence and earning potential to manage on the outside."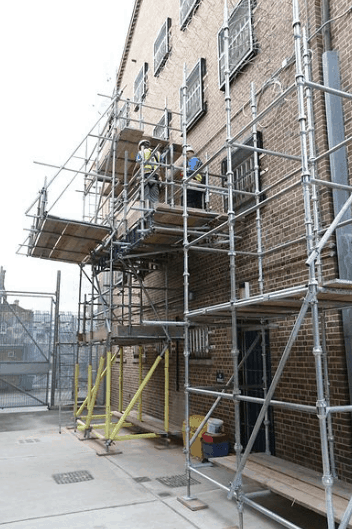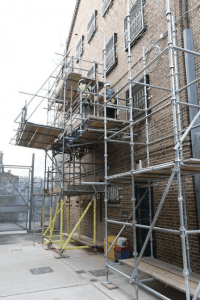 Prisons Minister Sam Gyimah said, "Bounce Back is an excellent example of how employers can provide invaluable work opportunities for offenders while in prison to help them turn their lives around. Schemes like these can help to break the cycle of re-offending, which means fewer victims and saves the taxpayer money."
Bounce Back confirmed that trainees can be good to go for employment as soon as they leave prison as they are able to gain their CSCS (Construction Skills Certification Scheme) cards while still in prison.
Scaffolding, ladders, ropes and associated equipment could always quite reasonably be associated with escape attempts. So I asked about security. "The Governor has considered all eventualities. The positioning of the scaffold has been measured very precisely to ensure escape is impossible," said a spokesperson for Prisons – Ministry of Justice.