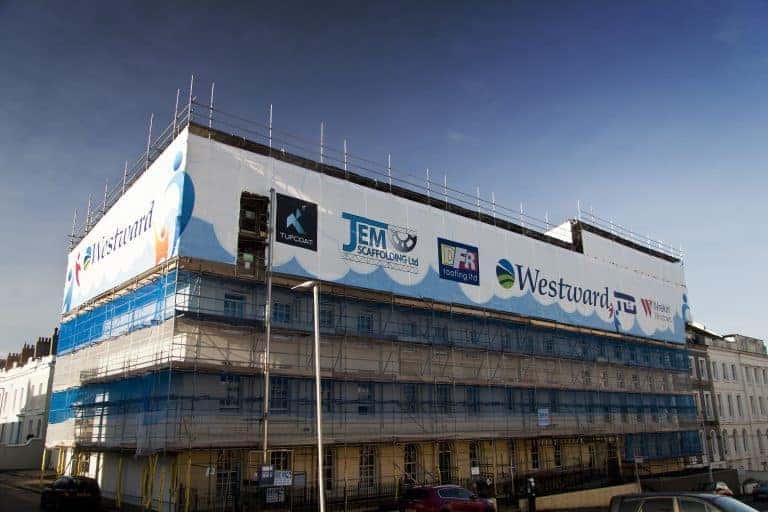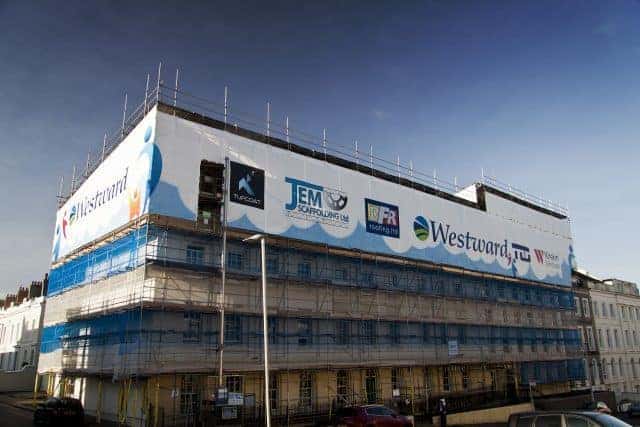 A leading Plymouth supplier of shrink-wrap sheeting has completed a world first project. Using their latest product to market, Tufcoat Wraphix™ Printed Shrink-wrap, Tufcoat has broken new ground.
In combining digital printing with 300µm flame retardent scaffold shrink-wrap. Now, for the first time, contractors and subcontractors can have images and logos printed directly on to projects, whilst still benefiting from both weather protection and encapsulation.
The company worked with Westward Housing and JEM Scaffolding to weatherproof Plymouth House, ensuring 70 vulnerable people can remain in residence whilst the £1m refurbishment takes place. Due to excellent visibility both contractors and client saw this as the perfect opportunity to use the Printed Shrink-wrap promoting all of the various companies involved. The result was greater brand awareness, something shrink-wrap hasn't been able to  achieve previously. Following the success of the project, Carlo Cinque of Westward Housing Group said: "The end result was actually better than we had imagined. We've had major contractors come to us since and ask about who supplied us with the printed wrap".
The product  allows its customers  regular practicality and function,  but it's also created using low-density polyethylene,  less harmful for the environment than PVC or mesh wrapping. By choosing Wraphix™, projects can be protected against adverse weather, provide environmental containment and display any marketing message on a single sheet.
Richard Barnes, Operations Director of Jem Scaffolding explained "I think the actual two weeks  they had to install was reduced down to about six days. So we put them under a great deal of pressure with a product that they hadn't used regularly, and they really stole the show with what they produced in the end. We've had lots of comments from the media and through social media, so it's worked well for us."
Tufcoat's innovative new product has also been installed on the prestigious Grosvenor House, a JW Marriott hotel in London. Marking a significant creative challenge from the previous project, their task was to recreate a photo-realistic representation of the building's façade, using the same prime printed 300µm flame retardant shrink-wrap.
The firm encapsulated the 500 square metre scaffolding and hoist, and combined the building design used on the printed wrap with typical shrink-wrap. Because of this, Tufcoat were able to considerately minimise the impact of the works during renovations to some of the hotel's 496 rooms and suites. A high level of the aesthetics was retained as a consequence. And of course, there was the added benefit of weather protection for the workforce in line with the clients brief.