Innovative new scaffold fittings comes to market to bring an end to the use of 'dead men tubes'
A revolutionary new fitting has come onto the market set to transform the way scaffolding is secured in the industry. Scotti Ledger Ties, are designed to remove the need to install 'Deadmen'- a  vertical tube attached to the handrails able to reach down and attach the toe-board.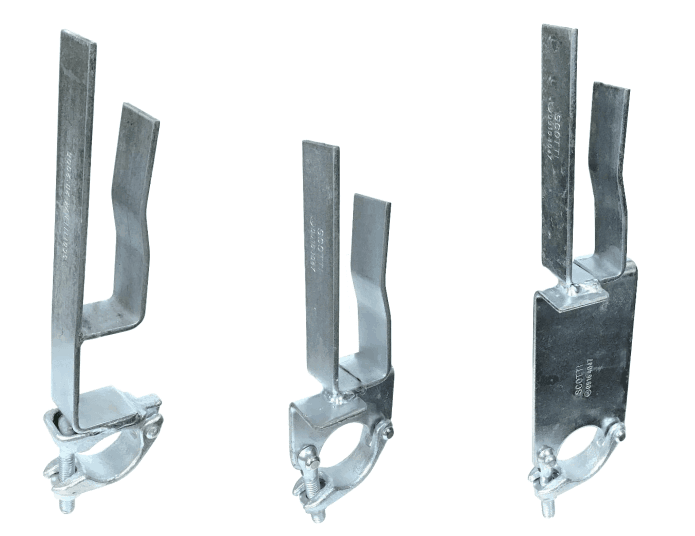 Invented by scaffolders Aaron Gray and Scott Wesson, the ties openly encourage best scaffolding practice meeting all current safety regulations.
The Scotti Transom Tie, is designed to act as both a standard board retaining bracket and a toe board support. Whereas The Scotti Aberdeen Tie, has been created for use in Place of a Scotti Transom Tie where a scaffold has been constructed using structural, or more commonly known, Aberdeen Transoms.
The Transom Ties are fitted in the same way as a standard board retaining bracket, being slid in between the board gap with the taller face of the toe board retainer to the outside of scaffold.  Traditional methods of holding toe boards in place often involve nailing clips through the board or using singles, which can damage and split the board. Scotti ties use a firm pressure to hold the board and will not cause damage.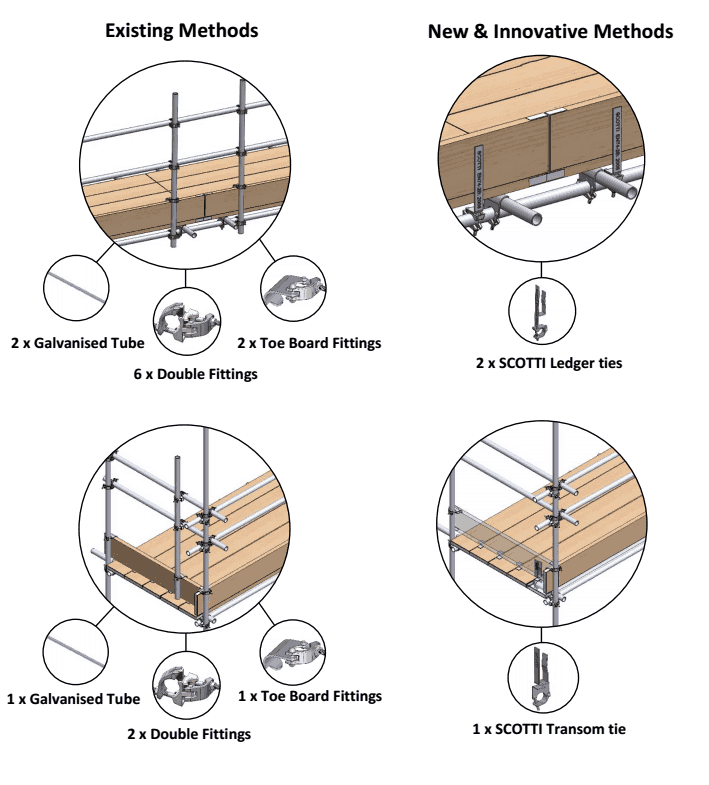 According to the makers of the Scotti Ties, the revolutionary ties meet all of the requirements of BS EN 12811 and CISRS training guidance for the support of toe boards. Without the labour-intensive in trial conditions, use of Scotti ties has shown savings in time of up to 95 per cent, compared to traditional deadman installation. This can translate into savings of hundreds of pounds on relatively small jobs. Replacing deadmen on scaffolds with Scotti ties can easily reduce annual Co2 emissions by hundreds of tonnes.
In terms of the law The Work at Height Regulations 2005 states: 'Every employer shall, where necessary to prevent injury to any person, take suitable and sufficient steps to prevent, so far as is reasonably practicable, the fall of any material or object.  It's common practice, longitudinal toe boards and end toe boards should be securely fixed to all working platforms where there is a risk of a person or materials falling.
Scotti ties offer a user friendly, cost effective alternative in preventing such falls in scaffolding operations. Scotti Ledger ties are suitable for fixing to the ledger from either above or below the scaffold  platform.  For total board protection scaffolders can use the ties at both ends. They are both neat and professional, easy to transport, need less storage and make for lower leg loads.
Scott Wesson the co-inventor of The Scotti Fittings said: "I first thought about the fittings after thinking they're must be a better, safer, simpler way to securing a toe-board. After some trial and error, I found the solution."
The fitting carries huge benefits for scaffolding companies with each single Scotti Fitting saving the use of a Five-foot tube, two doubles and a single coupler. Across a large independent structure or tower the savings could be enormous, drastically cutting down on both erection time and labour costs.