ScaffMag announce plans to produce a Digital Magazine.
We are pleased to announce our plans to publish a FREE quarterly digital magazine like no other.
For over seven years ScaffMag has been continually reporting on our great industry. Through this dedication – and of course your loyal readership and social media following, ScaffMag has grown in popularity to become the industry's leading source for latest scaffolding news, current affairs and jobs while profiling the best practices and industry standards.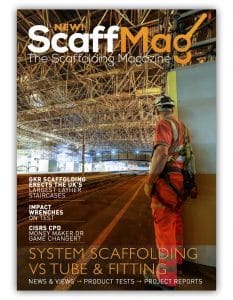 Launching in the Summer our valued loyal readers will be able to immerse themselves in a exciting digital scaff-fest. Featuring glorious double paged in-depth exclusive articles and project reports, interviews, regular views and opinion columns from industry leaders, scaffolders spotlight.. the list goes on and on.
Encompassing modern technology the magazine will be available to download and read on all mobile, tablet and desktop devices.
Daniel Norton Founder and Editor of ScaffMag said:
"I am really excited and thrilled to announce our new media offering to our readers. Ever since I founded ScaffMag back in 2009 it was always called ScaffMag 'the scaffolding magazine' with the website acting as the magazine. Now we have the opportunity to do both.  
This is the natural next step in our company's history, to produce a modern and edgy digital publication that can be consumed on the move".
If you have some news or if you would like to be featured in the first issue of ScaffMag please drop us an email to [email protected]