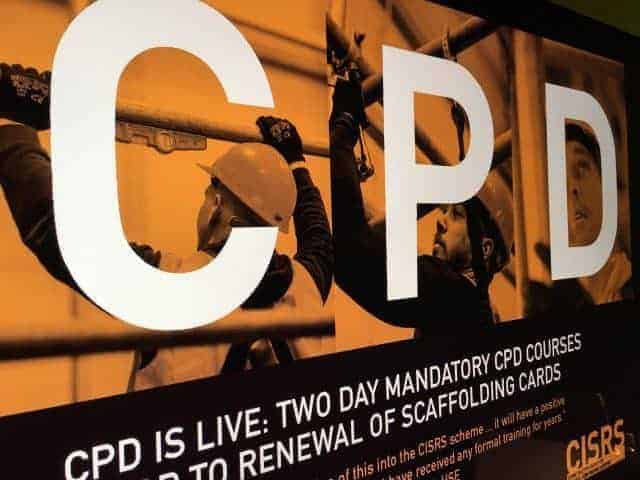 All NASC members are set to pay for the scaffolder CPD course according to a new statement of clarification within the Working Rule Agreement (WRA).
The requirement for Scaffolders and Advanced Scaffolders to complete the mandatory CISRS 2-day CPD course has been in place since 1st July 2017.
The hotly debated issue of who pays for the CPD training has been on everybody's lips across the industry since the mandatory course went live.
According to NASC, The issue was raised with the confederation via the Construction Industry Joint Council who wish to include a statement within the WRA giving clarification. Additionally, a statement of clarification as appropriate to the National Agreement for the Engineering Construction Industry (NAECI) has recently been added to that Agreement.
Towards the end of 2017, further to consideration by NASC Council, the basic premise that employers should pay for CPD training courses was agreed by consensus, says NASC.
A proposed form of words was circulated to Council members in respect to the issue and the following statement has since been agreed:
'The NASC Council has confirmed that Members will fund the CPD course fee and reasonable associated costs of attendance for scaffolders in their direct employment as at the date of CISRS Scaffolder and CISRS Advanced Scaffolder card renewal. As with other employer-funded training, such funding may be linked to Training Agreements.'
The NASC added, A very similar statement has been offered by the CIJC Employers to the CIJC Trade Unions for inclusion within the Working Rule Agreement and if adopted will then apply to all scaffolding companies who operate under that WRA agreement.
CISRS Manager and NASC Director of Training, Dave Mosley said: "I see this as a very welcome and positive move. One of the most frequently asked questions following the introduction of CPD was the issue of who will pay for the course. It is clear with this statement that NASC members are looking to do the right thing by their directly employed labour force."