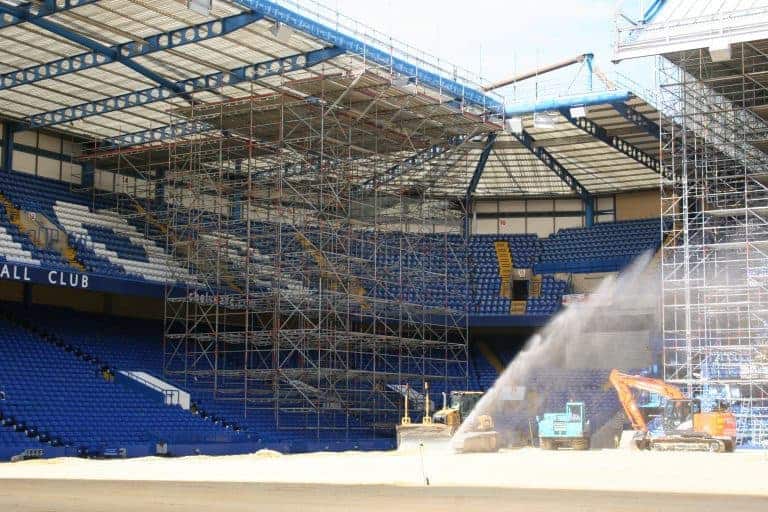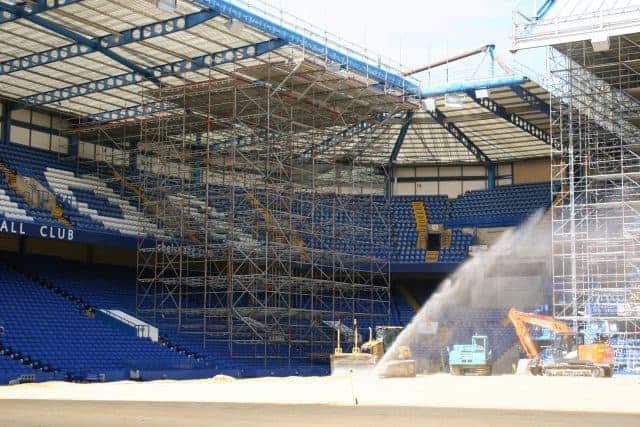 This Premier League season kicked off with several stadium expansion plans. These large-scale, high profile projects rely on scaffolding contractors who can complete the works swiftly, safely and to a high standard.
TRAD Scaffolding is no stranger to stadium developments. As one of the UK's leading scaffolding suppliers, it previously secured the package for a pioneering lighting system around the roof at Stamford Bridge, home of Chelsea FC. The club was the first to meet new league regulations for lighting evening matches.
TRAD was challenged with difficult access into the ground, and under seven weeks to erect over 28,000 cubic metres. It opted for system scaffolding to meet the tight timeframe.
In the three years since, TRAD has introduced Plettac Metrix system scaffold. TRAD says it is proven to be the fastest ring-based system to erect and also outruns traditional tube and fitting scaffolding. This makes it a top choice for complex structures such as sports stadiums, which need to be erected quickly and cost-effectively.
"When it comes to speed, safety and flexibility across all scaffolding operations, Plettac Metrix ticks all the boxes," says Peter McShane, TRAD Southern's Divisional Director.
"German-engineered, it features unique divisibility. This means you can use extra vertical members within the bay length and width. So the system is far more adaptable and faster to erect than other scaffolding systems," Peter adds.
Plettac Metrix also has unique perforated steel decks with built-in lifting handles, to let more light through the structure. Plus, there are wind locks and anti-tilting devices, and an optional permanent advanced guardrail.
Combined, these features save on materials and labour, cut assembly times, and improve safety. The system is also CISRS-approved and NASC-compliant.
TRAD and Plettac Metrix are firmly at the top of the table for scaffolding stadiums, and other prestigious projects in the UK. Over the past four decades, TRAD has been involved with the Royal Albert Hall, Olympic Park, Holborn Bars, and the Royal Festival Hall. It also supports major air, rail and civil engineering infrastructure projects.
"We receive a significant amount of repeat business due to our reputation for safety, high service levels, and quality of build. We also have the expertise to quickly resolve complex issues, and deliver on time and budget," Peter says.
---
TRAD Scaffolding Contractors operate across the UK as TRAD Southern, TRAD Midlands and TRAD Southern, and are part of the TRAD Group. With a nationwide coverage, the group holds over 19,000 tonnes of system scaffold and 66,000 tonnes of traditional tube, fitting and boards. No other UK scaffolding contractor can match TRAD's capacity and equipment – making it the top choice for building large and complex projects.