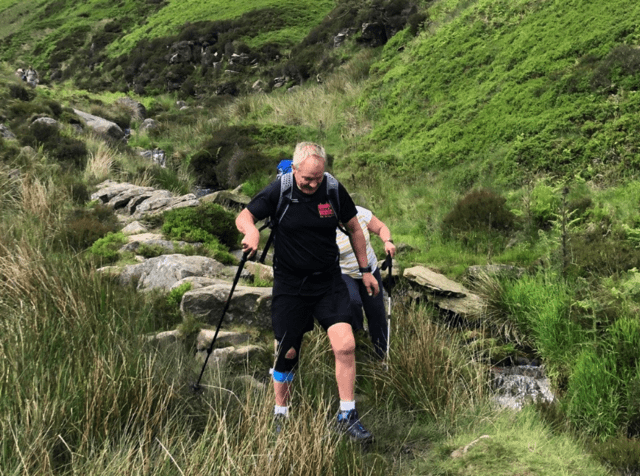 As a Northamptonshire based scaffolder Steve Wood is the epitome of courage and determination.
Still running his business despite a major series of setbacks from an injury sustained more than eight years ago, he's in final preparations for his own personal Everest – to climb, summit and descend the UK's three highest peaks in consecutive days – Ben Nevis, Scafell Pike and Snowdon.
Asking For Support
Steve is asking for support in helping to raise £10,000 for the Oxford bone infection unit at the NHS Nuffield Orthopaedic Centre. In February 2011 Consultants specialising in treating life threatening infections of the bone and in major limb re-construction, saved both his life and a leg, ravaged by an infection not diagnosed and treated early enough. He takes up the story: "It all started back in November 2010 when, a running and exercise 'junkie' like me was training hard for my next half marathon in Spain. Apart from a 'jock rash' where the seam of my training trousers had been rubbing against my right thigh, I was race fit and raring to go in the Benidorm half marathon, having had a steroid injection the week before to help protect my knee during the race. Unbeknown to anyone the jock rash was infected and the surgeon who injected me managed to pick up the infection and inject it, along with the steroid, into my knee! I then became poorly during the race and felt very 'flu like', ending up with a very poor time. I flew back home urgently to urgently consult the surgeon with my extremely painful and swollen knee.
Tough days Ahead
"Catastrophically my infection was not picked up and with my health deteriorating rapidly, I was admitted as an emergency five days later. The surgeon then got me on the correct treatment and sought to clear the infection but by this time I now also had a blood clot (DVT) behind the same knee, meaning the treatment had to proceed with caution. Things continued to deteriorate and by now I was fighting for my life! At one point the hospitals pastor came and asked me if I wanted him to give me my last rites? You can perhaps imagine my response …. the second word of which was a polite but firm no thank you."
Steve fought on in his usual determined way, but was still acutely ill over the next couple of months. By Valentine's day 2011 his leg had deteriorated to such an extent he again had to be admitted on an emergency basis and put back on IV anti-biotics. In fact, the infection had now gone into his bones, ravaging both his knee and lower leg.
Out Of the Darkness
He added: "Eight years and more than 20 operations including four right knee replacements and revisions later, my leg is as good as it will ever be. I can at last bend my knee sufficiently so that, with a special short pedal crank I can ride a bike again and, whilst trekking up and down steep hills and mountains remains a huge challenge for me with the constant pain I am in, it is that big challenge that I have set myself and need your help with."
At one point Steve had 75 staples holding his leg together, whilst it took months to heal and settle. That was 18 months ago and it has taken him until now to be fit enough to attempt this big challenge.
Saying Thanks
"I have a huge debt of gratitude I am desperate to repay to the Bone infection unit – to Oliver Byren, Roger Gundle, Alex Ramsden and Ashok Handa at the JR, for saving my life and my leg and starting me on my very very long road to recovery. Also helping me on this long road was Mark Booth and his team of therapists at Body Limits. I also owe a massive debt of gratitude to a very special and talented revision surgeon in Wales – Rhidian Morgan-Jones, for taking on the challenge of re-building me with the support of his colleagues at The Spire Hospital Cardiff…. between 2012 and now."
The upcoming challenge will be particularly tough for Stephen as his leg swells up after any significant walking as he explained: "The constant pain affects my ability to push through and carry on without icing, and resting my leg between periods of activity. You could honestly say that this is my own 'Everest summit'!
Food For Thought
So the next time you may be feeling a bit down, just think of what Steve Wood has endured in the past decade, and how he'll be breaking the pain barrier to help others. So far, more than £1,000 has been raised.
For more information on how to donate click here: https://www.gofundme.com/f/steve-woods-3-peaks-challenge