TRAD Deck is a lightweight working platform specifically designed for the house building industry and is the UK's market-leading product of its type. TRAD Deck provides internal fall prevention during the house building process, essentially replacing a birdcage scaffold. Just like a birdcage scaffold, TRAD Deck, can be loaded out with a capacity of 2kN per m2.
The major benefits of TRAD Deck over a birdcage scaffold is that you don't need to be a scaffolder to install it – TRAD Deck can be installed by any competent person with the correct training. Furthermore it is significantly quicker to install than a birdcage scaffold; 60 m2 can easily be installed by two trained operatives. This means that there are significant labour and time savings when using TRAD Deck compared to a birdcage scaffold.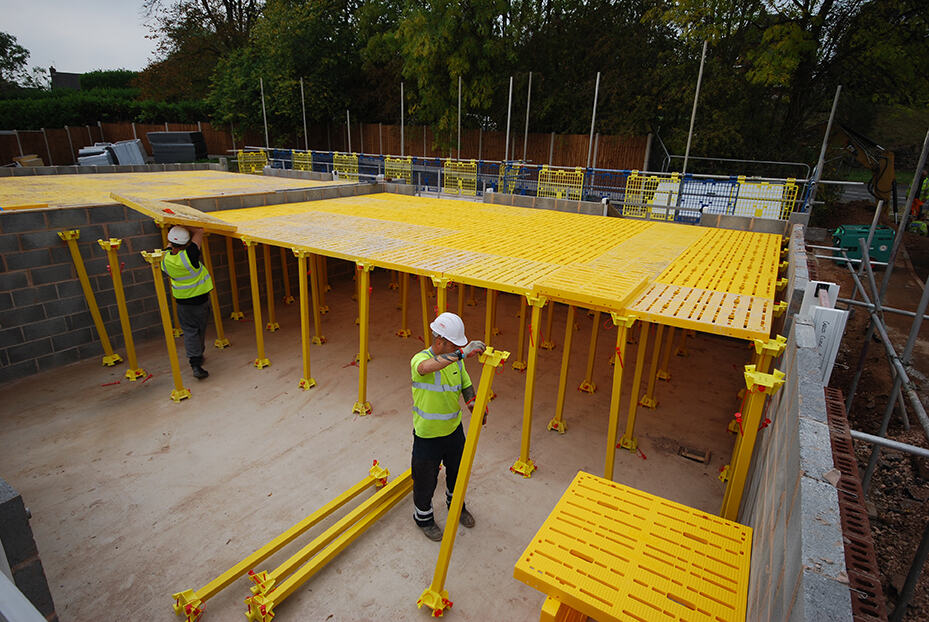 Features & Benefits

High Quality Fall Prevention Working Platform
Load Capacity of 2kN per m2
Various platform heights up to 3 meters available
Can be installed by 2 people and comfortably erect 60m2 per hour
Three main components
Various panel sizes available
Improves your productivity
Installation service available
Hire or Sale product
Full competence training available for installers
Compliance: Testing independently carried out by Loughborough University
Roof non fragility test in accordance with ACR (M) 001:2000
BS EN 12811-1 Part 3 for structural integrity and safety factor   for use as a General Purpose Working and Safety Platform
TRAD Deck is available nationally from any of our 6 UK depots. It is available to purchase, hire or on a fully installed contract basis.
Testimonials  
Richard David Lee – Scaffold Manager at Taylor Wimpey
TRAD Safety Deck is the way Forward. It is better in everyway to other fall prevention systems that I have used in the past. It is cleaner – sounds a strange thing to say but it makes it safer. It's so much easier to handle and transport around the site: a win win for us. Threre are no drawbacks with the system, We just have to get more familiar with the system but with the help of Nick from TRAD Safety Systems Manchester we are quickly adapting.
Dan Reed – Scaffolder at Taylor Wimpey
Dan is an experienced Scaffolder working with Richard and was asked what he thought of the Safety Deck system.
It has so many benefits. Working on the scaffolding knowing the decking is there is massively reassuring, knowing your safer. We can walk across the decking with the gear rather than around the perimeter, making the whole process quicker and safer. It's a plus in every way to anything else I have used in the past, airbags, bird cages and such.The time saving aspect of the system is massive. Its quicker to get on site and move to each plot and with the excellent training provided erecting the deck could not be simpler. Storage is another huge beneficial factor. The fork lift can pick it up and move it to storage until its needed. Bean bags need special storage, dry and covered, The decking is robust and all weather so ideal for site use. It stacks so easily it makes the job so quick and easy, its excellent. We are here to make money and with this system we can do that. With the knowledge that we are improving site safety as well is rewarding.
For more information visit: www.tradsafetysystems.co.uk or call: 08450 50 70 50