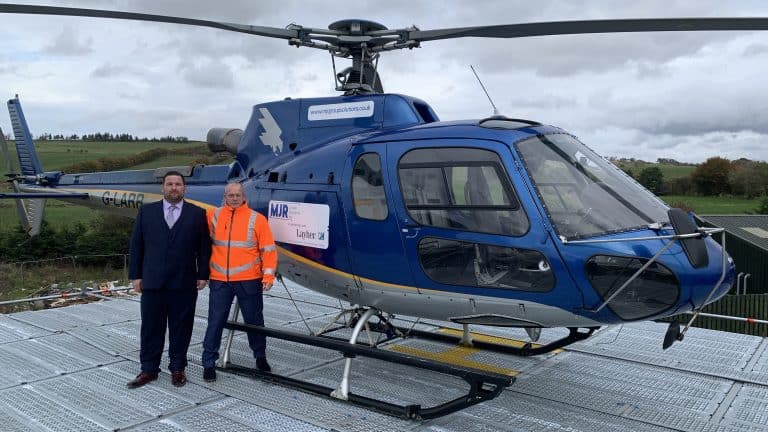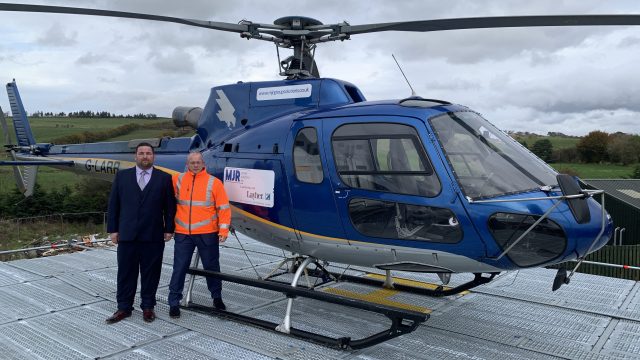 Scottish scaffolding firm MJR Group Solutions held a business showcase event on Wednesday that included landing a helicopter on a custom-designed cantilevered scaffold helipad.
A number of invited guests from Scotlands construction industry converged on Wednesday at the swanky Lochside Hotel in New Cumnock, Scotland.
Guests attending the business showcase event were able to learn more about the recently established Kilmarnock-based scaffolding firm, and its new strategic alliance with system scaffold giants Layher UK.
Both, MJR Group Solutions Director, Richard Russell and Layher UK Managing Director, Sean Pike held presentations on the day showcasing its business and gave details of its strong partnership with Layher and what it means for its current and future clients.
Alongside the informative presentations, MJR laid on practical demonstrations of its new choice of system and its features.
The business showcase event comes just weeks after the news that MJR Group Solutions made a £1M investment in the Layher system. The business switched from the use of Cuplock to exclusively using Layher on all its projects across Scotland.
Although it wasn't mentioned at the event, ScaffMag understands that the firm has now taken steps to further build its business with the establishment of a new Scaffold & Access Hire Division. MJR is set to supply its rental clients the Layher range of scaffolding and access solutions from its two yards in Central Scotland.
The Helipad
To round off the event and to show that the 'possibilities are endless' with its new system, a helicopter flew in and landed on a pre-erected designed 4 meter high, cantilevered Layher helipad.
Many believe it could be the first-ever scaffold helipad erected anywhere in the UK.
MJR Group Solutions Managing Director, Ryan Orr said: "The event was to show that as a company we want to build a strong relationship with our clients, current and future, and ensure that they have the chance to really understand that the services that we offer and the systems we use.
I strongly believe that currently in the construction industry there is not enough understanding of how a different scaffold system and company ethos can positively, or negatively, impact a construction project. Our event aims to help grow understanding, plus show the creative side of our business with the helicopter landing pad."