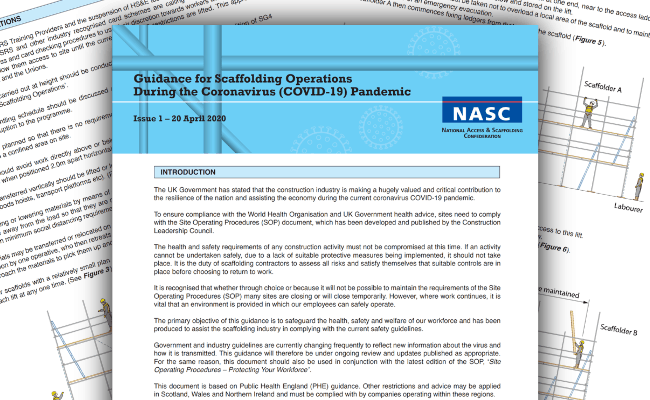 Scaffolding trade body the NASC has published detailed COVID-19 guidance to assist the scaffolding industry during the pandemic.
The twelve paged emergency document, titled Guidance for Scaffolding Operations During the Coronavirus (COVID-19) Pandemic, provides a broad range of advice scaffolding contractors can adopt to help safeguard the health and welfare of their workforce.
New/revised risk assessments may involve enhanced site cleaning measures, changes to site organisation, new working arrangements and regular staff briefings, are all included.
It is available for free download via the NASC website by clicking HERE.
Robin James, NASC Managing Director, said: "Scaffolding contractors – as part of the construction industry – have faced a significant challenge in recent weeks; continuing to operate where possible, as per the UK Government's instruction, but also adhere to the Construction Leadership Council's Site Operating Procedures (SOP) document.
"This latest NASC guidance is intended to help scaffolding contractors overcome this challenge. I'd like to thank NASC Council members and NASC staff for their hard work in producing this fluid guidance – taking it from an initial concept to publication in less than a fortnight. 
"We expect this document will need to be revised in line with any alterations made to the SOP document, Government advice or Public Health England guidance. As such, scaffolding contractors are advised to regularly check the NASC website or social media channels for any updates."