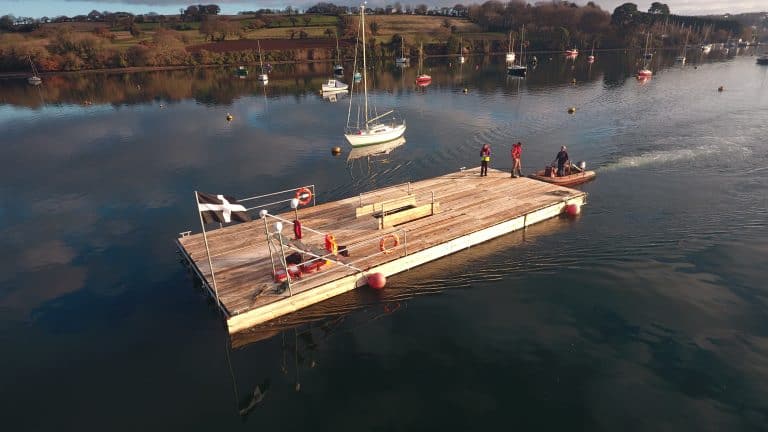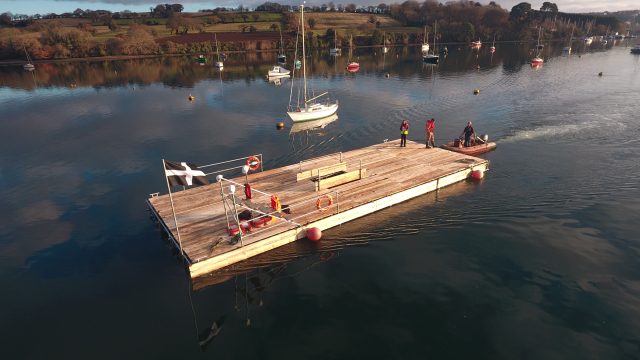 ScaffFloat the new safe floating scaffolding access system is going on tour across the UK.
As reported first by Scaffmag the ScaffFloat is an innovative new product that uses a set of tough plastic floats that have been specifically designed to integrate with standard scaffolding parts to make floating pontoons, rafts and versatile floating structures.
Following a number of requests from contractors, utility companies, government agencies and private companies around the UK, the firm have planned a small demo tour to give people the chance to come and stand on an 8m x 4m demo pontoon.
ScaffFloat says it will give them the opportunity to see how stable, strong and safe the system is and help them understand the range of solutions ScaffFloat and their Approved Installers can offer projects they have above, on or near the water that need safe floating access.
Toby Budd, Founder and MD said "The timing is not ideal with COVID, but we have taken extensive precautions to keep risk to a minimum. The demos are outside, pre-booked online, and attendance is capped to five guests."
He added: "We appreciate that many people won't be able to attend because of the COVID situation, but given the quality of enquiries we are getting, we feel on balance it is still worth going. When people stand on the pontoon they 'get it'; it is so stable, safe and well made it's something you really need to see in person to appreciate.''
All of the demos are being jointly hosted by Approved Installers of the system: these are scaffold companies that are trained and approved to build pontoons and floating access with the ScaffFloat floats.
These include a wide range of companies and include Centregreat, Hadley, Attridge, iScaff, TR, Kaefer, SRT & Tilbury with more joining each week, they said.
The floats are designed to integrate with popular 450 & 750 lattice beams, and then use standard tube lengths, forged double couplers and scaffold boards. The smallest pontoons start at 4m x 4m and can scale to almost any size.
Safety is key to the system, so all pontoons come with a full set of designs and calculations for buoyancy and stability produced by a Naval Architect. CAT 3 checks are also available if needed.
For more information on tour dates visit: scafffloat.co.uk/demo/