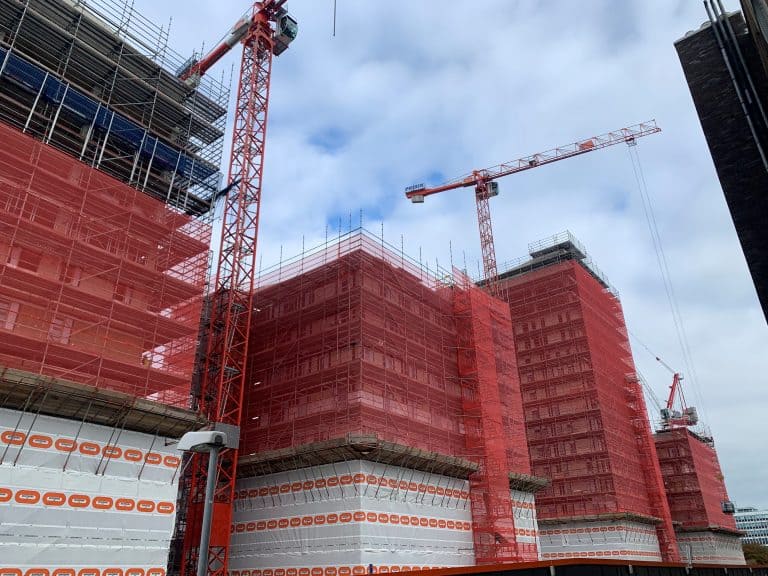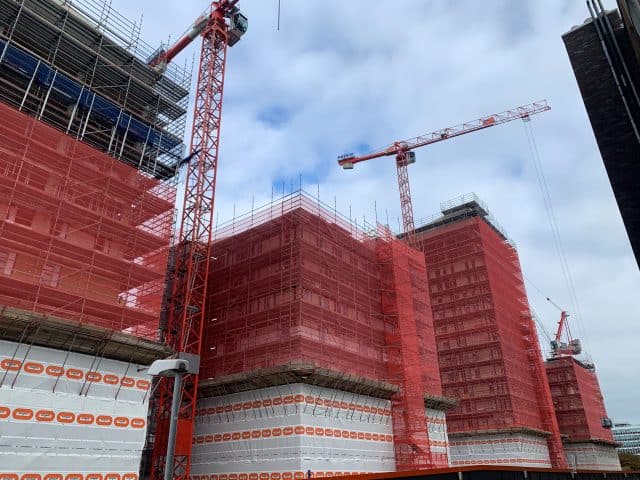 TRAD Scaffolding Contractors has reached the halfway milestone on its £2M+ 18 month project at the University of Brighton.
TRAD Scaffolding Contractors (TRAD) has been working on several significant schemes recently with Bouygues Construction UK (BYUK), One of these is the construction of a new student residence on the Moulsecoomb campus, the University of Brighton's single biggest campus, based in the north of the city.
The £160m+ project has a scaffold value in excess of £2m over a period of 18 months. Construction began in January 2020 and is anticipated to complete in June 2021, in time for the new cohort of students in September 2021.
TRAD is supplying a workforce of more than 20 operatives and onsite management which is headed up by its long standing and very experienced contracts Director Craig Hayes. During this large and fast-moving programme, the new build construction of five blocks of between 9 and 18 storeys will eventually utilise over 1,000 tonnes of equipment.
"We have been commended by various levels of BYUK management on the quality, appearance and day to day control of the system scaffolding at the University of Brighton," said a representative of Bouygues Construction UK. "We would like to extend our acknowledgement and thanks for the positive input, hard work and commitment shown thus far."
The project has multiple cranes as you would expect over such a large site, and TRAD – able to use its expansive stock of system scaffold on the project – has also utilised site hoists to full effect. With no component more than 3m long, the scaffold is comfortably transported within a standard hoist cage size and takes the pressure off the cranes during inclement weather or when they are in use by the critical path RC frame contractors. Another time and crucial space saving item will be the 50 cantilevered loading platforms eventually to be erected on the project.
Each block is using the popular full height TRAD System Staircase during construction which fits snugly with the system scaffold. We are also using the TRAD Mini Catch Fans for erection and subsequent dismantle of the main independents. The lightweight and manually transferable mini catch fan which has been designed and developed by TRAD is proving its worth for both safety and speed as it follows up behind the scaffold build – both these products are readily available for hire and sale from TRAD UK depots across the country.
To add to the complexity, each block has a large chamfered sloping corner, the potential difficulties of which have been overcome by TRAD using innovative design and development at an early stage whilst engaging fully with Bouygues UK, resulting in a stepped-in bridged beam access solution. This once again proves the adaptability and capability of its system scaffold.
University of Brighton vice-chancellor Professor Debra Humphris said: "We're proud to be investing in the future of our university, making Brighton a great place to live, work and study. "The transformation of our Moulsecoomb campus is a vital part of this and will provide our students with access to modern accommodation, new teaching and learning spaces as well as new social and fitness facilities." 
"We are delighted to be working on this important project for the University of Brighton – and for the city in general," commented Craig Hayes, Contracts Director at TRAD Scaffolding. "This is a project in which we have invested a lot of time during concept and planning stages with our client, ensuring complex needs are met across a multi-building site and working within strict timescales and budgets. We look forward to completing the project successfully alongside our construction partners."