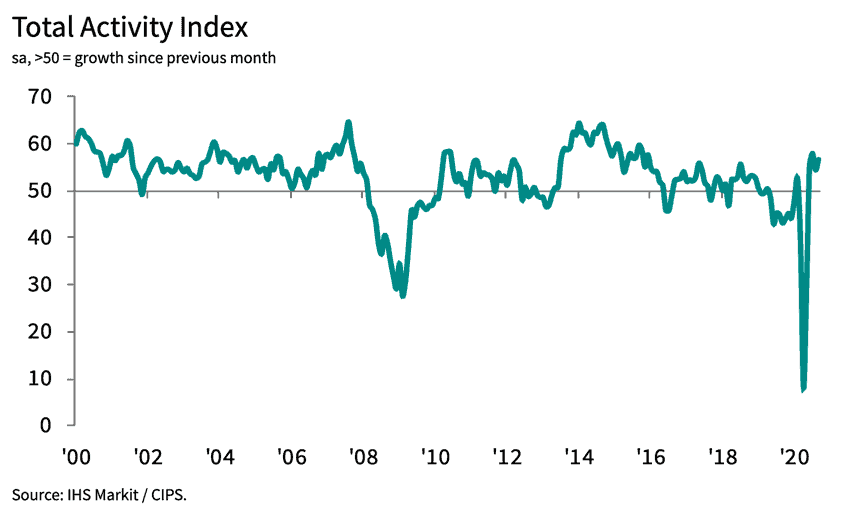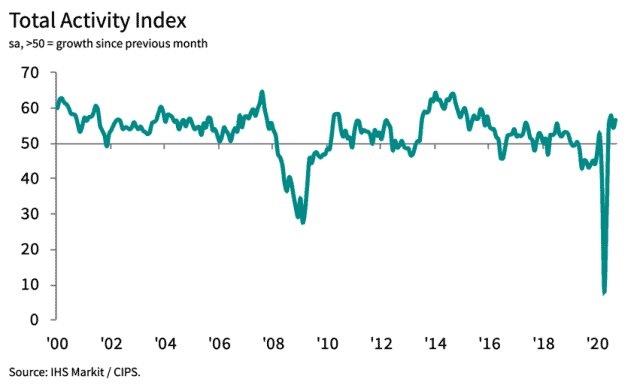 Latest data from PMI has signalled another sharp increase in UK construction activity in September.
According to the latest monthly survey from the Purchasing Managers Index (PMI), September saw the quickest rise in new construction business since before the COVID lockdown.
Firms have increased their purchasing activity at the quickest pace for nearly five years. And employment continued to fall, but the rate of job shedding eased, the survey found.
The headline seasonally adjusted IHS Markit/CIPS UK Construction Total Activity Index registered 56.8 in September, up from 54.6 in August. Any figure above 50.0 indicates growth of total construction output. The latest reading pointed to a reacceleration in the rate of activity growth and a sharp increase overall.
The strongest performing category was home building, where firms registered a sharp expansion in activity for the fourth month running.
Work undertaken on commercial projects also rose strongly, increasing at quickest pace for over two years. Meanwhile, civil engineering activity fell for the second month running and at the sharpest rate since May.
New orders rose for the fourth time in as many months, with panellists continuing to mention a release of pent-up demand. In fact, the latest increase was the strongest since just before the escalation of COVID pandemic.
Eliot Kerr, Economist at IHS Markit, which compiles the survey said: "Following August's slowdown, growth in UK construction activity rebounded strongly in September. There were faster increases in activity in both the housing and commercial sub-sectors, which more than offset a sharper decline in civil engineering work.
"Forward-looking indicators point to a sustained rise in activity, with new work increasing at the quickest pace since before the lockdown and sentiment towards the 12-month outlook at its strongest for seven months.
"Meanwhile, latest PMI data pointed to another fall in employment numbers across the UK construction sector. That said, the rate of job shedding eased substantially, while building firms upped their purchasing activity in a further sign of encouragement for the months ahead."