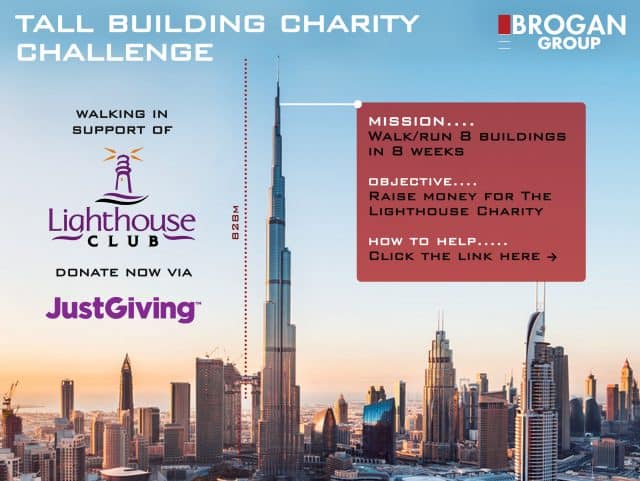 Construction workers are a generous lot, so it comes as no surprise to see another charity raising challenge slowly building up to help benefit families across the industry.
Hoping to a-spire to a sky-scraping success story, the Tall Building Challenge is exciting, dynamic and invigorating all in one go. It takes determination, no little physical effort and a taste for adventure.
The event involves Brogan Group Volunteers in the UK and Ireland walking or running a set distance each week for eight consecutive weeks, with the distance based on a multiple calculation on the height of eight Tall buildings Brogan Group have provided Access to.
Sounds straightforward enough – until it emerges the team will be set a new Tall Building Charity Challenge of an increasing height each week. In short, if the building is 95m high, they are converting this into a target of 9.5km. And just to ensure everything is accurately recorded a Strava Group has been created, the free activity tracking app, for participants to record results and create the competitiveness needed to see which teams come out on top, On-site or office, depot or country.
"We are thrilled to be launching this in support of the Lighthouse Club."
Will Allen, Marketing Manager, Brogan Group explained: "We are looking to raise £5000 for the Lighthouse Club Charity starting next Monday 7th June with the 'Tall Building Charity Challenge'
"We are thrilled to be launching this in support of the Lighthouse Club.
"This Charity provides emotional, physical, and financial wellbeing support to construction workers and their families.
"They receive no public funding and rely on the generosity of those within the industry to help continue their vital work.
"We work with organisations like the Lighthouse Club on training up our own Mental health 'First Aiders' that support our wider staff at Brogan Group."
Why the lighthouse group? Because the Brogan Group is a Company supporter of The Lighthouse Construction Industry Charity, the only charity providing such vital help to construction workers and their families.
The event is also a health and wellbeing initiative for Brogan employees, encouraging increased physical activity as we come out of the lockdown.
Taken further, the group have trained up a number of their employees as Mental Health 'First-aiders', looking to continue support in this area with the assistance of groups including the Lighthouse Club.
Hitting the heights has never been so much fun with the result, so many families will gain priceless help from the money raised.
Walk Tall Brogan! – https://www.justgiving.com/fundraising/tallbuildingchallenge