Scaffolding industry titans Lyndon SGB are deploying and expertly installing a huge array of complex access solutions for one of the country's most prestigious renovation projects. 'Our Town Hall' in Manchester is said to be UK's largest commercial scaffolding project currently underway. Scaffmag's Editor Daniel Norton was keen to visit and learn more.
Standing proudly at the very heart of the city in Albert Square, Manchester's iconic Grade 1 listed Town Hall has been a much-loved landmark for more than 140 years. Opened in 1877, the neo-Gothic architectural masterpiece has taken centre stage for council business and important large-scale city events for decades, from Manchester International Festival through to location shoots for Peaky Blinders.
Hosting presidents, prime ministers and even monarchs, this significant building has a formidable past. Suffice to say, though, after 14 decades in use, with only a minimal refurbishment carried out in 1977, a restoration is well overdue to ensure it can enjoy an equally storied future.
To restore, protect and improve this magnificent historic building to its former civic glory – which involves extensive internal and external repair work – main contractors Lendlease have been entrusted with the renovation. The £330-million, six-year contract will see the building lovingly restored and updated for the people of Manchester and the nation.
In December 2019, Lendlease called upon Lyndon SGB's unrivalled expertise in supplying, designing and planning for all the external and internal access requirements for this massive renovation project.
Lyndon SGB is no stranger to giant challenging projects. Since its birth in 1919, the nationwide firm has provided a full range of temporary access solutions to some of the UK's biggest and most prestigious projects. Recent examples include resurrecting the Mackintosh Building at Glasgow School of Arts following 2018's devastating fire, London's Coal Drops Yard development and work on Edinburgh Castle.
Out Onsite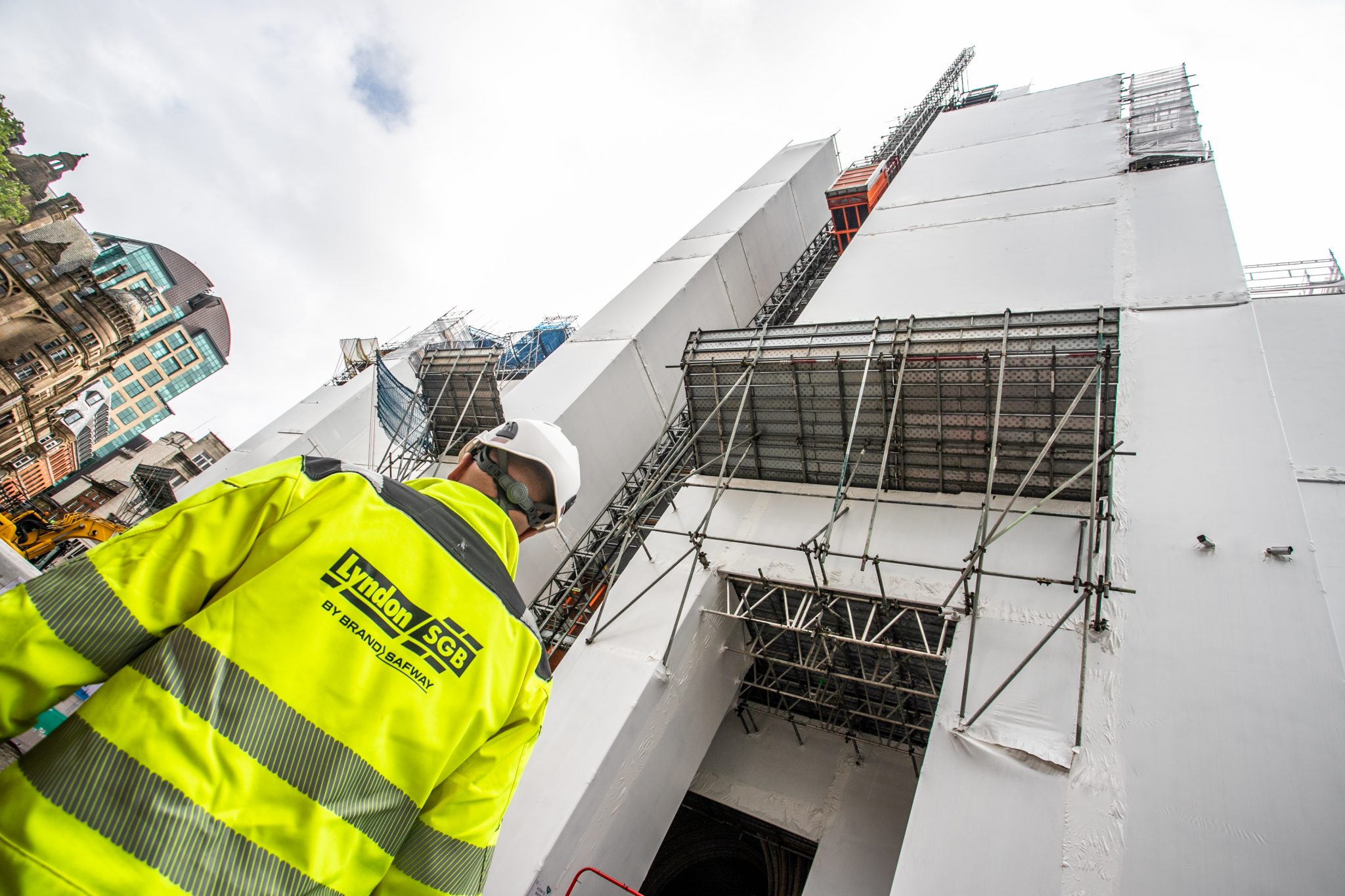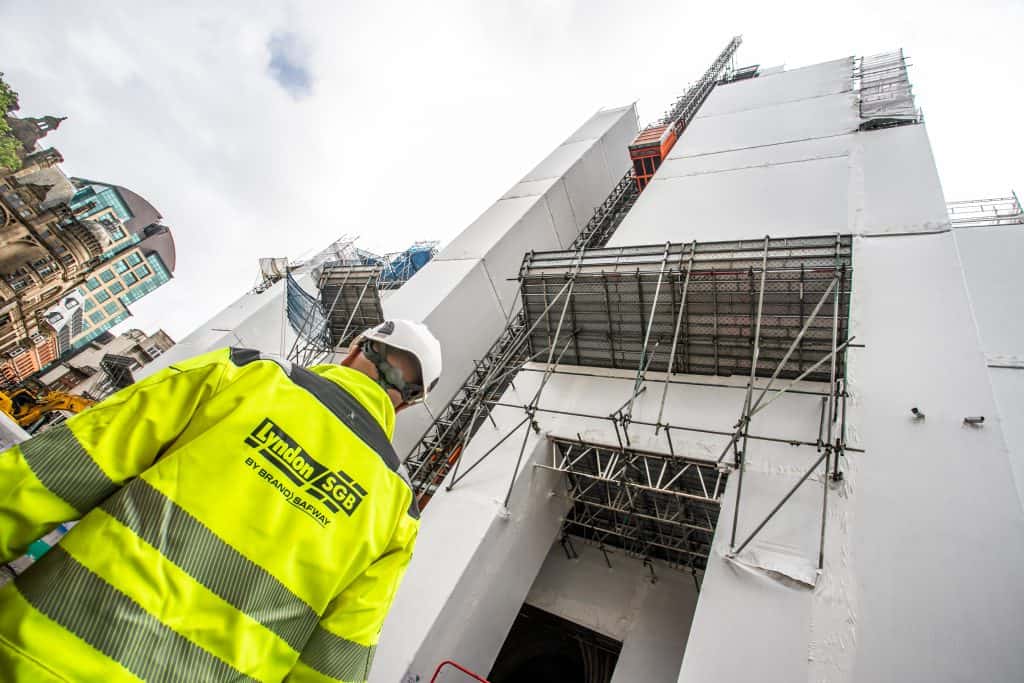 Although the COVID pandemic and nesting peregrine falcons slowed the project slightly, work is now in full swing, with up to 300 workers onsite on any given day. More than 50 Lyndon SGB scaffolding operatives have already safely erected a 32 lift large tube and fitting perimeter scaffold with Class-B protection fans, a multitude of crash decks and birdcages, a bespoke and highly technical 90m high clock tower scaffold and provided designed access for 34 huge chimney stacks.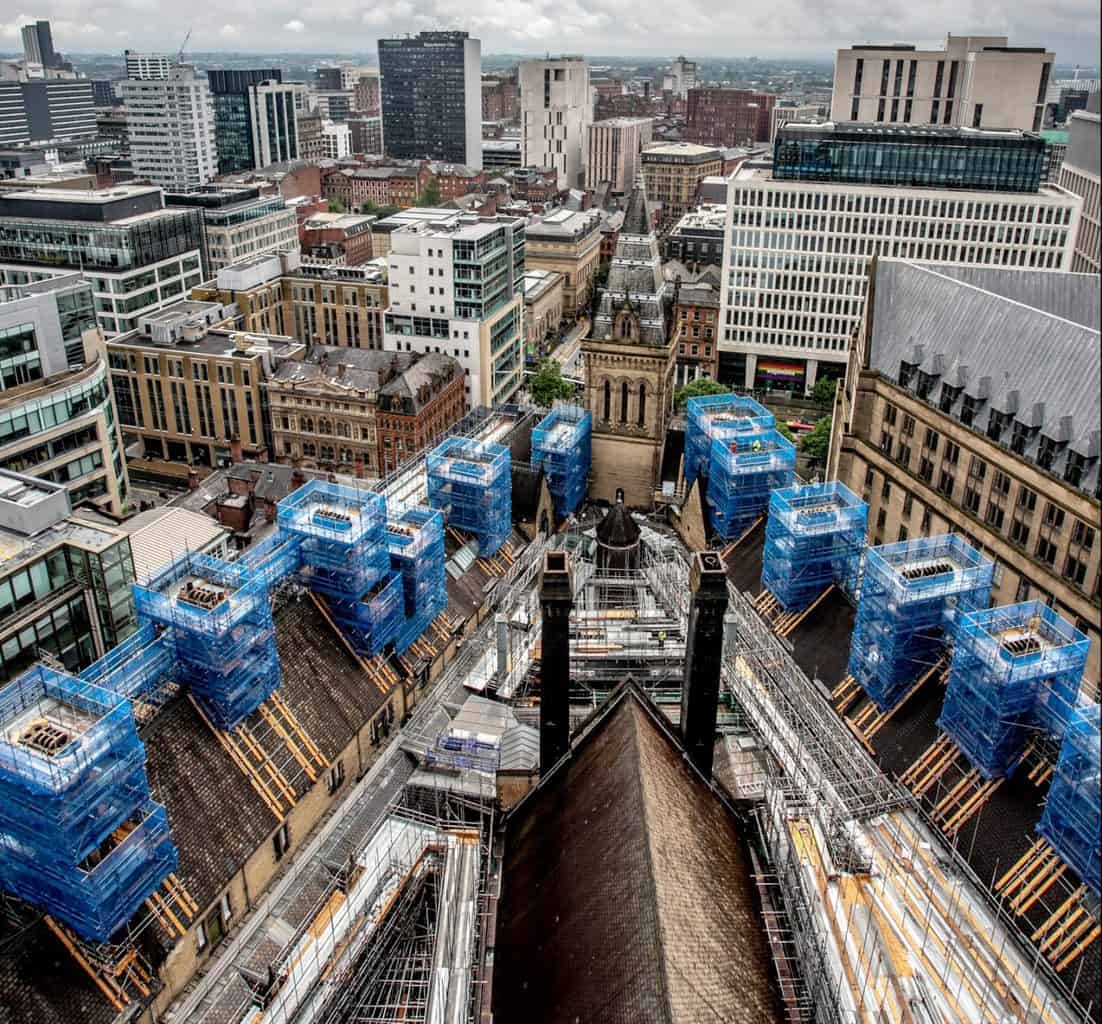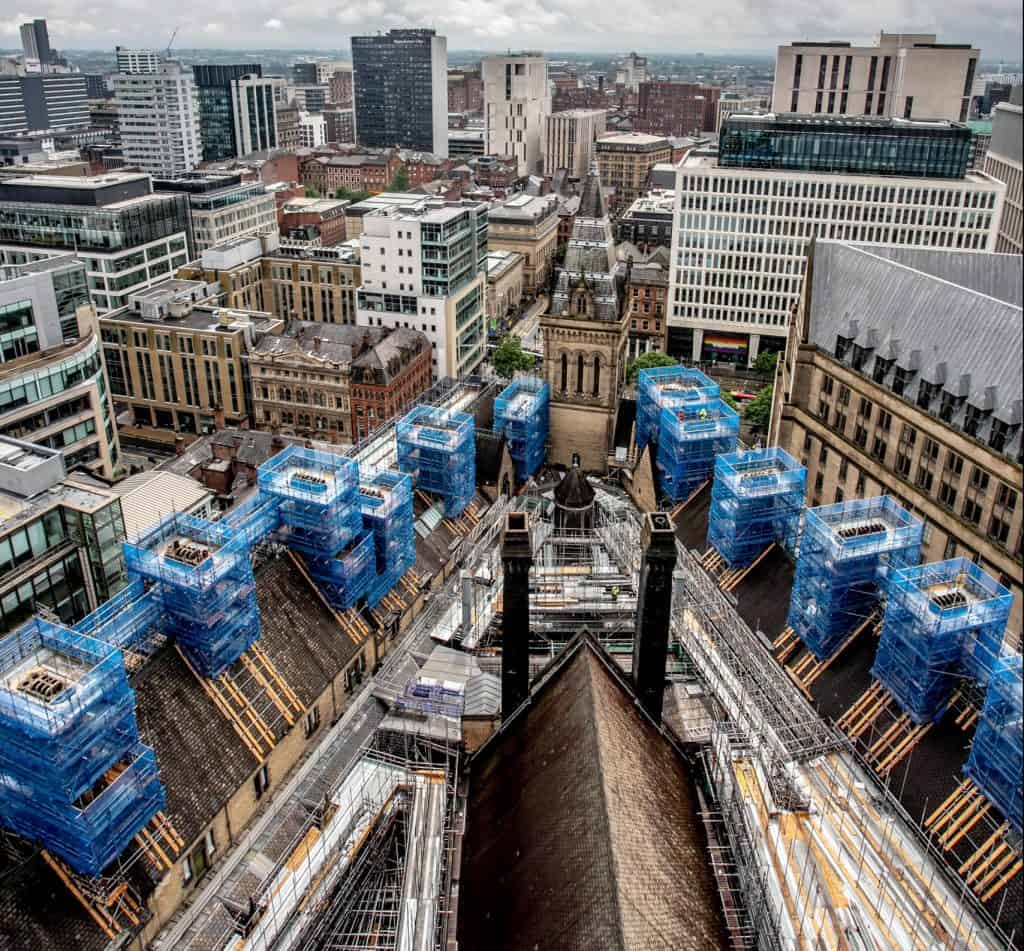 Around 450m of staircases have also been erected, enough to reach the summit of the Empire State Building. And, to top it all off, in August Lyndon SGB are set to install 10,000m2 of the most complex temporary weather protection roofs the industry has ever seen, covering both the central Great Hall and the perimeter structure.
Lyndon SGB northwest regional manager, Jon Cooke, described the project as "massive" and said: "You just don't get jobs like this. It's such a rarity in our industry to have a commercial scaffolding project on this scale. It's not just a once-in-a-lifetime opportunity. It's a once-in-a-100-year-job-opportunity. The scaffolders love it and feel privileged working on the site."
Lyndon SGB has already provided millions of pounds worth of In-house designed scaffolds for the eight-year Town Hall project. Over 200 separate scaffold designs have been produced so far. Utilising cutting edge scaffold design techniques, Lyndon SGB's design team – including manager David Flaherty, and engineers Jamie Robertson, Maarten van Dijk and Bram Sanders – have used 3D models and clash detection systems to avoid the need for re-designs mid-project.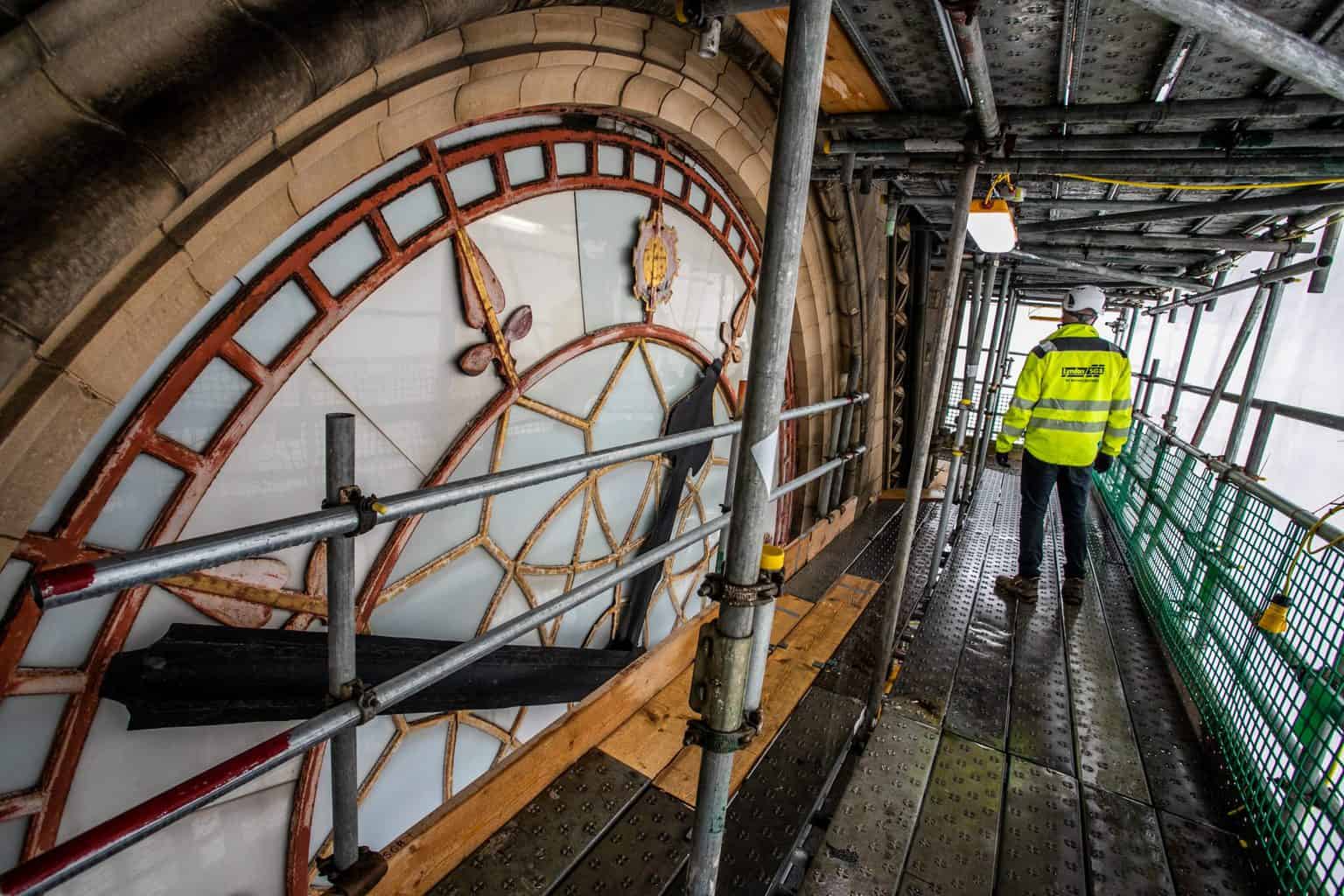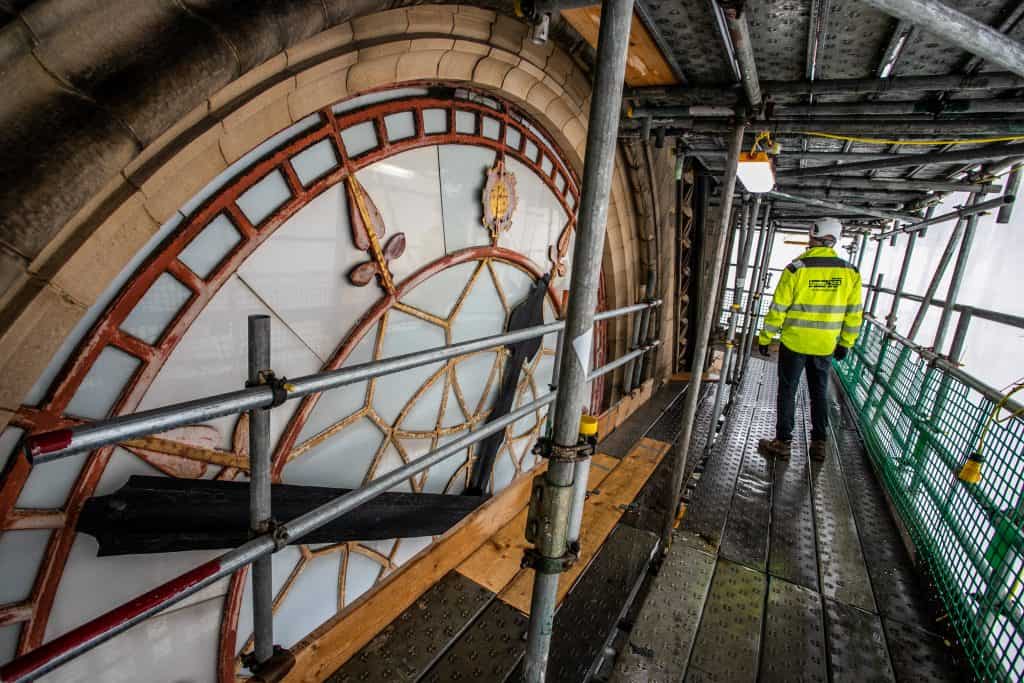 "The building is totally unique. There is nothing mirrored on each of its elevations. We are using our Dutch engineers who have created complex 3D models of the whole building allowing us to detect clashes before the scaffolding was erected," Cooke said.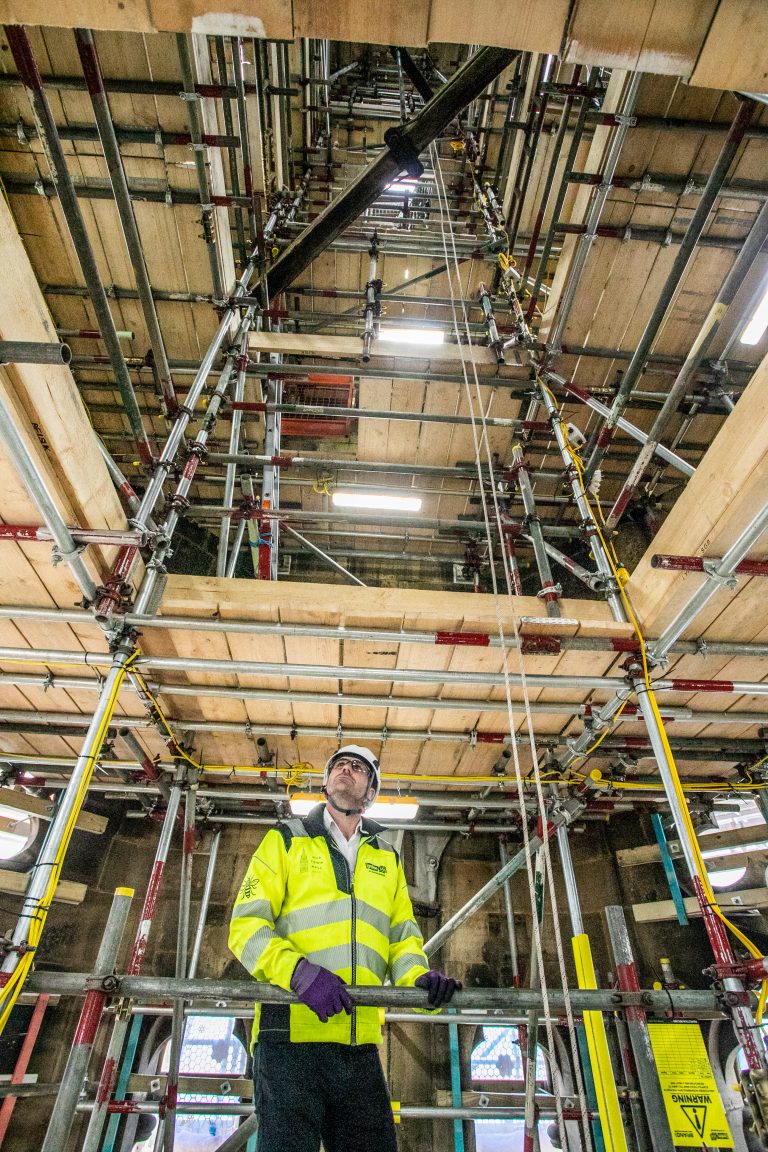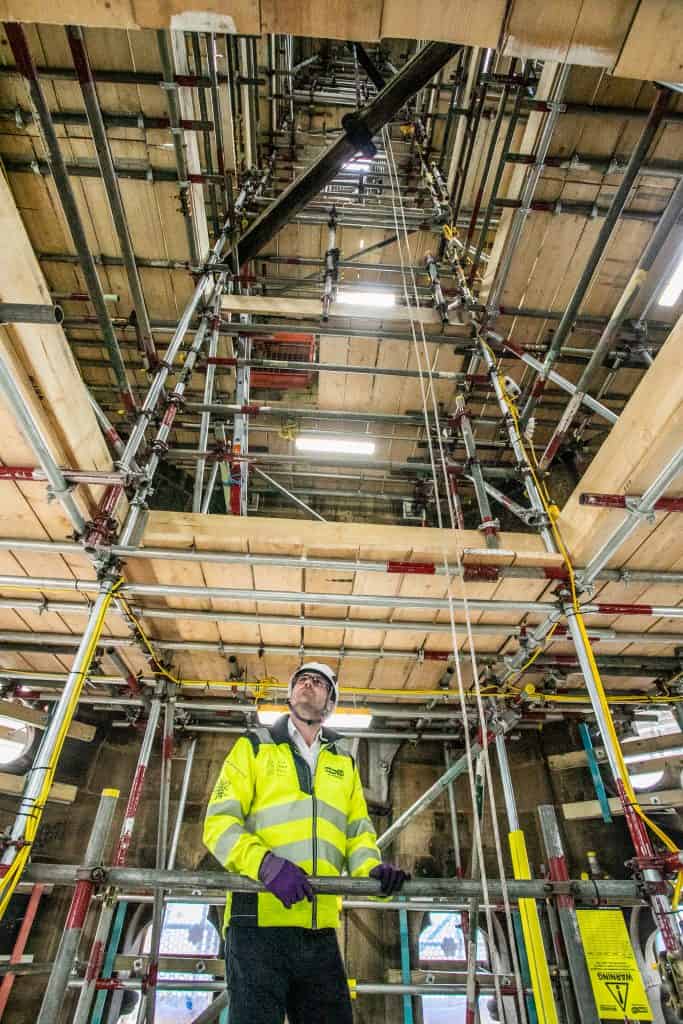 As he guides us through the huge site, he's quick to point out that "overseeing the work is the easy bit," and the backroom staff are the ones that deserve all the credit due to the challenges presented each day at work on Our Town Hall. These include contracts manager Craig Parry and Nathan Maylett, alongside senior supervisor Shane Scoynes and commercial manager Paul Fishwick.
When quizzed about the defining project challenges, Parry said: "Other than the national shortage of materials the biggest challenge has been logistics and moving scaffolding materials around site. We are positioned in the very centre of Manchester, so strict early morning deliveries were essential."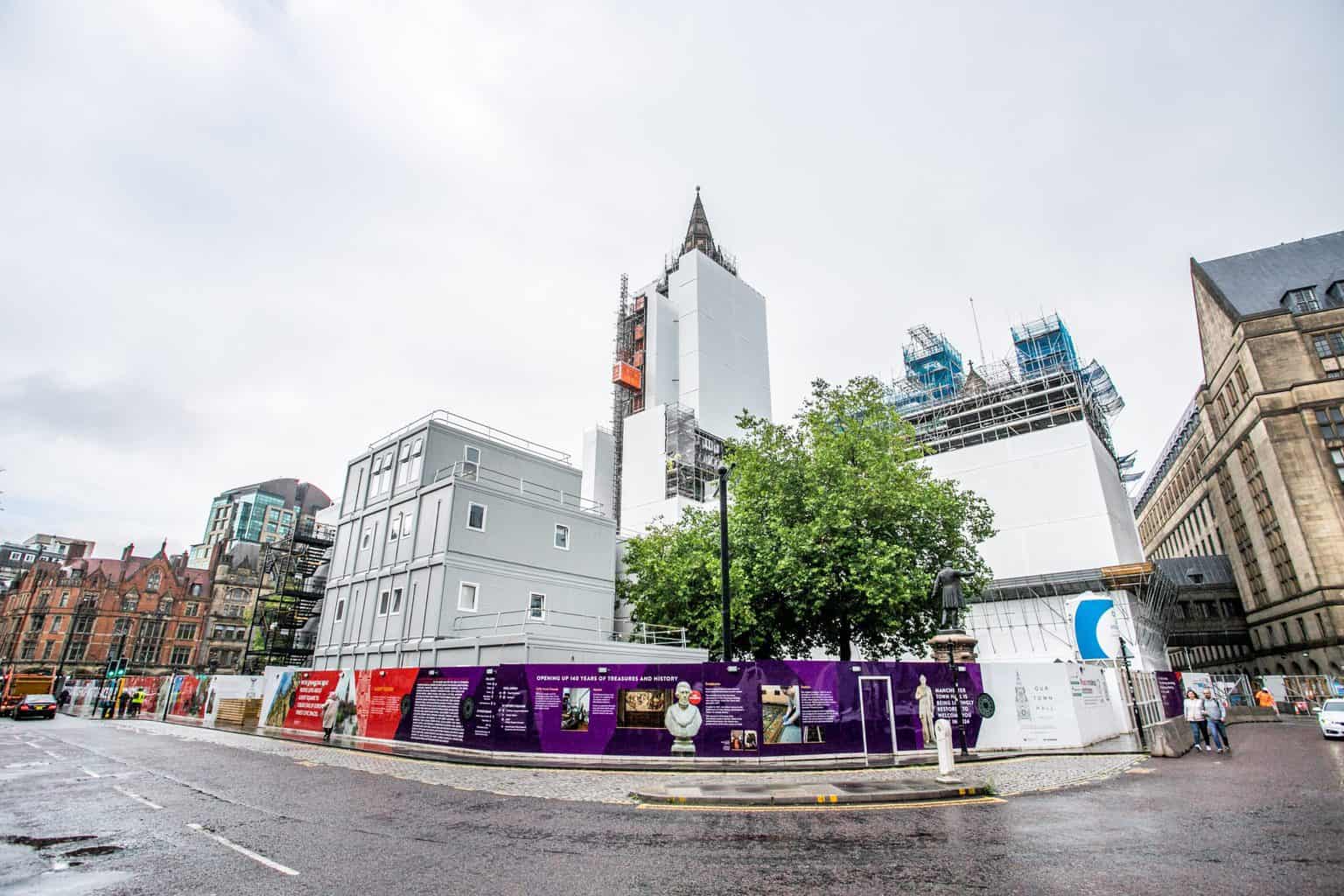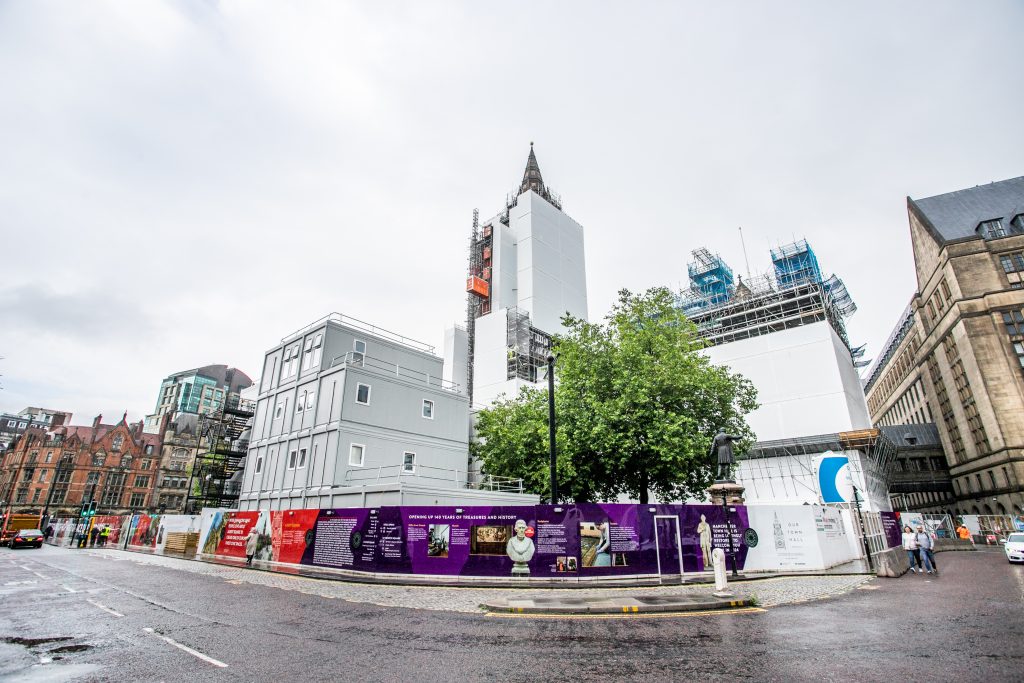 He went on to explain how attention to detail involved in the project is also commendable, from the placement of protective sheeting hiding the work taking place within, through to the historical information presented on perimeter boards.
"You've got to put the extra work in," said Parry. "Otherwise it just looks like a nightmare. They're just the little things that nobody really appreciates."
The nature of the building itself has also presented some issues. As a listed structure, individual bricks that needed drilling into had to be approved by architects to avoid damaging priceless structural fabric. Meanwhile, much of the installation on the upper levels had to be lifted in through windows and doors which were never designed for modern construction requirements.
"You've got to put the extra work in, Otherwise it just looks like a nightmare. They're just the little things that nobody really appreciates."
Building for the Future
Our Town Hall isn't just about safeguarding one of the UK's most treasured civic buildings for the coming decades. The project also involves a large number of apprentices, not least given the advanced technical demands of the work, while the majority of the labouring crew are based locally. That means this undertaking is directly impacting the city region's economy and up-skilling its workforce.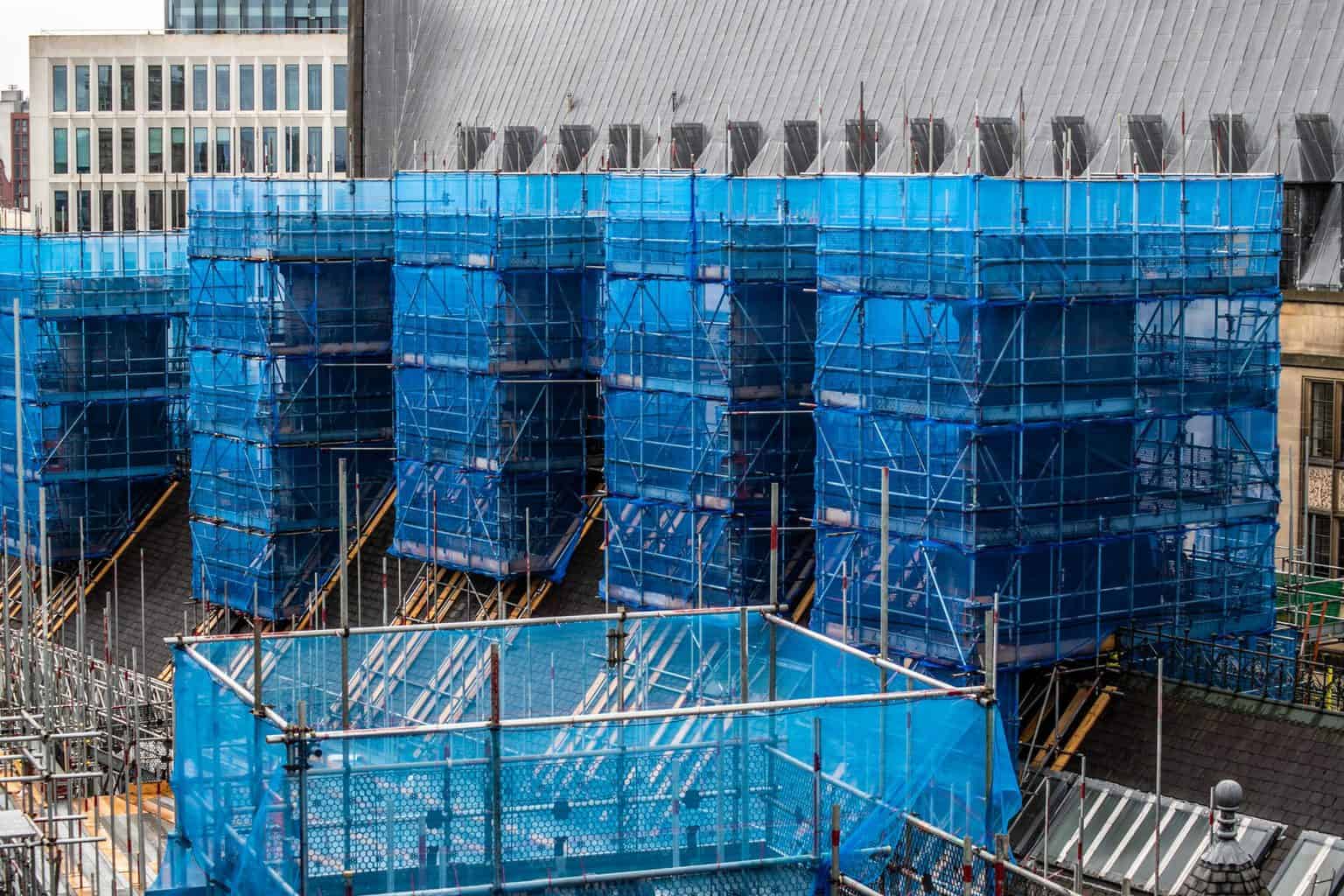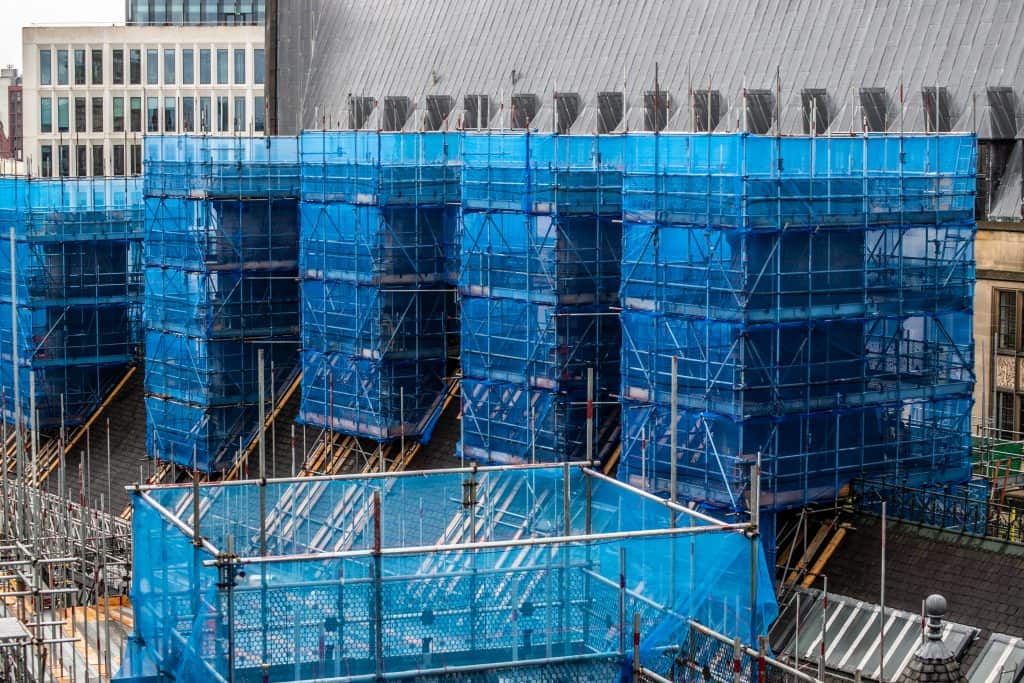 "You need a certain ability of scaffolder to be doing the work on here," Parry said of the team involved, explaining not all hard hats on-site could be filled by Manchester residents. "This means that not everyone could be found in the region, but certainly a very high percentage of those here are from the area."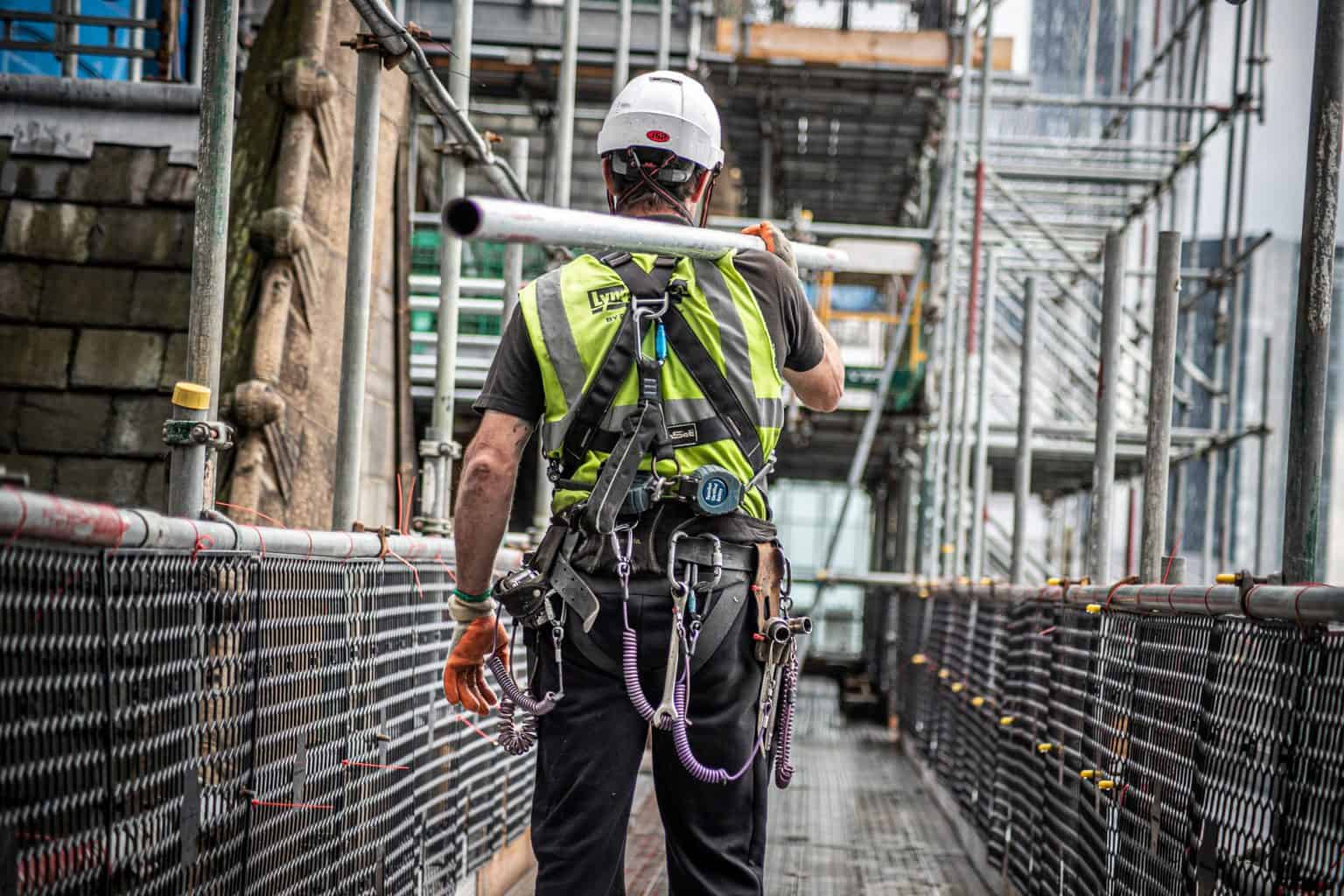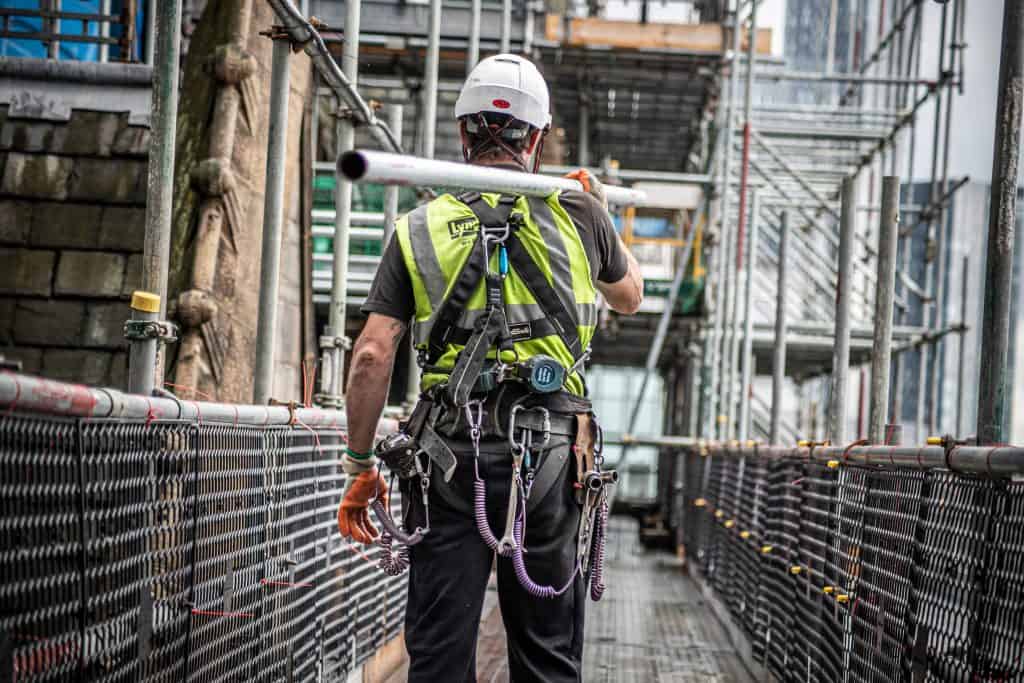 Due to complete in 2024, the Alfred Waterhouse-designed Manchester Town Hall reflects both the complexity and grandeur of British neo-Gothic architecture, and represents the apex of modern scaffolding technology. With this in mind, the restoration itself is just as impressive as the end results will be, with the efforts to refurbish and future proof a work of art in itself.