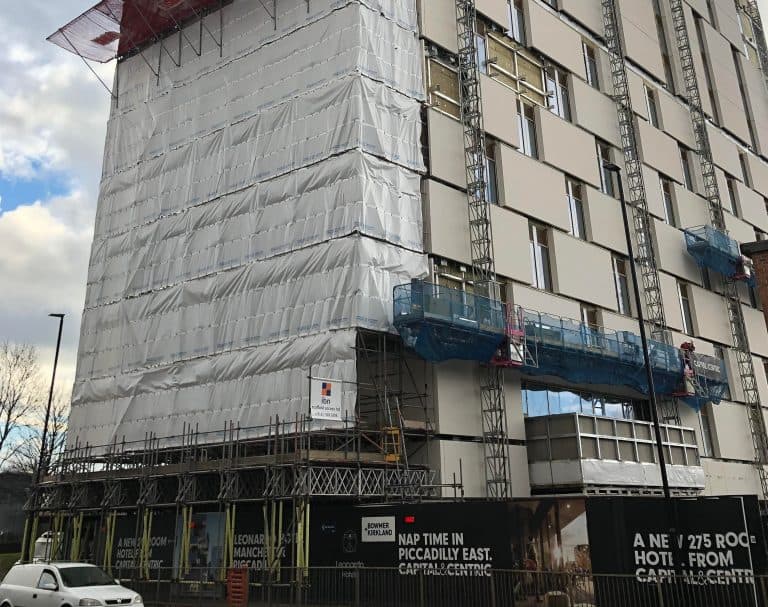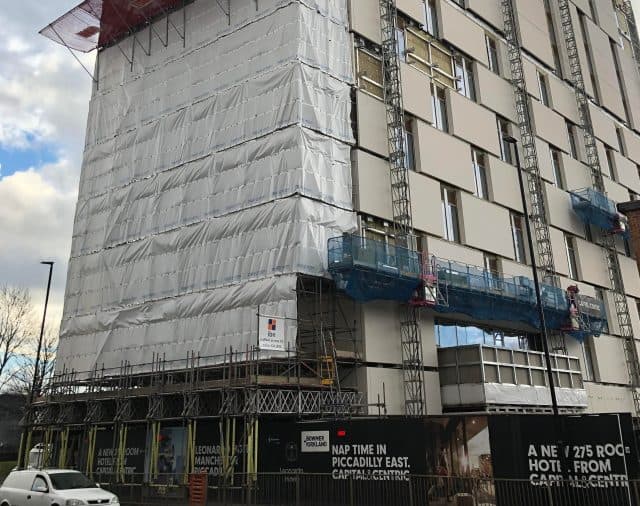 Yorkshire-based manufacturer, ITP Ltd, has secured a contract to supply scaffold sheeting for the construction of a unique building showcasing the very latest in architectural design at the Leonardo Hotel in central Manchester. 
One of the UK's most ambitious and eye-catching hotel projects, the development features biodiverse facades inspired by Milan's Bosco Verticale (Vertical Forest) and is known as the 'Jenga' hotel, due to its design resembling stacked blocks of the classic game, Jenga. Located at 1 Adair Street, near Piccadilly Station, the striking £35m build will be 14 storeys tall and comprise over 110,000 sq ft, with 275 rooms.
Designed by local architect, Roger Stephenson of Stephenson Studio, the Leonardo Hotel project was recently featured in the BBC 2 series Manctopia: Billion Pound Property Boom, and gained significant attention for its innovative design, winning an award from the Manchester Society of Architects prior to its construction.
Main contractor, Bowmer & Kirkland, is overseeing a scheme featuring 17 external planted tiers referred to in planning documents as 'Jenga blocks.' The tiers will be filled with trees, shrubs, ferns, grasses and perennials tailored to suit the microclimate of each space in a similar way to Bosco Verticale, the pioneering eco-friendly residential complex created in 2014 by Stefano Boeri Architetti.
Award-winning scaffold company, IBN Scaffold Access Ltd, chose ITP's Powerclad Standard Flame Retardant scaffold sheeting to provide robust weather protection and containment during construction. Compliant with all relevant regulations, the product's flame retardant performance has been certified to the highest standard Certifire TS 62 and 63 by independent testing bodies Exova Warrington.
The 4-star hotel is due to open to the public in 2022 and will be operated by Fattal Hotel Group under the Leonardo Hotels brand. The build will make up part of developer Capital & Centric's Piccadilly East neighbourhood which will see further apartments created in the area alongside a hotel at Ducie Street warehouse. It is hoped that the project will promote Manchester's architectural reputation on an international level.
David Brown, Managing Director of IBN Scaffold Access Ltd, said: "The Leonardo Hotel is one of various high-profile city centre developments which IBN Scaffold Access Ltd are currently supporting, and we are excited to be involved in this impressive project. ITP's Powerclad offers tried and tested strength, durability and fire retardancy. The system is in keeping with the exceptionally high standards that clients expect from our scaffolding solutions."
ITP Account Manager, Caroline Collins, added: "ITP are proud to supply our products for another innovative architectural project. We are looking forward to seeing the completed Leonardo Hotel – it promises to be a very impressive sight on Manchester's skyline."