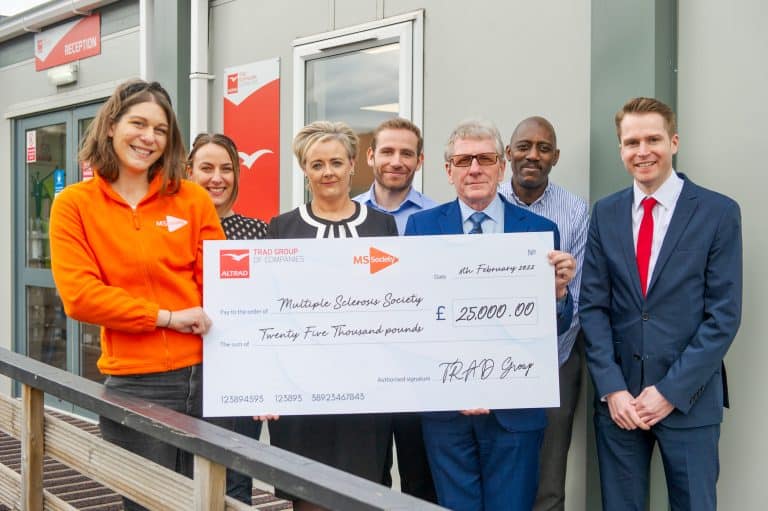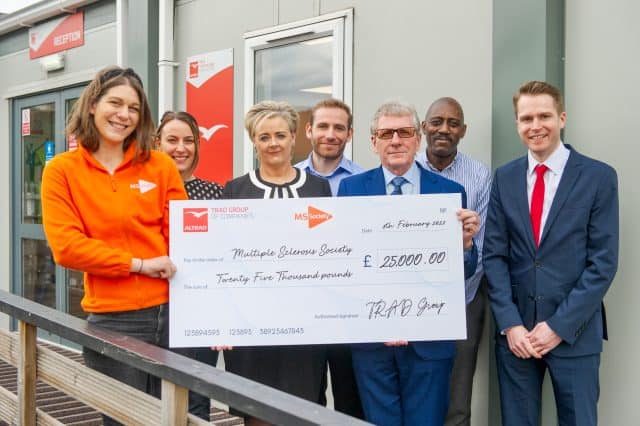 The TRAD Group has presented The Royal British Legion, MIND and MS Society with cheques for £25,000 each, following a year of fundraising in 2021.
TRAD Group, one of the UK's leading scaffolding groups, presented its three 50th anniversary charities with cheques for £25,000 this week. The charities, which were chosen by staff, were the focus of the Group's 50th anniversary year charity fundraising, and TRAD reached its target of £75,000 before Christmas, thanks to the generosity of staff, customers and the wider construction community.
"It was an absolute pleasure to be involved with these fantastic charities during our 50th anniversary year," says Des Moore, CEO of TRAD Group.
"The whole group got involved, and we learned a lot about ourselves and what we were prepared to do to raise money for good causes – our incredible staff ran, cycled, walked, climbed and much more to get us to our ambitious target of £75,000."
The cheques, which were presented at an event on February 8th, divided the money equally between the three charities. MIND, which works on a regional basis, is splitting its £25,000 between the regions related to TRAD's depots and Head Office in Kent, Andover, Stockport, Leeds, Glasgow, Birmingham and London. The MS Society, chosen because of links with some TRAD staff members, will support its important research into Multiple Sclerosis, along with the support it offers to those with MS and their families.
"We are very grateful to TRAD for the considerable efforts their staff have made to raise such a fantastic amount of money for the Poppy Appeal," said Greenhithe Royal British Legion Branch Treasurer, David Mote. "The Poppy Appeal is the Royal British Legion's biggest annual fundraising campaign in November, during the period of Remembrance, but we try to raise money all year round. This generous donation will support those still serving and those who have previously served in any war where the UK has been involved."
TRAD is now working towards its charity scheme for this year "22 for 22", where the Group will be raising money for the Anthony Nolan Trust, in memory of John Paterson, previously Managing Director at TRAD Hire & Sales for many years, and who sadly passed away in June 2021.