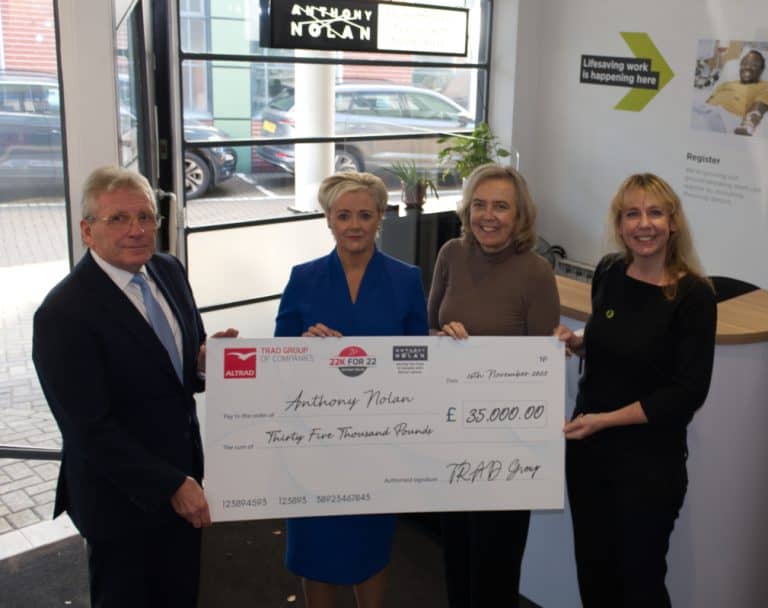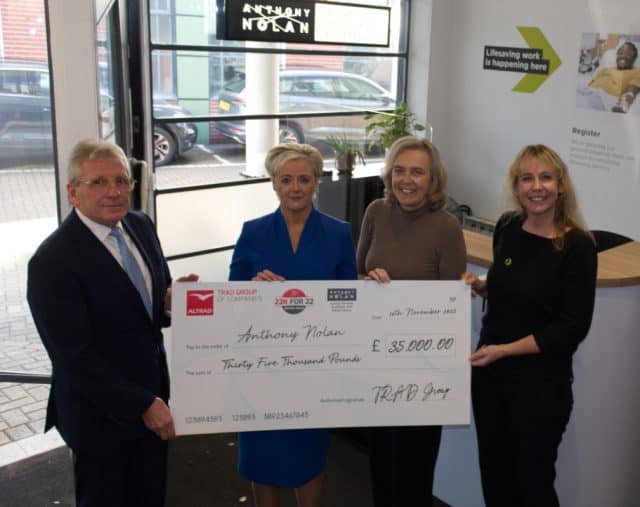 The TRAD Group has presented a cheque for £35,000 to Anthony Nolan, the Group's chosen charity for 2022 in memory of the late John Paterson.
Having originally set a target of '£22k for 2022', the company has been delighted by the generosity of its workforce, customers, suppliers and others in the industry, taking the total to well over that target.
This year's charity campaign has been in memory of John Paterson, a much-loved figure within the industry, and a director at TRAD for many years. John and his wife Jane were supported by Anthony Nolan when John was ill, and have been involved with many of TRAD's fundraising events.
Anthony Nolan is the charity that makes lifesaving connections between people with blood cancer and incredible strangers ready to donate their stem cells. Alongside this they also fund ground-breaking research, and provide the best post-transplant care – something that can make a huge difference to the lives of those living with blood cancers and disorders. The best donors are aged 16-30, and young men are really needed to come forward as they only make up 18% of the register but provide 55% of the stem cell donation. TRAD's fundraising will help the Trust to recruit new donors and support families.
"We rely on fundraising to help us with all the important work we do – from research to family support," said Bianca Joyce (Head of Corporate Partnerships) from Anthony Nolan.
"We are delighted with this exceptional fundraising from TRAD Group, which will make a real difference to our work, and shows how highly regarded John was among his friends and colleagues."
TRAD organised a number of key fundraising events, including the Surrey Three Peaks Challenge, the Great North Run and a golf day at Gleneagles – John's home club. Alongside these events, all TRAD's depots and offices organised ongoing fundraising events to help beat the target.
"John was such a personality in TRAD and in the wider industry," said Des Moore, CEO at TRAD Group.
"He is still sorely missed in the company and we all have stories and happy memories of our time with him. It has been an honour to spend this year supporting Jane and fundraising for the charity that gave them both so much help. I want to thank all the TRAD teams, customers, suppliers and others who so generously donated to our campaign this year."
"Anthony Nolan supported John and I through our toughest times," commented Jane Paterson. "It has meant so much to me and our families that TRAD has raised so much money in his memory. He would be bowled over by the kind words, support and fundraising from all his friends at TRAD, and I can't thank them enough."