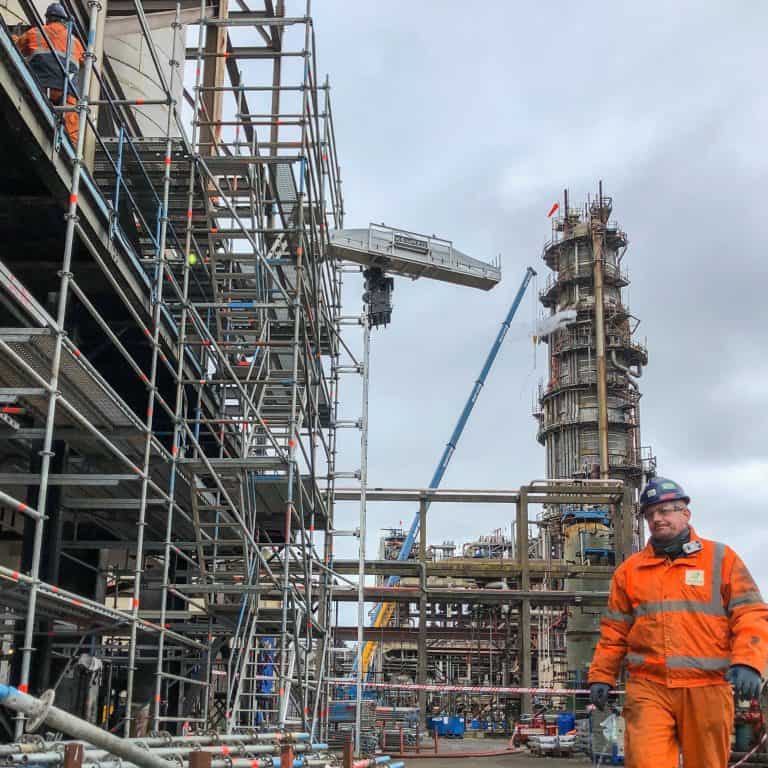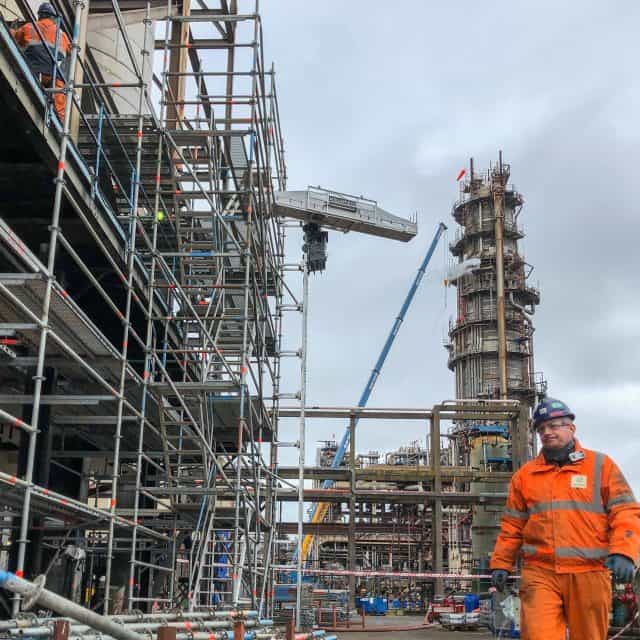 KEWAZO, the manufacturer of LIFTBOT robotic scaffolding hoists powered by Data Analytics, has delivered its first robots to leading industrial service providers Altrad UK and Bilfinger UK.
After successful UK pilot projects with LIFTBOT the robotic material hoist in September 2021, Bilfinger UK and Altrad UK acquired their first systems in January 2022. The robots are now in constant deployment at the UK's largest petrochemical refinery.
The CE-certified robotic scaffolding hoist LIFTBOT was introduced into the industry in 2021. It has been used since then by various scaffolding companies and key industrial service providers, including the German market-leader Bilfinger arnholdt.
According to KEWAZO, more than 80% of scaffolding projects are still built completely manually. Traditionally, the material is man-chained up from the ground to the assembly level. This approach is labour-intensive, unsafe, and unergonomic, the firm said.
By automating vertical material transport, LIFTBOT helps to increase assembly efficiency on average by 44%, and all this while enhancing safety. LIFTBOT's rotating transportation platform enables unloading of scaffolding material in an ergonomic position inside the scaffolding while keeping guardrails in place.
KEWAZO engineers have already trained both Altrad UK and Bilfinger UK scaffolders on how to use their LIFTBOTs. This recently enabled Bilfinger UK to use their system to erect scaffolding around 40-meter-high on some reactors.
The 8-week project would have typically required at least eight scaffolders, whereas working with LIFTBOT reduced this number to only three.
"This kind of innovation within the Access industry is long overdue and it is great to be leading the way by bringing it to our valued UK Clients."
Alex Curry, Bilfinger UK's Executive Director On-shore MMO, said: "Bilfinger have worked with KEWAZO since 2019 to help develop the LIFTBOT robotic scaffold hoist, so it is great for us to have one in the UK and it's already delivering real productivity and safety improvements on a Major Project at the UK's largest Refinery. 
Within 24 hours of arrival in the country, the LIFTBOT was quickly assembled, Bilfinger scaffolders were trained, and they had safely lifted over 1300kg of scaffold materials in just 6 hours! This kind of innovation within the Access industry is long overdue and it is great to be leading the way by bringing it to our valued UK Clients."
According to KEWAZO, one of the main advantages of LIFTBOT is its fast and easy mobilization. Its use of batteries instead of cables, compact size, and 20-minute installation without the need for additional scaffolding anchoring – all enable LIFTBOT to be deployed on jobs where scaffolding would otherwise be built completely manually and to much physical strain.
Another asset of LIFTBOT is the introduction of high-tech innovation into the scaffolding industry. Scaffolding is often seen as a commodity and most customers make their decision based on cost. Deploying the latest innovation in the industry can help scaffolding contractors to stand out. Altrad UK and Bilfinger UK now have this competitive advantage at hand, allowing them to strengthen their market-position even further.
"Altrad has improved safety by eliminating risk and has enhanced the wellbeing of its people."
Colin Murphy, Head of Technical Authorities, Altrad UK, Ireland, and Nordics, added: "Altrad are characterised by curiosity, a trait that helps them find solutions to the most complex of challenges. They work collaboratively with their clients to always find a better way, and never stop asking 'what if?'.
By using a LIFTBOT to support the construction of larger access structures, Altrad has improved safety by eliminating risk and has enhanced the wellbeing of its people by reducing manual handling activities, whilst also increasing productivity."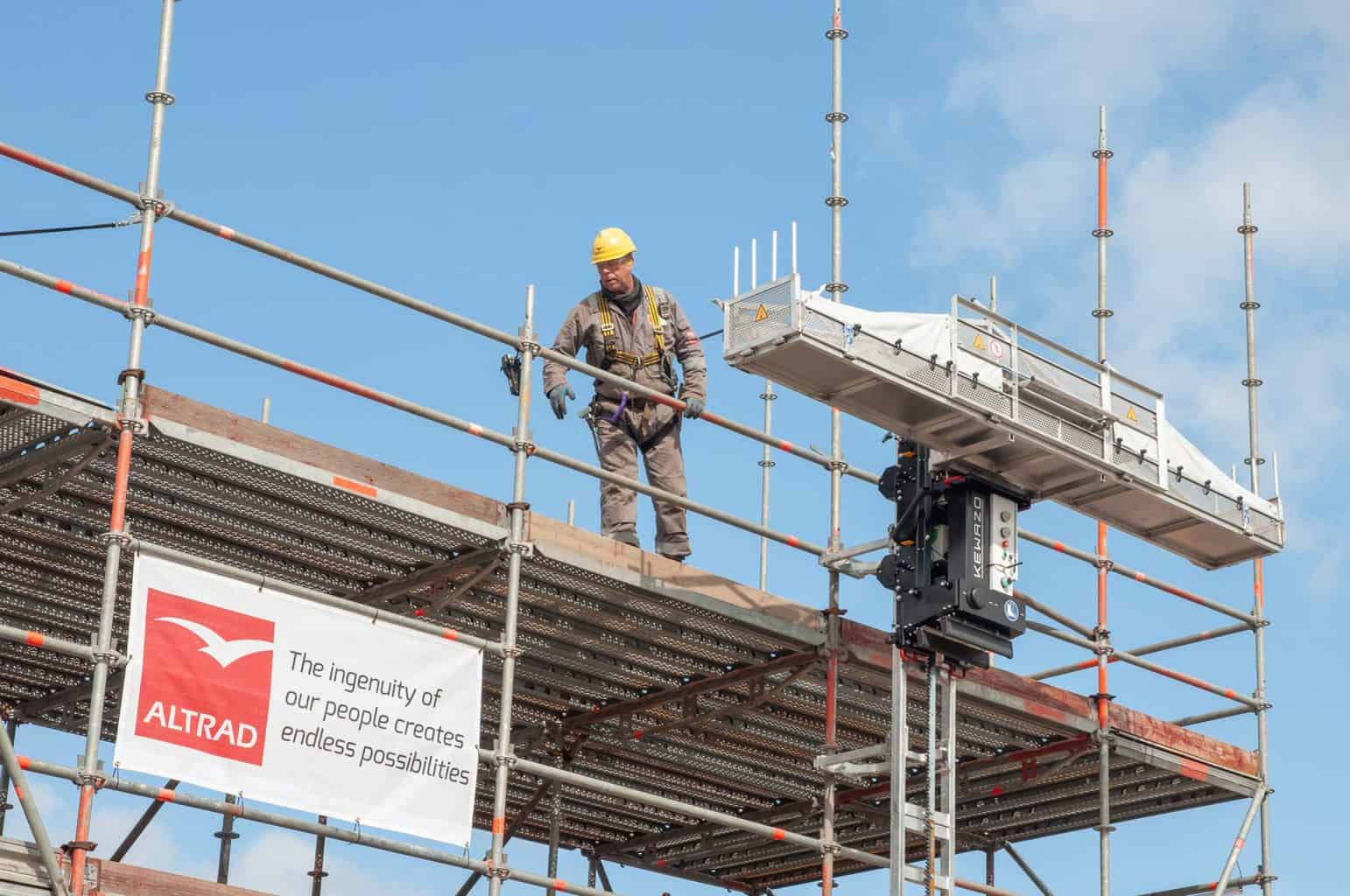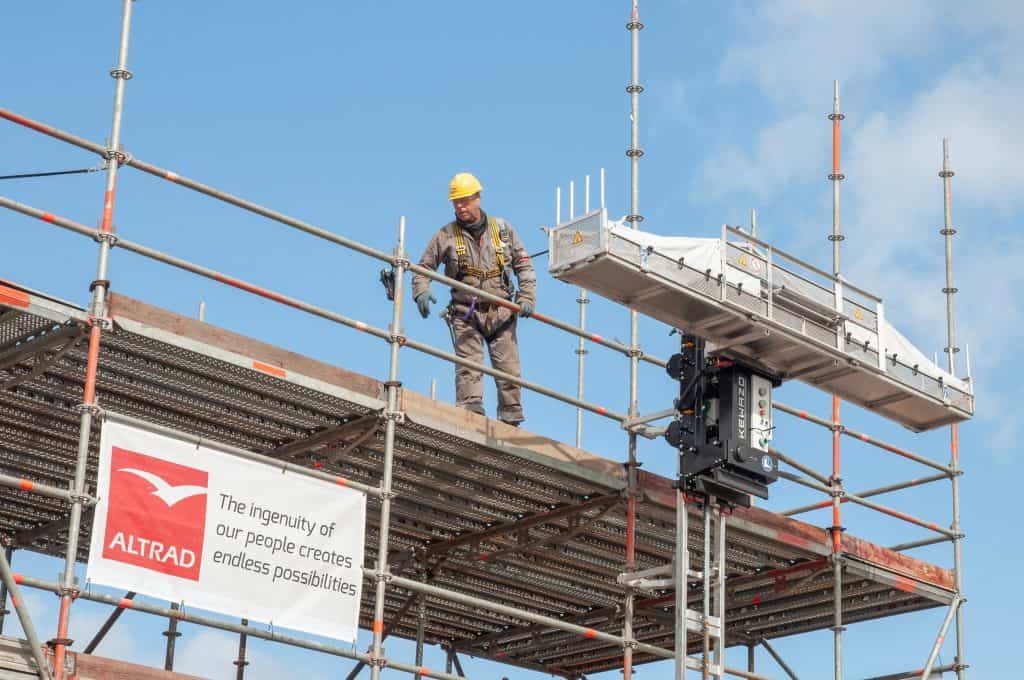 LIFTBOT integrates sensors that ensure safe operation and collects data crucial to processes such as transported weight, current scaffolding height, and efficiency. This data can be accessed on any browser or a smartphone via the Data Analytics web-platform KEWAZO ONSITE.
This creates transparency of on-site operations, enabling a more proactive data-driven management not only of individual projects but also of companies overall. Automated update-notifications via email, SMS, or WhatsApp detailing the project-progress promotes this theme even further. Thus, foremen, construction managers, or other stakeholders can keep track of set targets effortlessly.
Alongside Germany and Benelux, KEWAZO considers the UK as one of the key markets and has consequently established a robust support-infrastructure that enables a reliable customer service in terms of maintenance, training, and assistance.