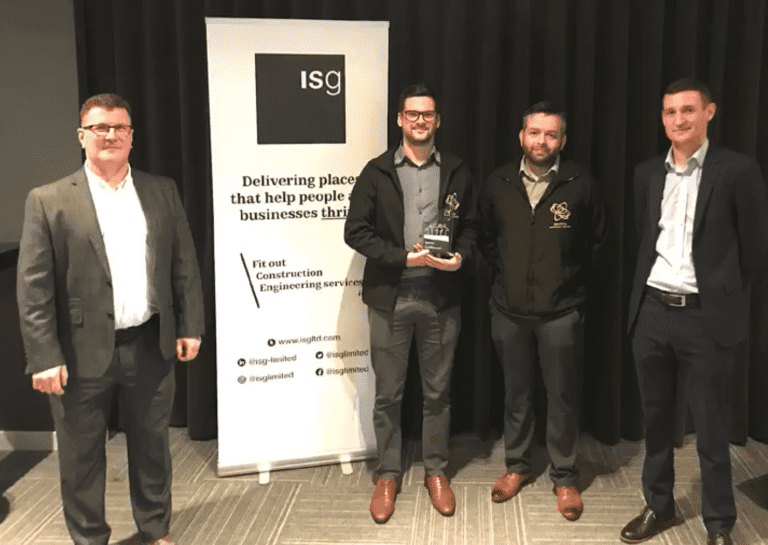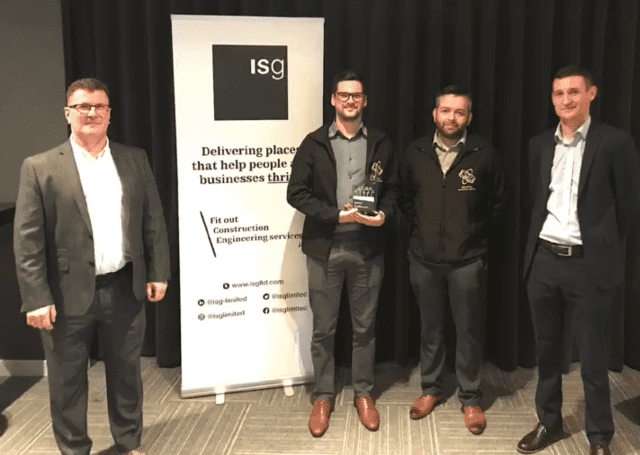 Enigma Industrial Services have won the Sub-Contractor of the Year award at the recent ISG 2022 Supply Chain Business Update Awards event held in Motherwell on Friday.
The award received is in recognition for Enigma's contribution on-site in supporting primary contractor ISG to fully restore Cameron House, a Luxury Scottish five-star resort located on the idyllic Loch Lomond.
The complex restoration project required meticulous craftsmanship and attention to detail to refurbish and reinstate rooms to their former splendour.
Enigma Industrial Services were appointed to be the sole provider of temporary access solutions on-site by ISG. Also, throughout the ongoing works, Enigma's in-house Design & Engineering team continued to provide on-site support with innovative, economical solutions for complex problems.
Enigma Engineering Manager, Fraser Freeburn, and Contract Estimator, Dylan Clark, are pictured above accepting the award presented by ISG Regional Director, Paul Beaton, and ISG Supply Chain Manager, Jim Murray.
Alan Cunningham, Enigma Industrial Services Regional Manager, said: "Throughout the restoration project at Cameron House, the Enigma team working on-site have been recognised for their safe working practices and quality standards by our client ISG. However, winning Sub-contractor of the Year is a testament to everyone in the Enigma team who has supported our client ISG in completing the prestigious project. Enigma's in-house design and engineering department have continually provided cost-effective solutions to complex problems on-site. To help ISG maintain their restoration programme schedule to restore the former 17th-century mansion.
One of the design solutions included installing a stabilising restraint to the existing walls during the façade retention phase before demolition and reinstatement works could commence. Additionally, Enigma erected a scaffold that helped structurally support the building walls from collapsing and installed kentledge to prevent the scaffolding from overturning. 
We look forward to supporting ISG with any temporary access requirements for future projects."