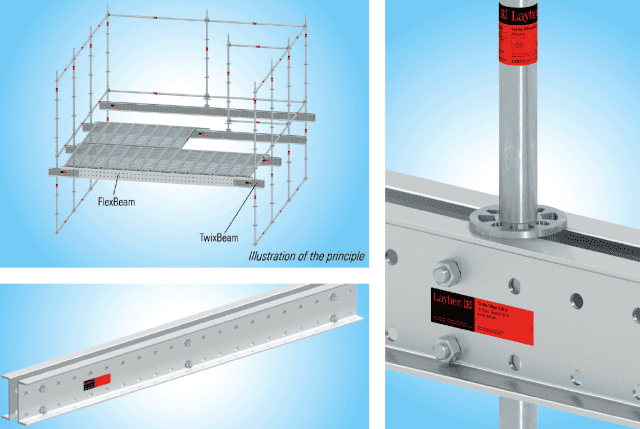 Layher the world's largest system scaffolding manufacturer is poised to reveal a brand-new revolutionary beam at its UK open day in Letchworth later this year.
Layher system scaffolding users and customers in the UK are set to benefit from the launch of a ground-breaking new multifunctional beam named the 'TwixBeam'.
The new two-piece beam which is rumoured to be named after a well-known chocolate bar is made entirely from high-grade aluminium and produced at the world-famous Layher Eibensbach factory near Stuttgart in Germany.
Scaffmag understands that bosses at Layher UK are planning to reveal the new TwixBeam at its invite-only open day later this year.
The hotly anticipated event which attracts hundreds of Layher system enthusiasts and customers alike will be the first Layher UK event since the Covid pandemic hit our shores in 2020.
The new TwixBeam that will be headlining the event is marketed as a low weight, easy to dismantle and incredibly strong beam that effortlessly integrates into the Layher Allround System.
It even works perfectly in tandem with the highly successful and incredibly versatile Flexbeam that launched in 2018.
Check out the promo video below highlighting the TwixBeam's benefits and uses.
Weighing just 12kg/m the new smart multifunctional beam will be available in an array of lengths from 0.8m to an impressive 6.6m and will have more uses than you can shake a stick at.
According to sources, the TwixBeam will have umpteen uses for specialist scaffolding contractors including conventional scaffolding, industrial scaffolding/boiler scaffolds and shoring in combination with TG60.
Speaking about the new TwixBeam, Sean Pike Layher UK's Managing Director said: "We are proud of our long standing reputation for being the innovators in the industry, and the new Twixbeam is testament to our commitment to our customers and finding new fields of business for them with these solutions parts".