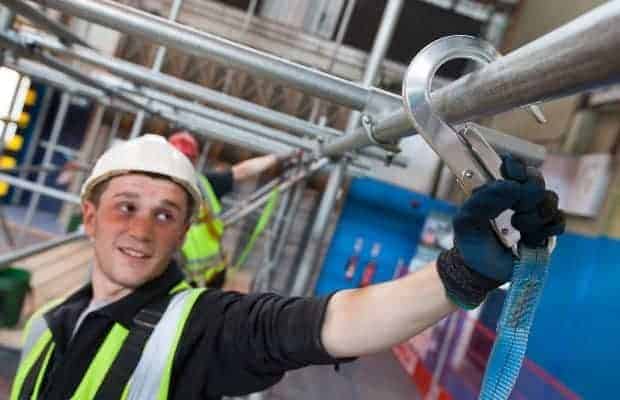 CISRS has revealed for the first time ever it's running a series of subsidised one-day COTS courses over the Autumn and Winter.
In a bid to attract new blood into the scaffolding industry for 2023 CISRS is funding participating training centres to put on COTS courses for only £50 per delegate.
CISRS hopes the nationwide initiative of reduced-price COTS courses will attract more young people straight from school or college into the scaffolding sector, with the right training.
However, existing Labourer card holders can also benefit – as CISRS Scaffolding Labourer (green) Card holders are required to take the COTS course to renew their card every five years.
The COTS course teaches the basics of the industry and how to work safely with scaffolding and access equipment.
The CISRS one-day COTS course Includes:
• Relevant regulations and codes of practice
• General scaffolding responsibilities
• Basic scaffolding terminology
• Servicing of equipment
• Boards & stock
• Quality control
• Health, welfare, hygiene & housekeeping
• Electrical safety
• Mental health awareness
• Fire prevention
• Controlling NVH
• Working at height
• Accident prevention & reporting
• PPE (Personal Protective Equipment)
• Site transport safety (inc. loading & unloading)
• Equipment & tools
• Manual handling
• Lifting equipment
• Using a rope & wheel
CISRS will also waive the usual costs of the delegate training folders and card application fees normally incurred in the delivery of these courses.
David Mosley, CISRS Scheme Manager and NASC Director of Training said: "The commissioning of these subsidised courses will see CISRS reinvest in excess of £100k in 2022. This subsidy is making great use of CISRS generated income – offering a chance to get new people into the scaffolding sector on fantastic value COTS courses.
"CISRS is a not-for-profit organisation, and as such we are always keen to look for positive and beneficial initiatives like this to redirect income back into supporting the scaffold training industry. A big thanks to all of the fantastic training centres for participating in this – supporting the industry from the bottom up. We are sure the courses will be successful and inject a burst of new energy and numbers into the sector, assisting with the current labour shortages many firms and the whole construction industry is facing."
The Subsidised CISRS COTS course dates and venues are:
• 3B Training (Blackburn) 12th December 2022
• 3B Training (Doncaster) 11th November 2022
• AIS Survivex (South Shields) 24th October 2022
• All Access Training Services (Glasgow) 4th November 2022
• Aspects Total Training (Coventry) 29th November 2022
• Britannia Safety & Training (Wymondham) 21st December 2022
• Construction College Midlands (Birmingham) 16th November 2022
• CITB NI (Northern Ireland) 5th December 2022
• CWIC (Swansea) November (date TBC)
• Fulcrum Scaffold Safety & Training Ltd (Flintshire) 21st November 2022
• LTC Training Services (Cullompton) 9th December 2022
• LTC Training Services (Plymouth) 16th December 2022
• NCC East (Bircham Newton) 10th December 2022
• NCC South (Erith) 10th December 2022
• NCC Scotland (Renfrew) 9th November 2022
• Richmond Bright (Birkenhead) 31st October 2022
• Safety Services (UK) 30th November 2022
• Safety & Access (Immingham) 7th December 2022
• Safety & Access (Nottingham) 9th December 2022
• Simian (Waltham Forest) 19th December 2022
• Simian (Anglesey) 14th December 2022
• Simian (Warrington) 22nd December 2022
• Simian (Weston-Super-Mare) 25th November 2022
• Simian (Carshalton) 11th November 2022
Delegates will need to contact the training centres directly to check availability, with places offered on a first come first served basis. CISRS centre contact details can be found on the CISRS Website.