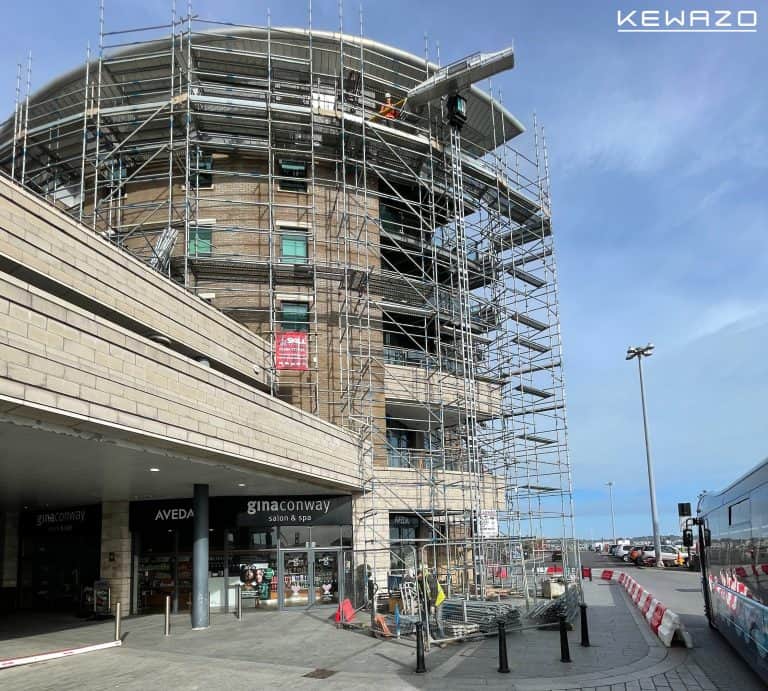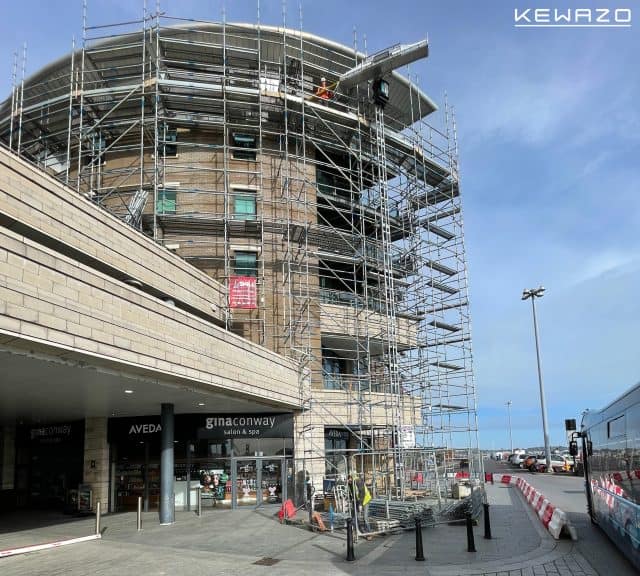 Southampton-based Skill Scaffolding Ltd is reaping the rewards after investing in LIFTBOT – the first robotic material hoist for scaffolding from KEWAZO.
In the current post-Brexit, post-Covid, inflation-ridden landscape, 2022 has proven as difficult to navigate as any of the tough years of the past. Such times serve as a brutal reminder to all businesses on why it is so important to remain focused, flexible, and ahead-of-the-game.
When looking for ways to do just that, Skill Scaffolding engaged with KEWAZO out of Germany and their LIFTBOT – the first robotic material hoist for scaffolding.
During introductory meetings, Skill Scaffolding learned that up to 80% of projects in industry are still executed completely manually, relying on an especially tedious and physically degrading process of manual vertical material transport.
To mitigate this, Skill's management team and KEWAZO looked at opportunities of automating vertical material transport within upcoming projects of Skill Scaffolding. As result, companies identified a flagship project in Poole Quay for a trial with LIFTBOT. The project setup was ideal for the robotic system: erection job, system scaffold, and higher than 6m.
After only a few days of operations, Skill Scaffolding could learn about the main advantages of LIFTBOT:
Solution against labour shortage:The number of operatives on-site required to complete the project is significantly reduced – up to 70% – allowing disengaged scaffolders focus on further projects.
Safety focused:As the material transport is automated, the chances of falling objects as well as operative injuries decrease significantly. Additionally, the task of lifting equipment outside of a scaffold is removed entirely from human hands, resulting in a considerable reduction of accidental free-falling objects.
Time savings:LIFTBOT accelerates erection time, enabling hand-over of scaffolds to client sooner, which leads to overall construction programme advancements.
Data analytics: The data analytics platform behind LIFTBOT, called KEWAZO ONSITE, enables in-depth analysis of work progression and performance. This guarantees enhanced forecasting & scheduling of work-sequences as well as early identification of labour requirements and transportation.
The project was a unanimous success. Accordingly, Skill Scaffolding — as industry leader and pioneer — became one of the first scaffolding companies in the UK to acquire their own LIFTBOT (now aptly named the "SKILLBOT"). It was clear for Skill that LIFTBOT would be a key asset on high-rise building projects across the South-Coast and beyond.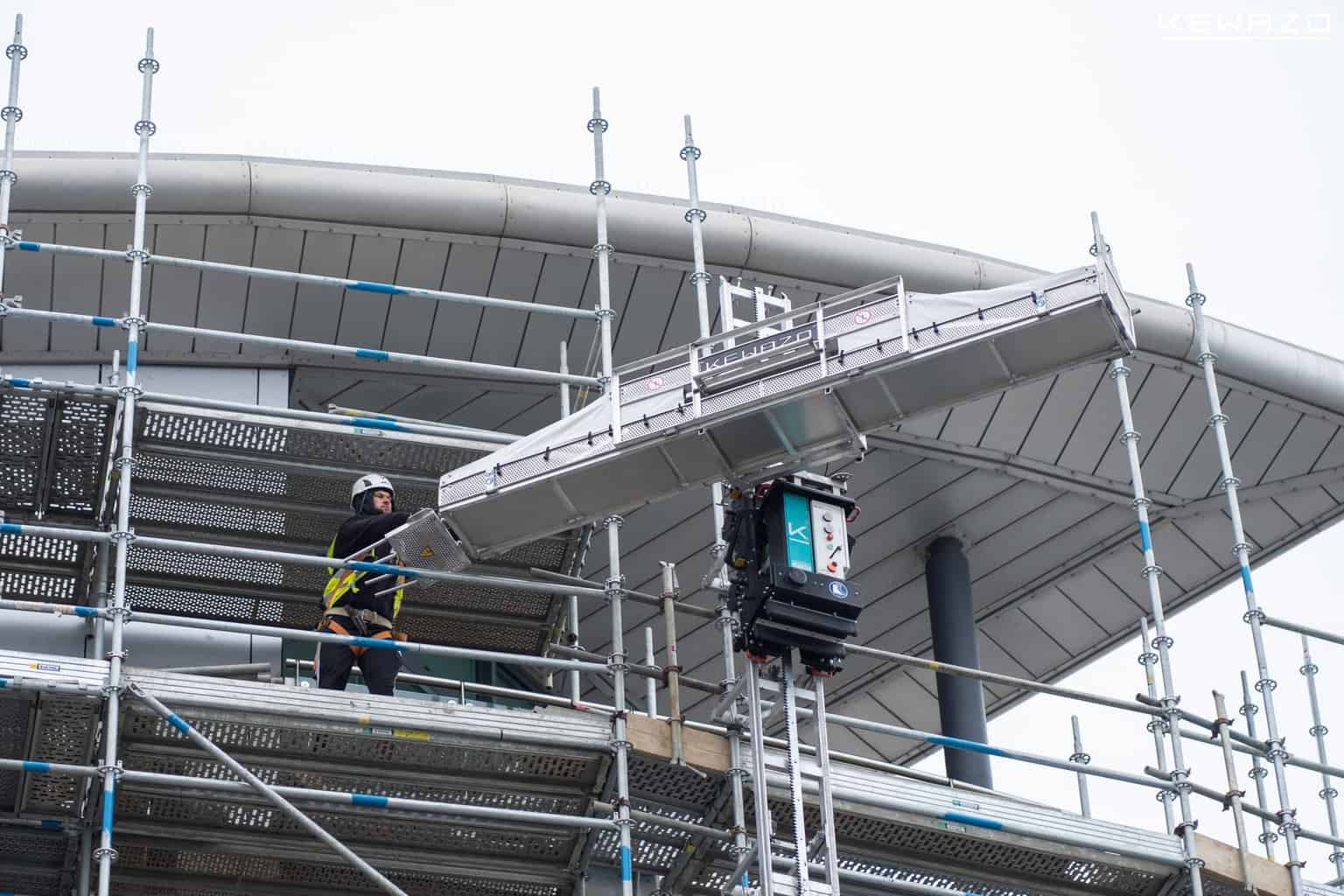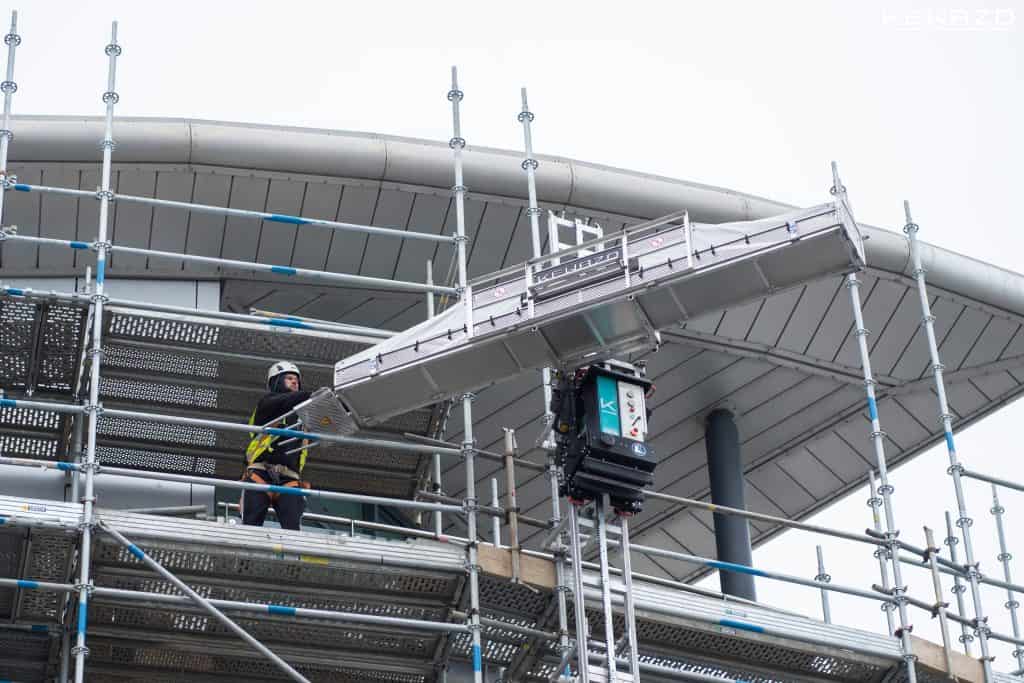 LIFTBOT has since continuously proven to be success on a number of projects across the South of England, including a project at London Heathrow. Recently, the system has returned to its flagship project at Poole Quay to support the 2nd and 3rd phases of subsequent site work.
KEWAZO has been supporting Skill Scaffolding in all aspects related to LIFTBOT – with training right after the delivery, and with annual and emergency maintenance support today.
KEWAZO added from their side: "We are extremely glad to be able to count on such motivated innovators as Skill Scaffolding. We are already looking forward to seeing LIFTBOT deployed on further trial and pilot projects across the UK."
This article was first published in the ScaffMag Magazine Issue 17