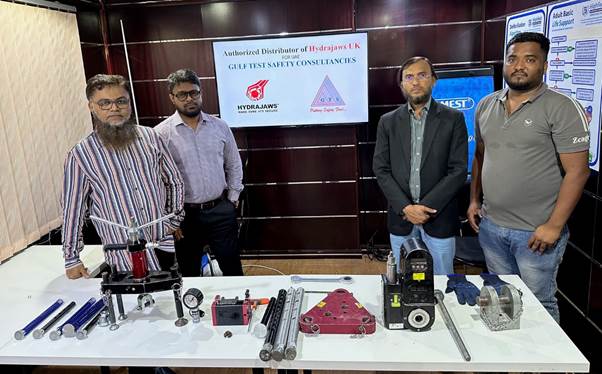 Hydrajaws Ltd, the world's leading manufacturer of pull testers for load testing fixings, has announced a new distributor in the UAE. 
Gulf Test Safety Consultancies, a UAE-based Quality, Health and Safety, and Environmental firm with an experienced team of QHSE professionals, has been appointed as an official Hydrajaws distributor from its two locations in Abu Dhabi and Dubai.
As part of the partnership, Hydrajaws' Training Manager, Neil Stone, recently led an online training program for the Gulf Test Safety Consultancies team, providing comprehensive training on the Hydrajaws offering. This included equipment maintenance, safe use of the Hydrajaws tester, and a detailed demonstration of the Hydrajaws Bluetooth Digital Report System and App.
Hydrajaws' MD Stephen Hynes expressed his delight, saying, "We're thrilled to have Gulf Test Safety Consultancies as one of our official partners. The training was a great success, and we're excited to work with them to grow their business offering."
Managing Director of Gulf Test Safety Consultancies, Irshad A. Shaikh, commented, "We're honored to be entrusted with the Hydrajaws brand in UAE. This partnership will further enhance our value to our clients and extend our product offering. We are committed to the distribution of Hydrajaws' products while delivering local support and logistical services within the UAE."
Hydrajaws' localised services will ensure customers benefit from a quicker turnaround, reduced shipping costs, and local knowledge. Moreover, they provide the necessary expertise and support to ensure their distributors successfully promote and sell Hydrajaws products and ancillary services.
This partnership between Hydrajaws Ltd and Gulf Test Safety Consultancies is expected to create new opportunities for both parties while further strengthening their position in the market.