A strategic partnership between Layher UK and Seán Doyle Scaffolding Limited (SDS) has proved to be a tower of success after the pair recently collaborated and provided a multi-levelled access package for a high-rise refurbishment project.
SDS, formerly known as Advanced Scaffolding Ltd, based in Alton, Hampshire, is a division of the Seán Doyle Group [SDG] from Ireland. The Group operates a diverse range of leading and dynamic businesses in varying sectors and owns one of the largest scaffold companies in Ireland, Laios Scaffolding.
Sean Doyle, Managing Director/owner of SDG said, "Following on from our success in Ireland, I am delighted to Partner with Layher in the UK, this will greatly enhance the rapid expansion of our business especially in the London Market as we are actively securing new contracts and recruiting additional workforce". 
In its latest major project under new ownership, SDS has made extensive use of the world-renowned Layher Allround system while carrying out a high-rise refurbishment project to Havant Towers, located in Havant, Hampshire.
Built-in 1968, these soaring 10-storey residential tower blocks have provided much-loved homes for many residents for decades; however, the passing of time has taken its toll on the fabric of the structures, and much-needed refurbishment was now required.
To facilitate the refurbishment scheme, main contractor EQUANS and its client Guinness Partnership Ltd called on the services of SDS to provide its workers with safe access to all external elevations of the towers. This was to allow for window renewal or replacement, balcony refurbishment, and vital brick and concrete repairs.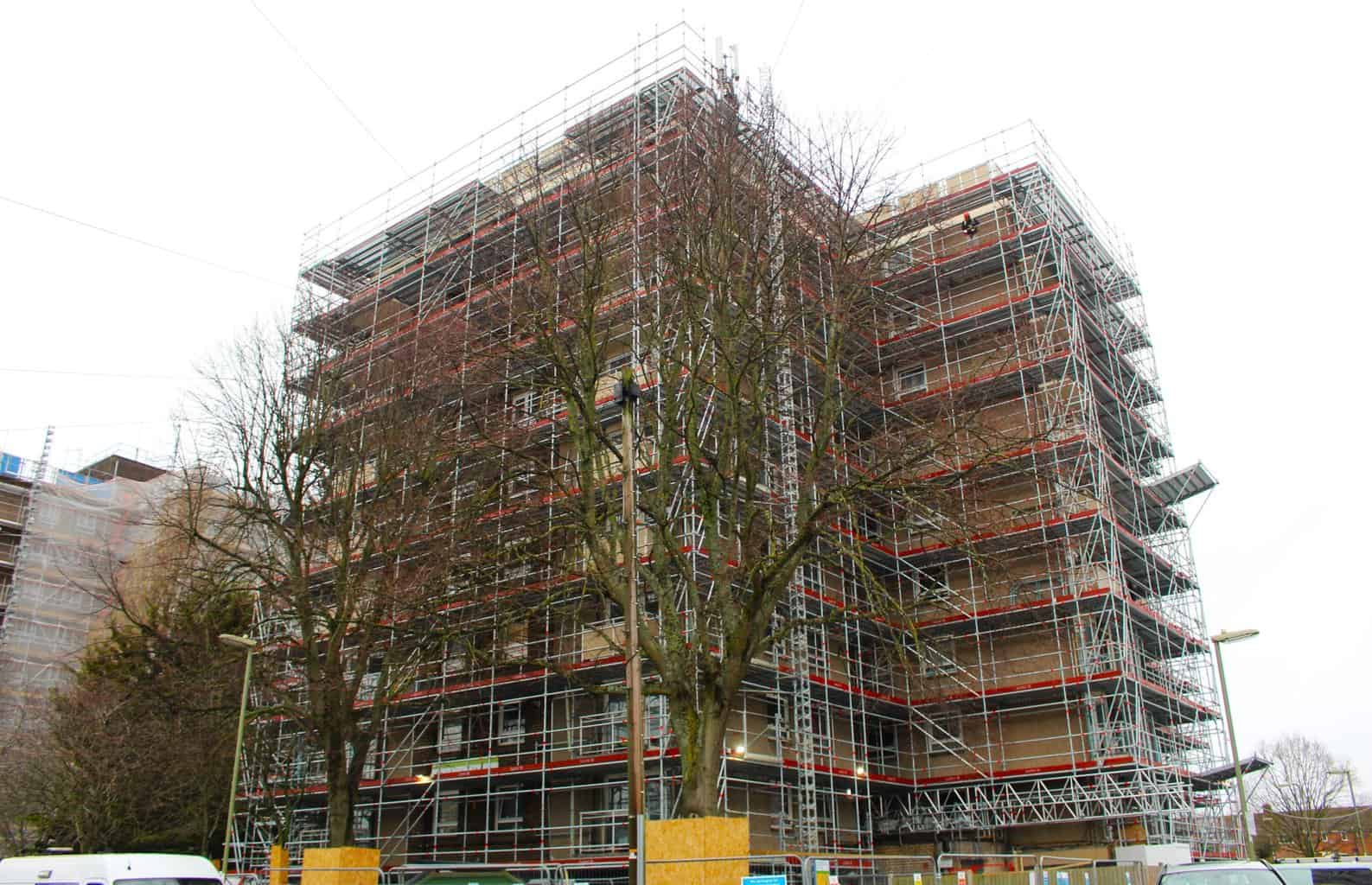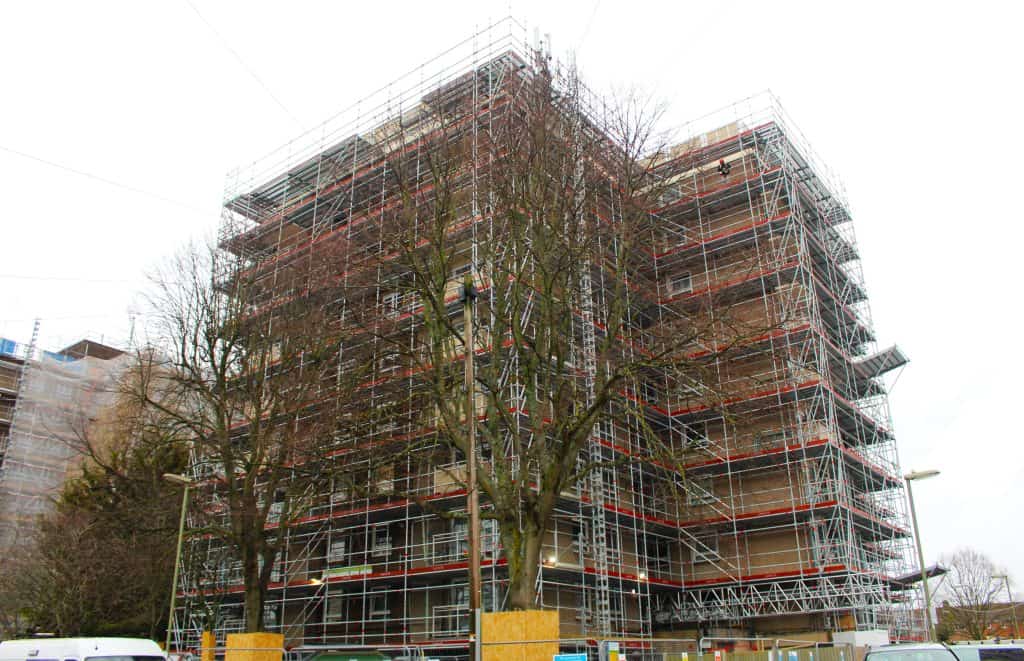 The array of skill and scaffolding services SDS offers existing and potential future clients is clear to see with their use of Layher's flagship Allround scaffolding system on the Chichester House residential tower block.
Following a series of site surveys, detailed scaffolding designs and calculations provided by engineers from Layher Ltd, scaffolders from SDS set about erecting the modular scaffold system around the perimeter of Chichester House.
"Although our scaffolders are Layher trained, they were still quite new to the system at the start of the project; however, Layher was on hand every step of the way, which was great!" Shawn Richardson, SDS Operations Manager, said.
"Layher's head scaffolding Instructor, Joe Thompson, attended the project for the first few days helping the lads base the scaffold out, while Clive Rowe Layher's area sales manager was visiting every other day for the first few weeks, ensuring the project ran smoothly." 
SDS utilised Layher's range of flexible components and various-sized bays to accommodate the multitude of balconies on each elevation of the tower. Furthermore, scaffolders effortlessly provided workers with a gapless platform around every part of the building to work from using a combination of Layher's 390mm and 730mm console brackets and the long-established gap deck, which provides gap-free work platforms.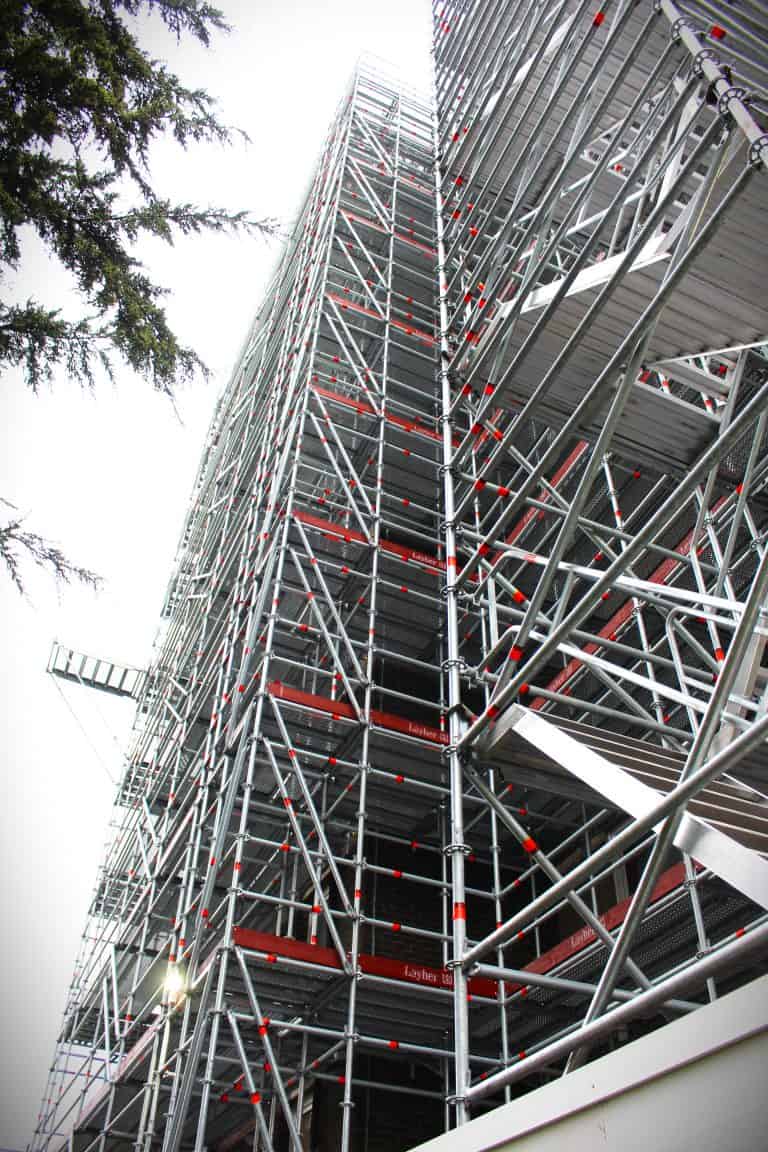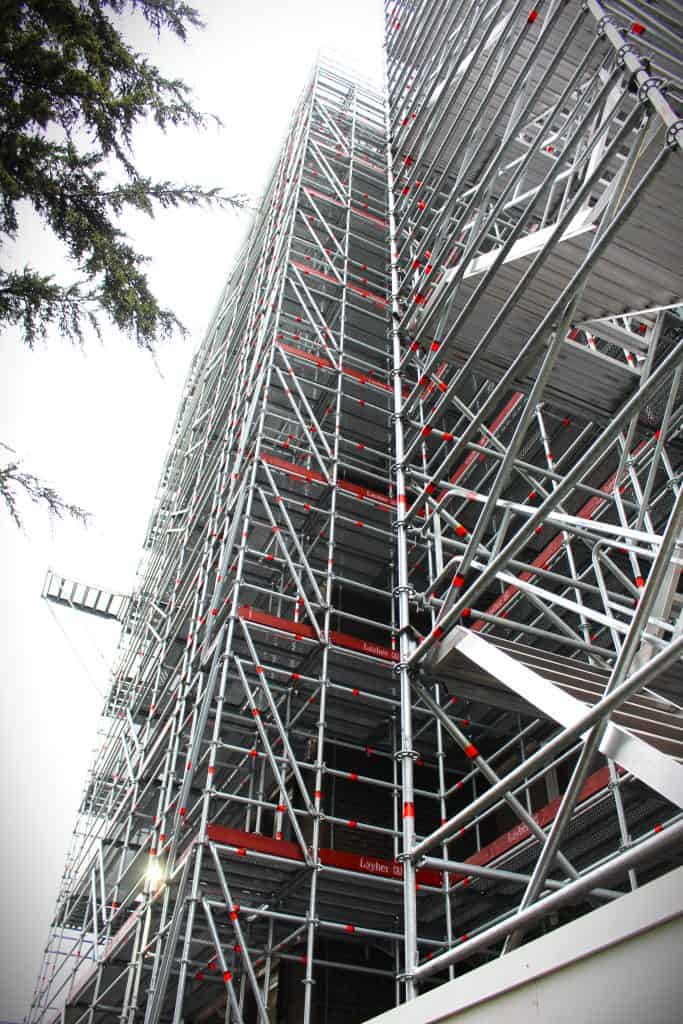 The safety of workers and the public was paramount on the job as the tower blocks continued to be lived in while the refurbishment work was carried out. Layher and SDS devised a plan to mitigate the risk by installing protection fans at strategic locations across the structure to protect the public and tenants entering or exiting the tower block. Additionally, Layher's 750mm aluminium beams were utilised to form a bridge over the blocks bin storage area so tenants could still access their bins.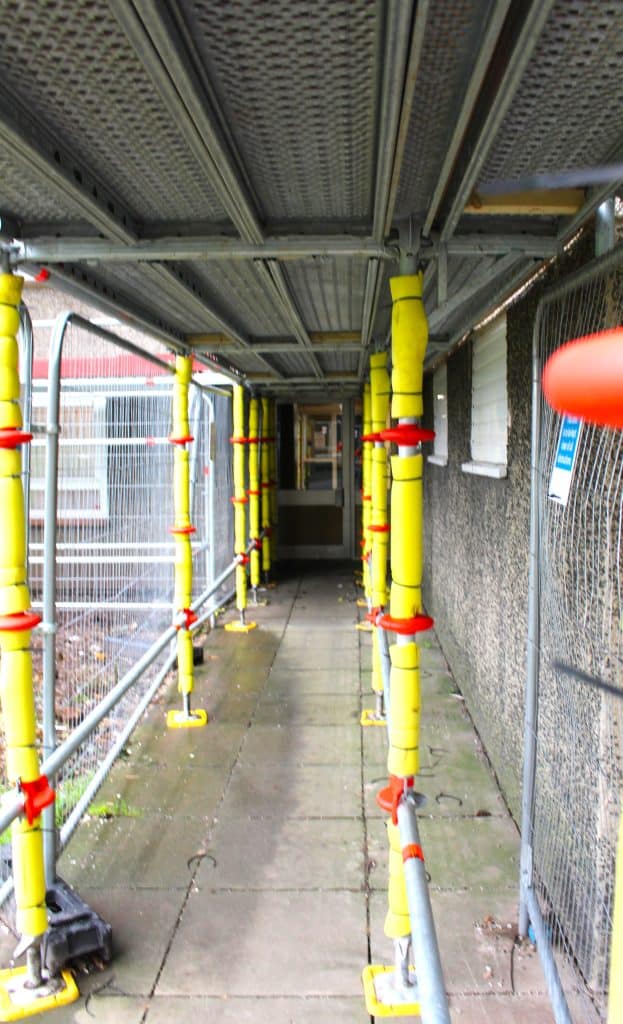 Over the course of eight weeks, SDS provided more than 120 linear meters of safe un-impeded modular access, allowing workers from EQUANS to reach all residents' balconies and windows with ease.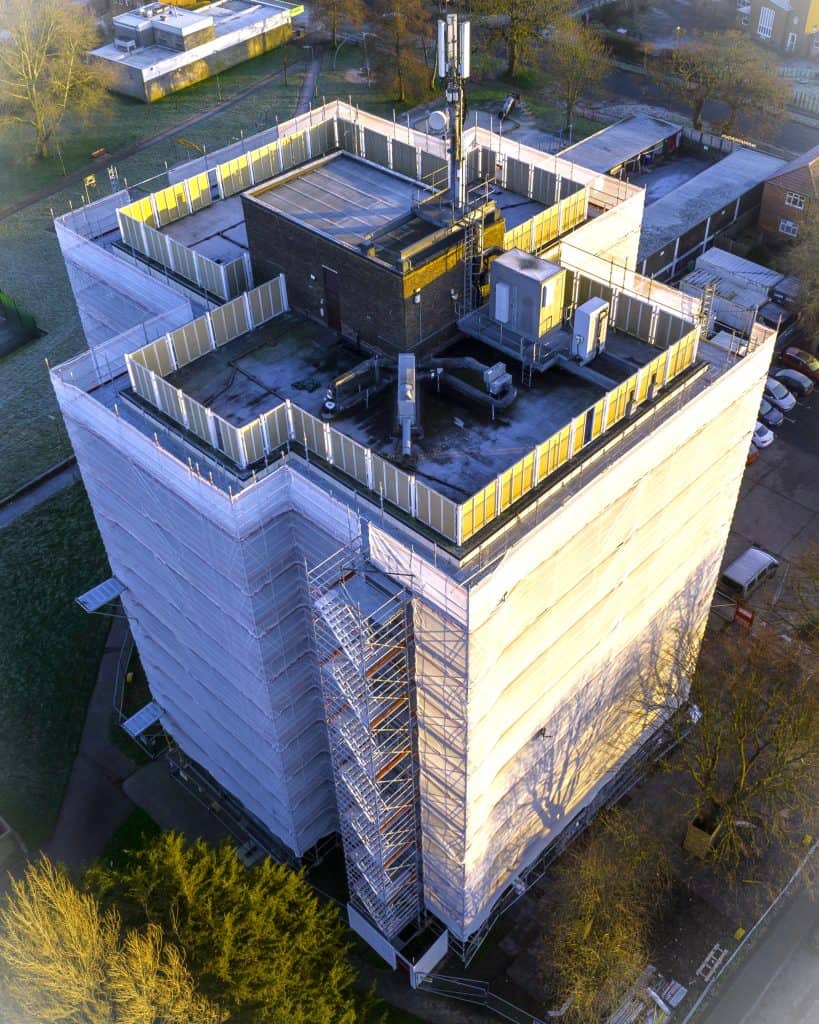 Through their collaboration and the benefits of the Layher Allround system, Layher UK and SDS has demonstrated their expertise in scaffolding and their commitment to delivering safe and efficient access solutions for their clients. The success of this project is a testament to the strength of their strategic partnership and the quality of their work, and it bodes well for future collaborations between the two companies.
In conclusion, Sean Pike, Managing Director of Layher Ltd, UK, said, "After many years of successful collaboration with Laois Scaffolding & Sean Doyle in Ireland, we are excited about this new cooperation with SDS in the UK and look forward to making many more possibilities together".