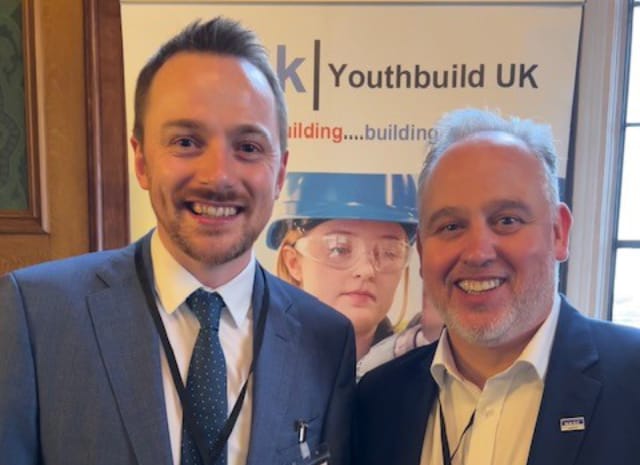 The NASC sponsored the YouthBuild UK Young Builder of the Year award reception at the House of Lords, celebrating young talents in construction who have overcome significant challenges.
The National Access and Scaffolding Confederation (NASC) proudly sponsored the YouthBuild UK Young Builder of the Year award reception at the House of Lords yesterday, with a spectacular event to honour the exceptional young talent in the construction industry.
The reception provided an opportunity for sponsors to meet and celebrate the winners of the 2022 Young Builder of the Year awards in the presence of industry leaders, parliamentarians, friends, family, and supporting organisations. Finalists were introduced to rousing applause from the audience.
The event was hosted by YouthBuild UK's President, Sir John Hayes, and Chairman Ian Davis, who acted as Master of Ceremonies. Reiss Doherty of Barratt Developments was the winner in the 19-25 category, while Kye Belmond, apprenticing with Lee Marley Brickwork and Brooklands College, won the 14-18 category. Lola Fannon, training in plastering at Preston Vocation College, was announced as the runner-up in the 14-18 category.
All nominees overcame significant challenges and barriers in their lives to be nominated for the prestigious award. An independent panel of judges led by Alasdair Reisner, Chief Executive of the Civil Engineering Contractors Association, selected the winners.
David Brown, NASC President, expressed his enthusiasm for the event and the promising young builders: "As sponsors of YouthBuild UK, we are thrilled to be here today to celebrate the achievements of Reiss, Kye, Lola, and all the Young Builders of the year nominees.
Supporting and inspiring the next generation of contractors is at the heart of our values here at NASC, and we work closely with our members to connect young people with career nurturing initiatives like these. We wish all the participants the best in their careers and look forward to what they hold for the industry."
YouthBuild UK and its sponsors awarded all finalists who were Highly Commended, Runners-up, or Winners with a cash prize, of up to £250, as a token of recognition for their outstanding achievements in the field of construction.