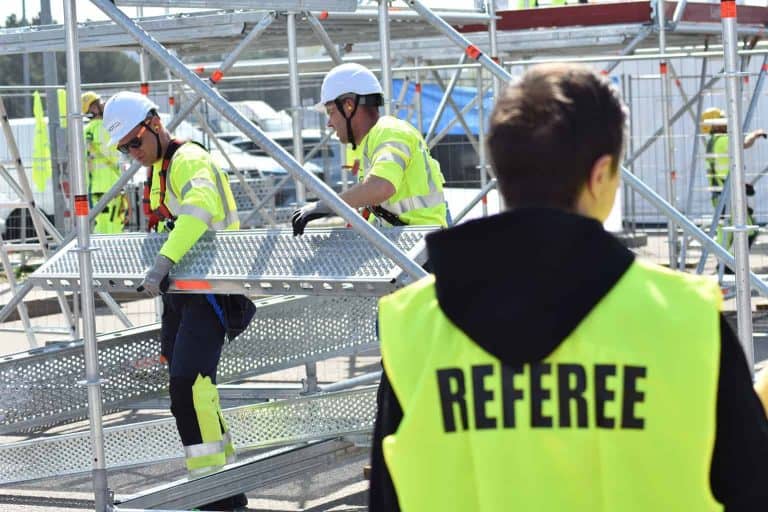 In a shock announcement, event organisers today revealed to Scaffmag that the United Kingdom and Australian teams have withdrawn from the upcoming 2023 International Scaffolding Championships, now known as KEWAZO ScaffChamp 23. 
The highly anticipated championship is scheduled for May 26-27 in Vilnius, Lithuania, and was expected to feature teams from 13 countries, including the UK and Australia.
Now in its third year, the Scaffolding Championships has experienced tremendous growth in interest and participation, with this year's competition expected to be the biggest, most diverse and competitive yet. 
The event, organised by The Baltic Scaffolding Association (BSA), recently announced leading construction robotics company KEWAZO as its main sponsor for the second consecutive year. The partnership between KEWAZO and the BSA has been hailed as a powerful and mutually beneficial collaboration, further raising the profile of the event. 
The championship features timed system scaffolding build-offs using the Layher Allround system, attracting over 120,000 viewers worldwide during last year's live stream on YouTube and social media networks.
The reasons behind the UK and Australia's sudden withdrawal remain unclear, but 'unforeseen circumstances ' have been cited.

In a statement to Scaffmag, The BSA expressed disappointment over the withdrawal of these two competitive teams but remains optimistic about the success of the KEWAZO ScaffChamp 23.
It's understood that teams from Poland and Norway have now stepped in to take their places, ensuring that the competition remains as diverse and competitive as initially planned.
Oleg Abramov, President of BSA said: "We regret to announce that two teams originally scheduled to participate in KEWAZO | ScaffChamp has had to withdraw due to unforeseen circumstances. Despite our disappointment at the news, we are pleased to have quickly filled their spots with two talented teams from Poland and Norway who were on our waiting list.
While we understand the disappointment that may come from the absence of the UK and Australian teams, we are committed to delivering an exceptional event for all attendees. We encourage all guests to take advantage of the opportunity to network with the many VIP guests from the region who will be in attendance.
We remain committed to providing a high-quality experience for all participants, and we look forward to showcasing the remarkable skills and achievements of all teams at KEWAZO | ScaffChamp."
The KEWAZO ScaffChamp 23 will proceed as planned, featuring teams from Lithuania, Sweden, Finland, Denmark, Ireland, Poland, Norway, Mongolia, Bulgaria, and other countries that have yet to be confirmed. The event will once again be live-streamed, with translation services available for international viewers.
Stay tuned for more updates on this developing story.