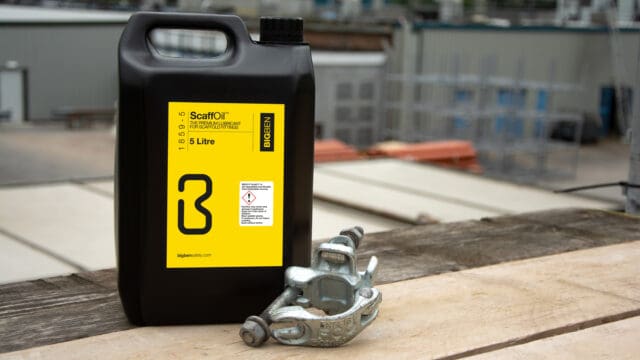 BIGBEN, an industry-leading supplier, has officially launched its latest innovation – ScaffOil, a revolutionary, eco-friendly lubricant exclusively designed for the Scaffolding and Construction industries. 
This new product has already stirred excitement in the market due to its environmentally conscious formulation, unmatched efficacy, and remarkable versatility.
ScaffOil aims to redefine the industry standard for lubricants by ensuring the smooth operation of scaffolding systems, specifically in the effortless release of scaffold fittings and brackets. It also provides durable lubrication to prevent rust and corrosion, further improving the life and reliability of the equipment.
"We have been diligently working with our customers to create an eco-friendly, long-lasting lubricant that is fit for any industry. We are extremely proud of ScaffOil and its ability to deliver a premium performance at a very affordable and competitive price," a spokesperson for BIGBEN announced.
One of the standout features of ScaffOil is its capacity to withstand even the harshest weather conditions, making it a game-changer in the industry. This level of resilience enables construction workers to leave scaffolding clips in place without compromising stability, offering unprecedented convenience and assurance.
But the true value of ScaffOil is its exceptional penetrating power. This breakthrough lubricant can reach even the most intricate corners, effortlessly permeating crevices that conventional products fail to reach. This feature gives new life to "dead" fittings and brackets, quickly enhancing the efficiency of scaffolding systems.
For those in the industry eager to experience the transformative capabilities of ScaffOil, it is now readily available through trusted supplier Leach's. The product is offered in various sizes to suit different needs, including practical 210-litre drums, 25-litre drums, and 5-litre tubs.