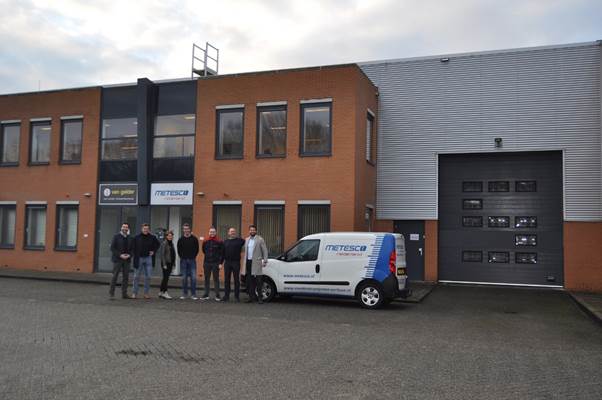 Hydrajaws, the world's largest and most trusted designer and producer of pull testers, is marking its 35th anniversary in 2023 with the announcement of formalising its long-standing alliance with Netherlands-based Metesco.
The two companies have solidified their relationship by officially designating Metesco as an authorised distributor and Approved Service Centre for Hydrajaws in the Netherlands, Benelux, and Germany. This decision demonstrates the trust and confidence Hydrajaws places in Metesco's capacity to deliver the highest levels of service and support to its extensive customer base in the Benelux markets.
Stephen Hynes, Hydrajaws Managing Director, shared his enthusiasm about the strengthened partnership: "The company is delighted to formalise its long-standing relationship with Metesco and offer customers an even higher level of service and support. Hydrajaws has been collaborating with Metesco for many years and has the utmost confidence in their ability to provide the highest levels of service and support to its customers," he said.
Metesco, a prominent provider of calibration and repair services for force and torque measurement instruments, is well-regarded for its expertise in the field. The company is currently pursuing ISO 17025 accreditation and has been offering calibration and repair services for numerous years.
As a trusted market brand, Hydrajaws partners with industry associations and anchor and fixing OEMs such as Ejot, Fischer, Rawlplug, and Klimas, among others, and regularly exports to over 70 countries. Hydrajaws is committed to delivering top-quality products and services to its customers and is thrilled to provide this additional layer of service and support through its collaboration with Metesco.
Since 2014, Hydrajaws has been at the forefront of transforming how anchor testing is captured, verified, and effortlessly shared within organisations and with clients, thanks to its launch of the first Bluetooth reporting system. Hydrajaws has recently released its new, free-to-use Bluetooth reporting app, Verify Pro, which includes all the functionality of the previous app. For customers with larger engineering teams working across multiple sites and tasks, Hydrajaws has also introduced Verify TEAMS to enable more effective collaboration of resources and management and communication of tasks and test reports.