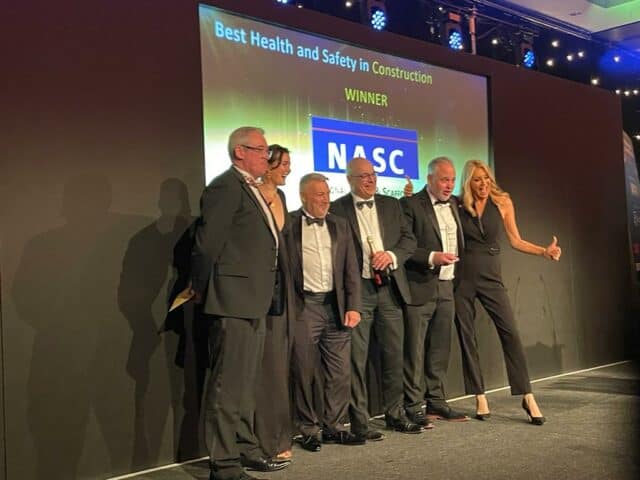 The National Access & Scaffolding Confederation (NASC) has been awarded the prestigious title of 'Best Health & Safety in Construction' at the Safety & Health Excellence (SHE) Awards held at The Vox, NEC in Birmingham. 
The black-tie event, attended by 550 guests, was hosted by television presenter Tess Daly and organised in conjunction with the British Safety Industry Federation (BSIF) Awards by Western Business Media Limited, publisher of Health Safety Matters (HSM) magazine.
The SHE Awards celebrate innovation and achievements in the British health and safety industry, emphasising the importance of innovation and the highest standards of excellence within occupational safety and health.
The NASC, the UK's oldest scaffolding trade body, entered the competition under the 'Best Health & Safety in Construction' category for its positive work in publishing industry-standard-setting technical and core safety guidance notes, including TG20:21, SG4:22, and SG6:22. The organisation's support of health and safety best practices for its 480+ member companies was also recognised, with contributions such as providing access to £280,000 in training grants, publishing over 100 toolbox talks, and offering a range of specialist advisors on various topics.
Acting NASC Managing Director, Dave Mosley, expressed his delight, stating, "It's absolutely fantastic for the NASC to win this award. Championing health and safety within the scaffolding and wider construction sector is our whole raison d'être, and it's marvelous to get recognition for the efforts of the hard-working NASC staff, working parties, committees, and scaffold sector experts that make this fine organisation what it is."
NASC Health and Safety Manager Steve Kearney added, "The NASC works tirelessly throughout the year to produce standard-setting health and safety, technical, contractual environmental, and other such guidance for its members and the whole construction industry. Our guidance helps keep people safe in an inherently dangerous industry – getting scaffolders and those who work on scaffolding home to their families every night. The work matters. It's nice for that to be acknowledged by the health and safety industry."
The NASC triumphed over other contenders, Jarvis Contracting and the Stockport Homes Group, to claim the 'Best Health & Safety in Construction title at the SHE Awards.