When it comes to challenging feats of engineering and problem-solving, few projects can compete with the recent emergency access operation on the M62 Ouse Bridge. An urgent call for suitable access to reach important bearing joints for repairs on the bridge required an immense collaborative effort between the client, National Highways, the main contractor, Winvic Construction, and their sub-contractor MR Scaffolding (Anglia) Ltd, along with their supplier Layher Ltd, UK.
The hero of this story? Norwich-based M.R. Scaffolding (Anglia) Ltd, who expertly rose to the occasion, showcasing an impressive fusion of efficiency, skill, and innovation, utilising Layher Ltd's own design department.
A Tale of Two Scaffolds
The M62 Ouse Bridge, a major road artery between Goole and Howden in the East Riding of Yorkshire, urgently needed access for bearing joint inspection and vital repairs. The response? Two colossal freestanding Layher Allround cantilever birdcage scaffolds, each reaching a height of 22 meters, standing proudly beneath the east and westbound joints of the bridge. The company responsible for this herculean effort was none other than M.R. Scaffolding (Anglia) Ltd.
"Right from the beginning, the design brief was clear cut," said Alan Regan, M.R. Scaffolding's Managing Director. "Our mission was to create two freestanding structures 22m high, that didn't physically tie into the bridge."
Despite a daunting 15 day erection deadline, the team of scaffolders from M.R. Scaffolding (Anglian) Ltd displayed impressive skill, efficiency and safety by erecting both structures simultaneously, in a mere 10 days.
Regan detailed the project's logistics, saying, "We assigned a team of 12 scaffolders to this project. Given the time restrictions, it was imperative to erect both scaffolds simultaneously. 
We divided our team strategically, allocating seven personnel to one scaffold and five to the other. As the scaffolding construction progressed, we effectively utilised Crane lorries to transport materials, facilitating a seamless and efficient workflow."
Incredible Drone Footage Captured by Sky Revolutions

Damien Shawcroft, M.R Scaffolding (Anglia) Ltd's chargehand scaffolder, who was part of the project, shared his experience: 
"Being the chargehand on this project, I had the privilege of collaborating with a stellar team, consisting of Tomasz, Luke, Ollie, Mackenzie, and Robert.
We were responsible for one side of the bridge, with the second team, under Matt's leadership, tackled the other. Observing each other's progress across the river spurred a friendly rivalry that added to the excitement of the project.
From the start, it was a challenging project knowing our time scale and the amount of material we needed to move. But everyone pulled together as a team to make it happen. As we got higher, everyone adapted to their positions and gave it 100% with laughter and hard work; we made it happen," Shawcroft reflected. 
Shawcroft concluded by expressing his gratitude towards his colleagues, "It was a pleasure to work with the guys and  I look forward to our next project."
A Design Twelve Months in the Making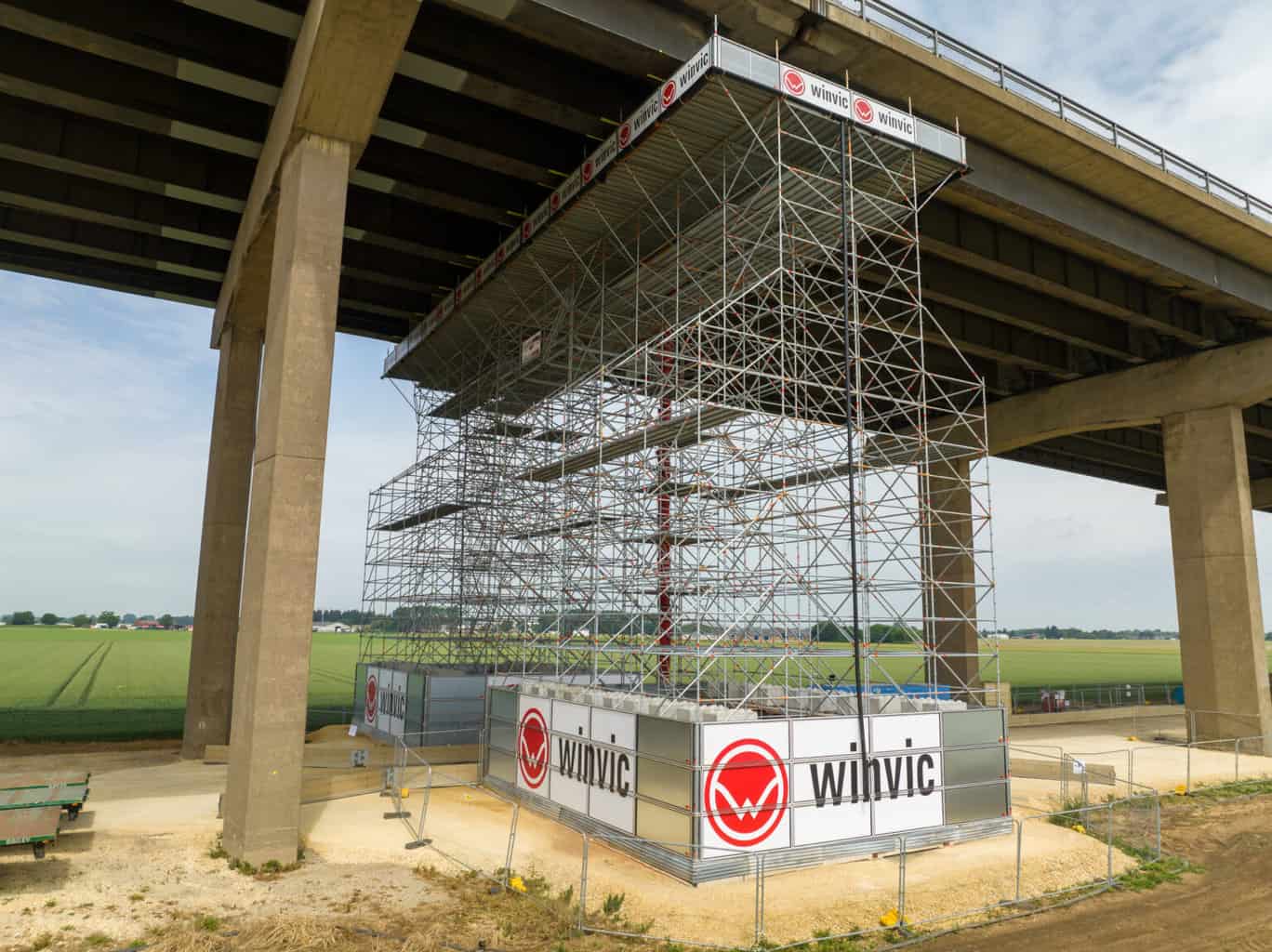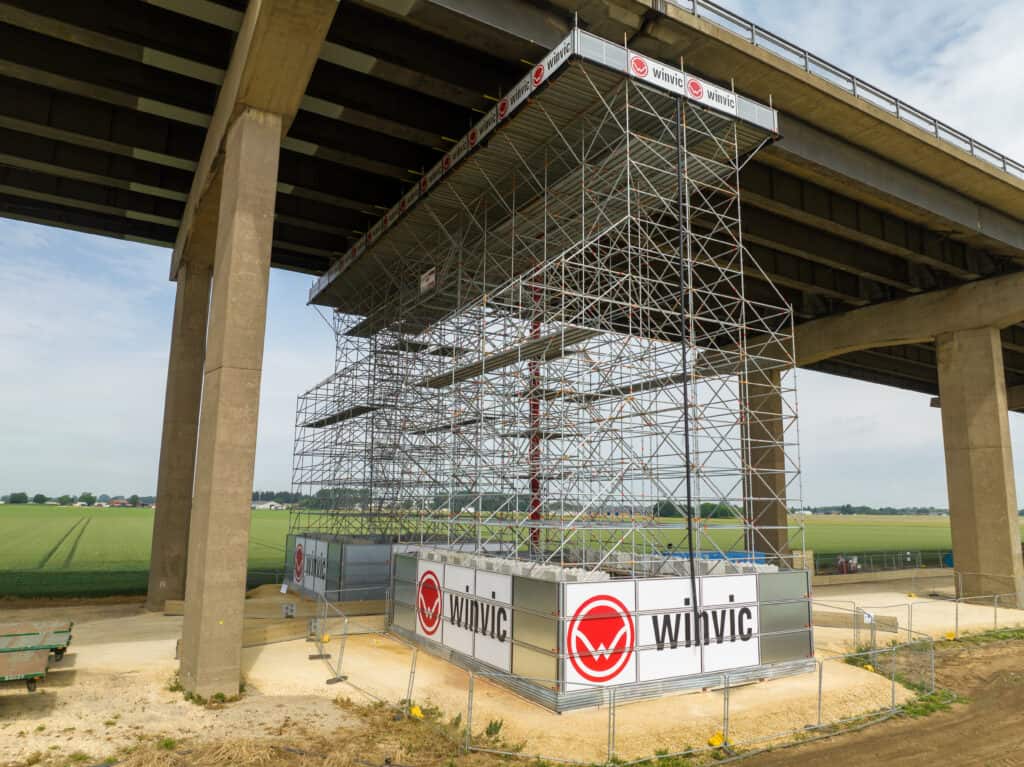 These impressive structures didn't, however, emerge out of thin air. They were born from the innovative design philosophy of Layher Ltd, UK and it took twelve meticulous months to craft.
The Layher Allround Lightweight System was chosen for the project – renowned for its flexibility, reliability, and lightness, making it the go-to solution for large-scale infrastructure projects.
"Right from the beginning, we decided to employ the Layher Allround Lightweight scaffolding system for numerous reasons," explained Regan. "One of its notable advantages is its efficiency; it requires significantly fewer components and less manpower compared to the traditional Tube & Fitting scaffolding approach, thereby boosting our construction speed considerably."
The now complete freestanding scaffolds, comprising 125 tonnes of Layher Allround Lightweight and a staggering 160 tonnes of kentledge, were a testament to the team's collaboration of design, dedication and engineering prowess.
Enhancing the safety and security of the project, more than 350 Layher Protect Panels are installed at the base of both structures. These panels, known for their robustness, provided an additional layer of protection, further demonstrating the attention to detail and commitment to safety shared by all parties involved.
Groundwork Challenges & Ingenious Innovations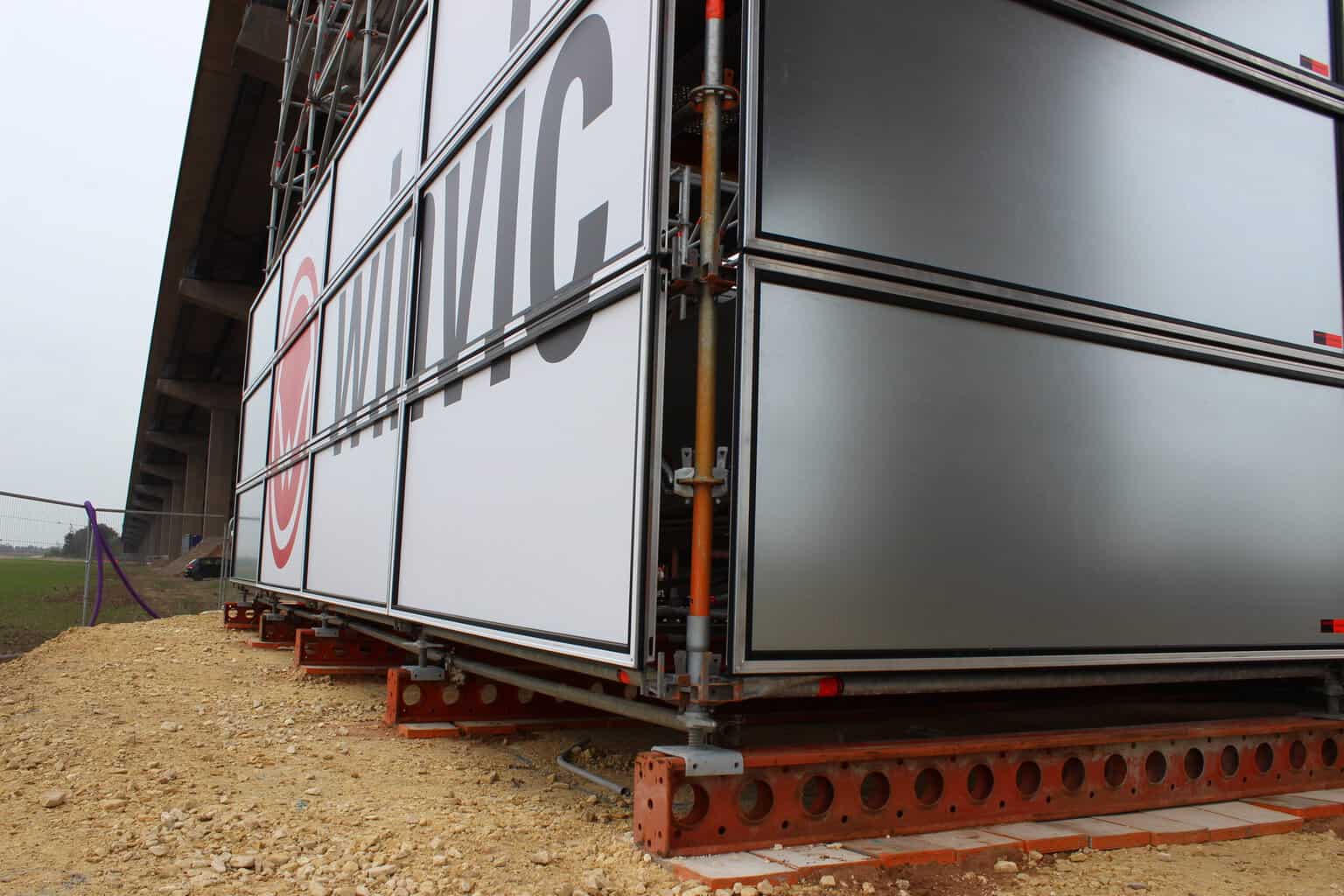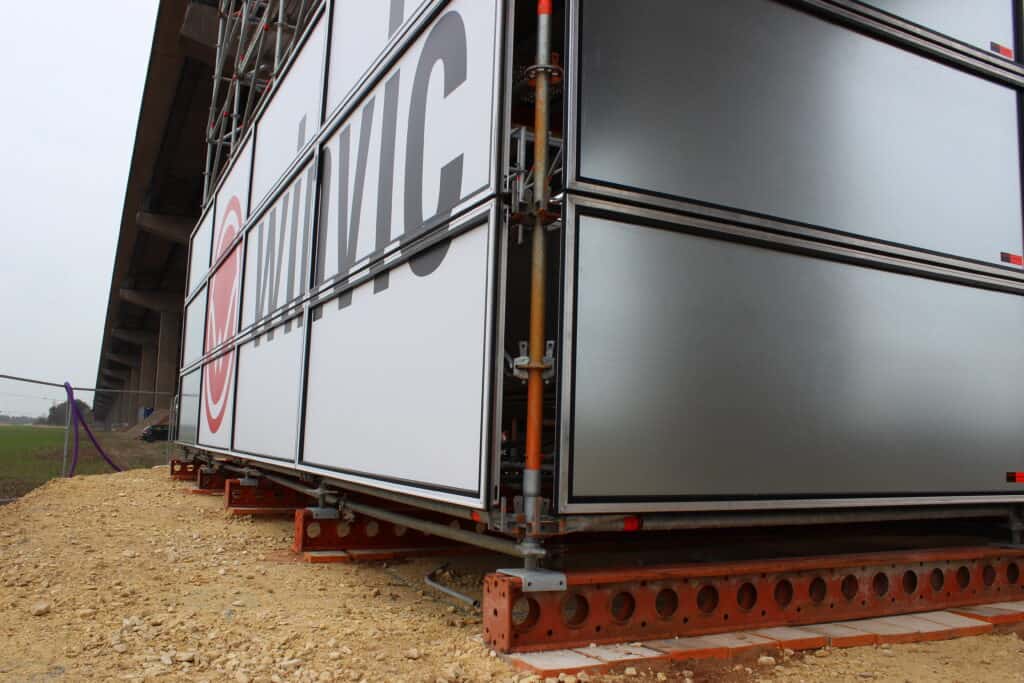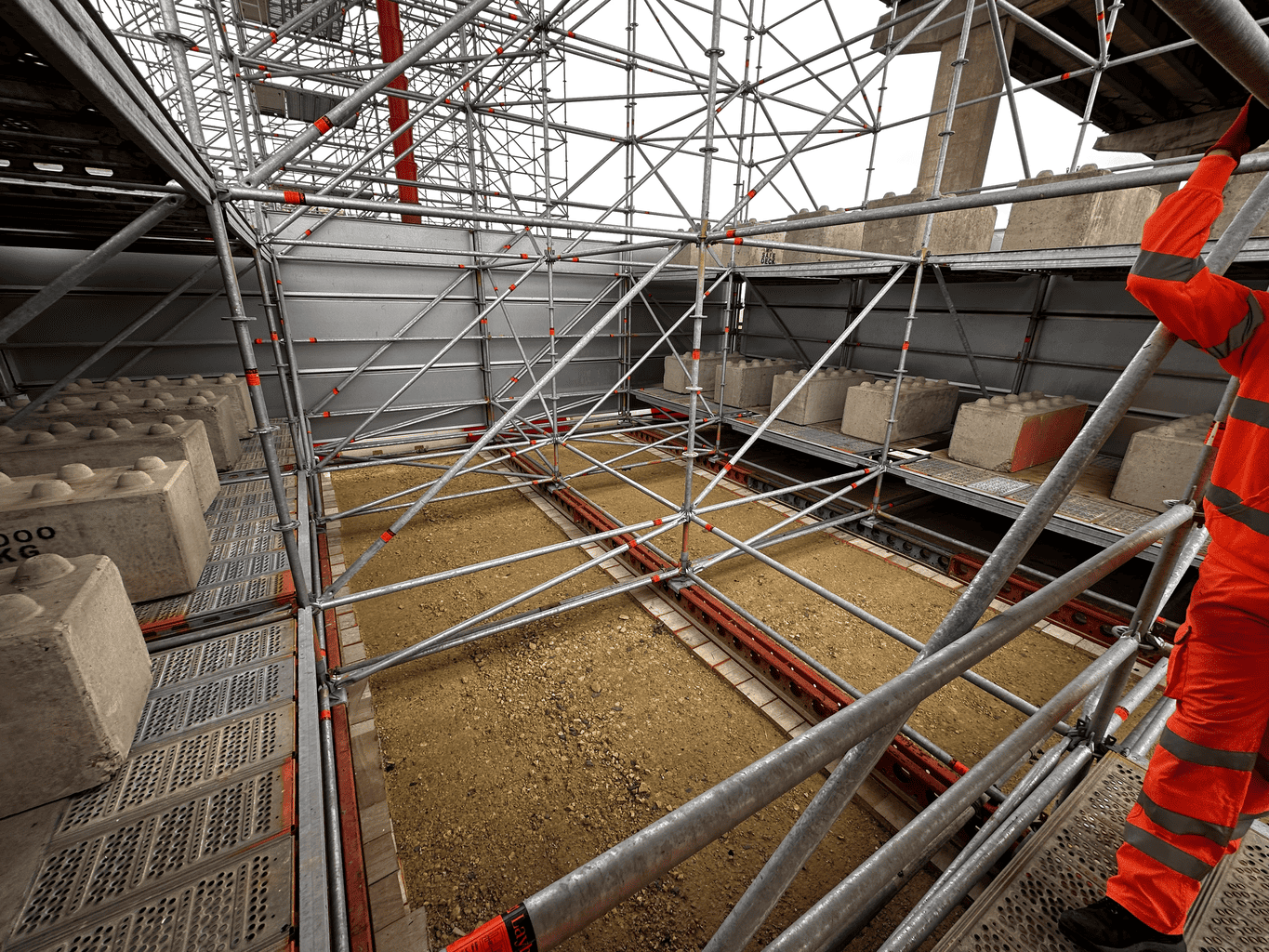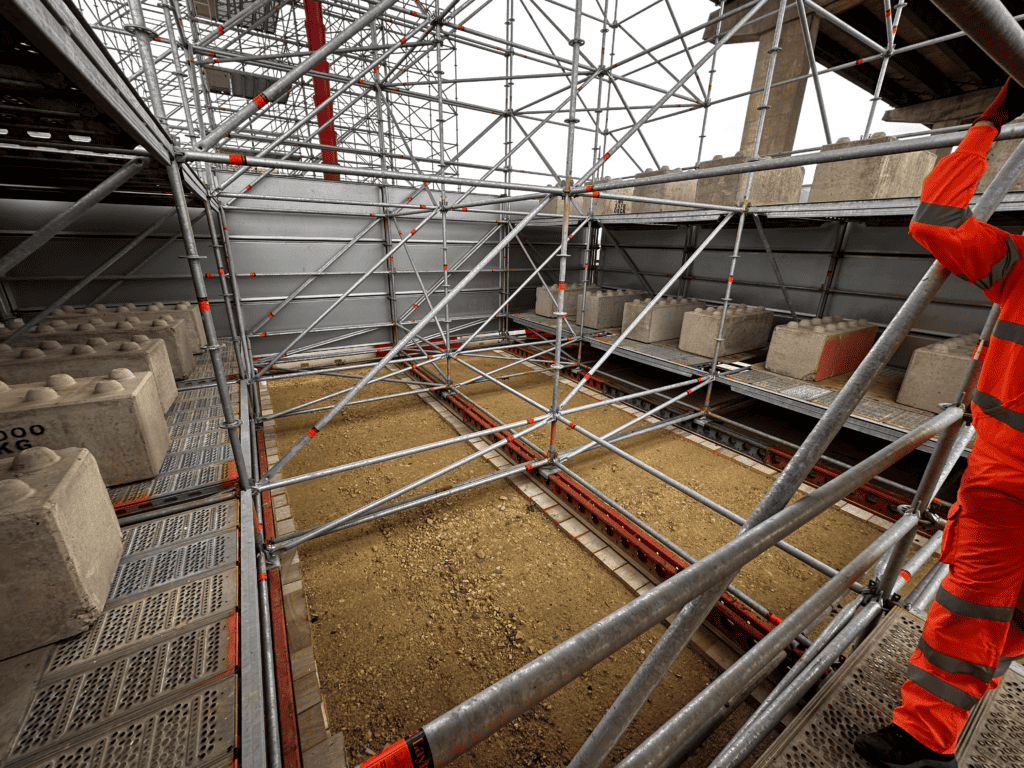 The team faced a significant hurdle before even the first Allround scaffold part was erected. During the planning phase, an extensive ground survey by geoengineers revealed that the ground was unstable and incapable of supporting the immense weight of the scaffolds. But the combined expertise of Winvic Construction, M.R. Scaffolding (Anglia) and Layher Ltd, UK meant this problem was far from insurmountable.
The necessary excavation and backfill of hardcore were promptly carried out, ensuring a stable and secure base for the scaffolding to stand on. "To ensure the ground could adequately bear the load, each scaffold was built upon a solid foundation of 500 sole boards, reinforced with strongback soldiers. It was essential that each sole board was precisely measured to 500mm," explained Regan.
Moreover, in the process of facilitating access for contractors to the bearing joints, a significant amount of water was planned to be used due to the hydro demolition process. To mitigate the risk of ground subsidence, M.R. Scaffolding (Anglia) Ltd ingeniously devised a unique guttering system to divert water away from the scaffold foundations.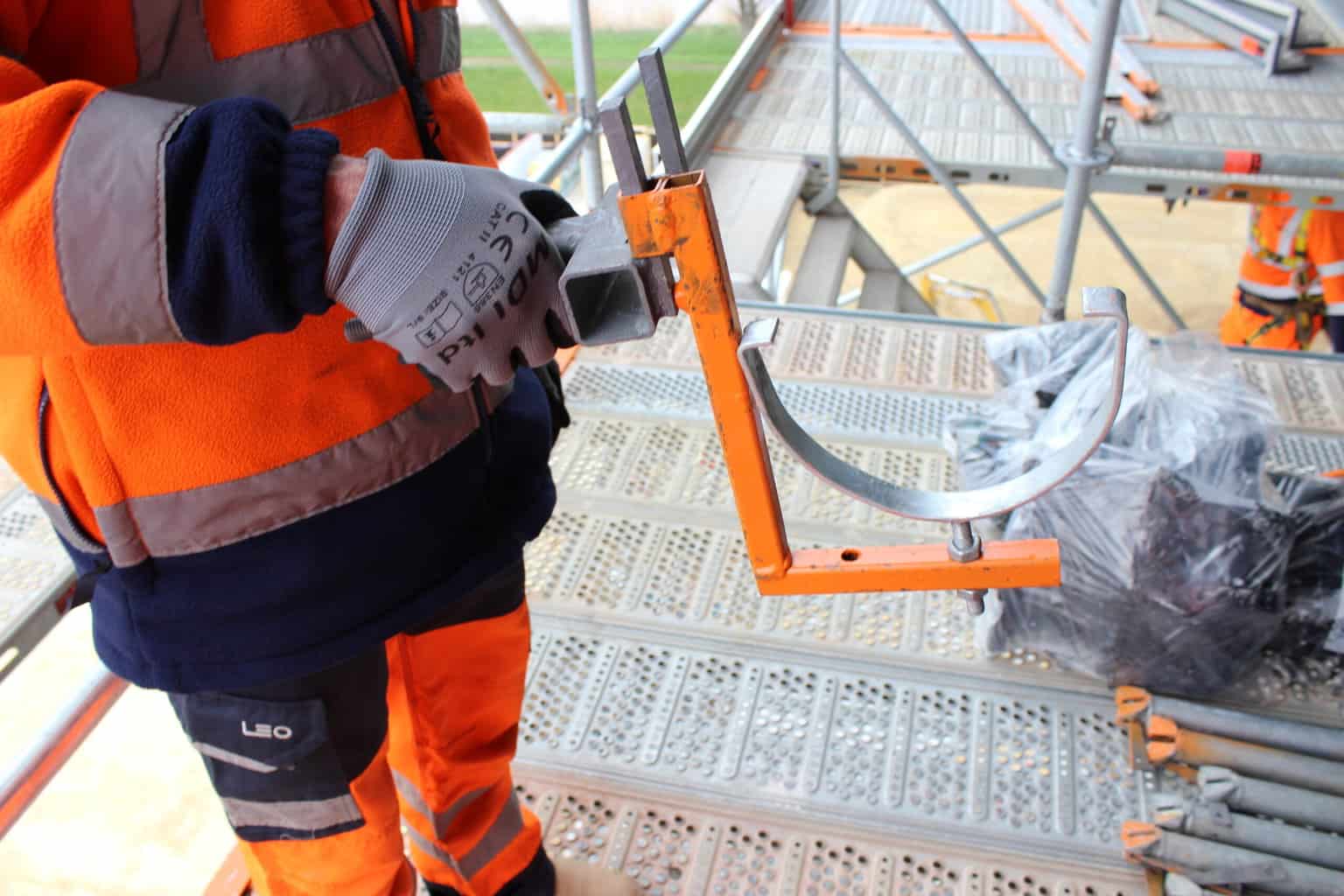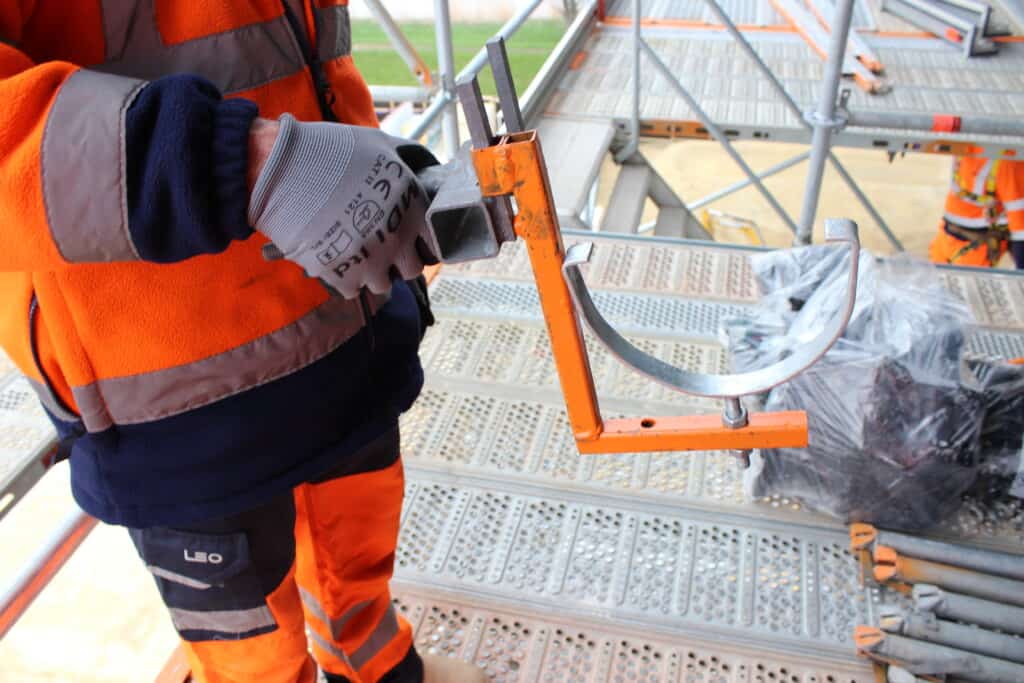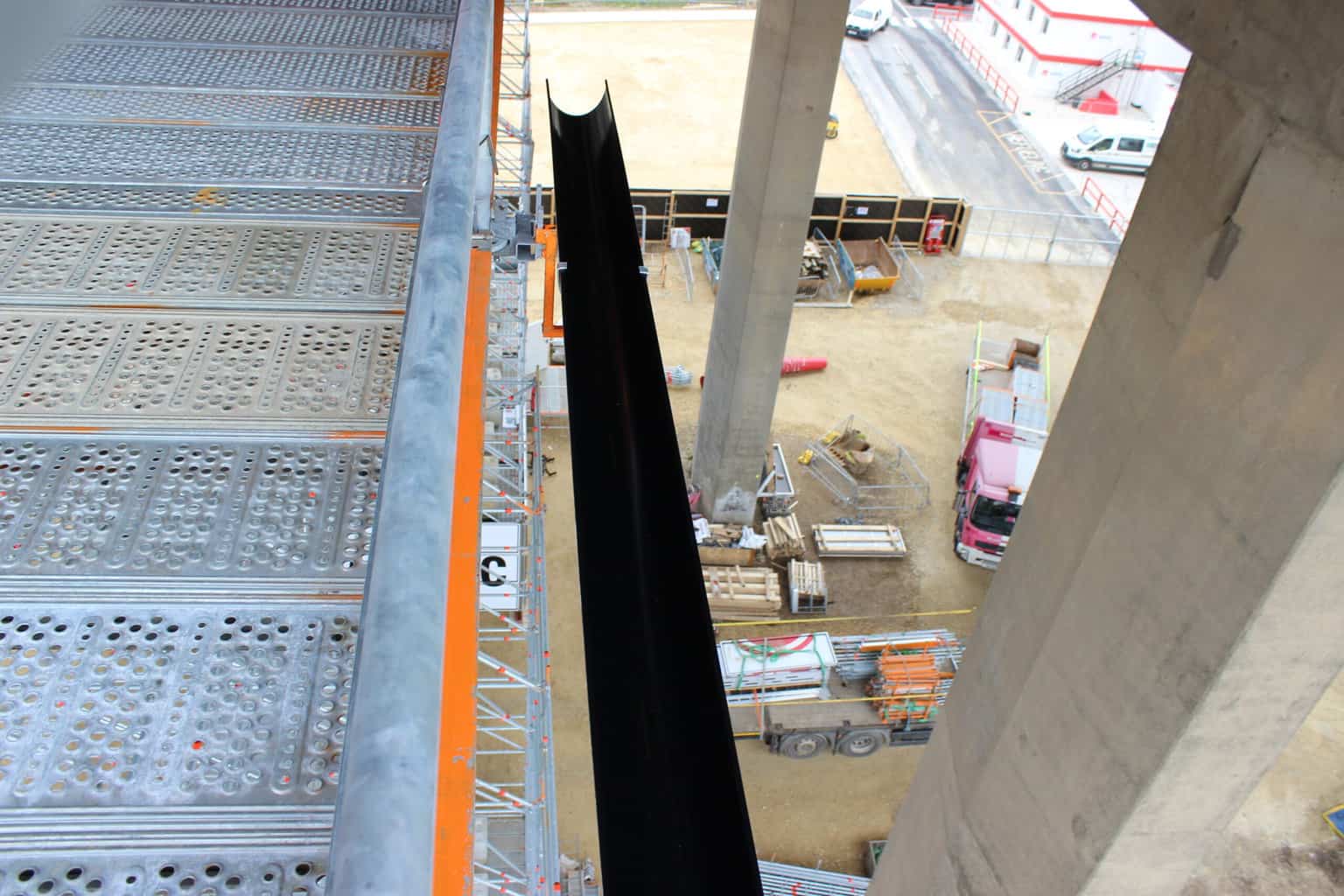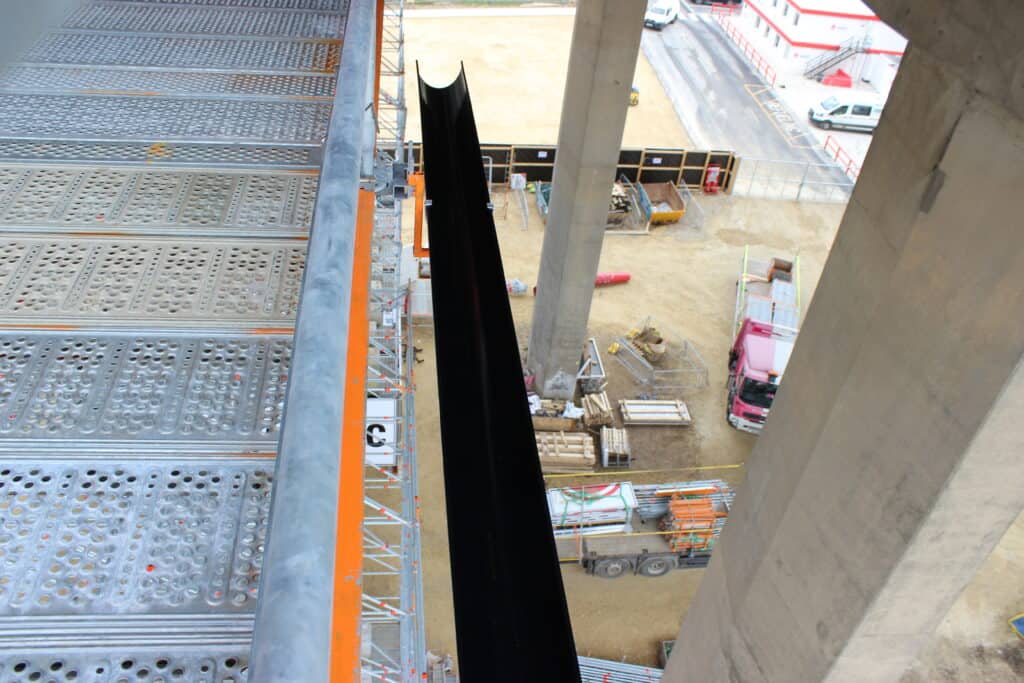 The firm also installed a unique rubber matting on the working platform of both scaffolds, reflecting their innovative approach to problem-solving and a commitment to maintaining the integrity of their work.
Collaboration and Innovation at Its Best
The success of this project was, undoubtedly, the result of the remarkable collaboration between M.R. Scaffolding (Anglia) Ltd, National Highways, Winvic Construction, and Layher Ltd, UK. The bridge's urgent need for repair work saw these teams come together in an effort that seamlessly combined expertise, innovation, and sheer dedication.
For M.R. Scaffolding (Anglia) Ltd, this was their first venture with Winvic Construction, setting the tone for what we hope will be a long-lasting and prosperous relationship. They have unquestionably demonstrated their ability to tackle large, complex, and urgent scaffolding projects with aplomb.
An Engineering Triumph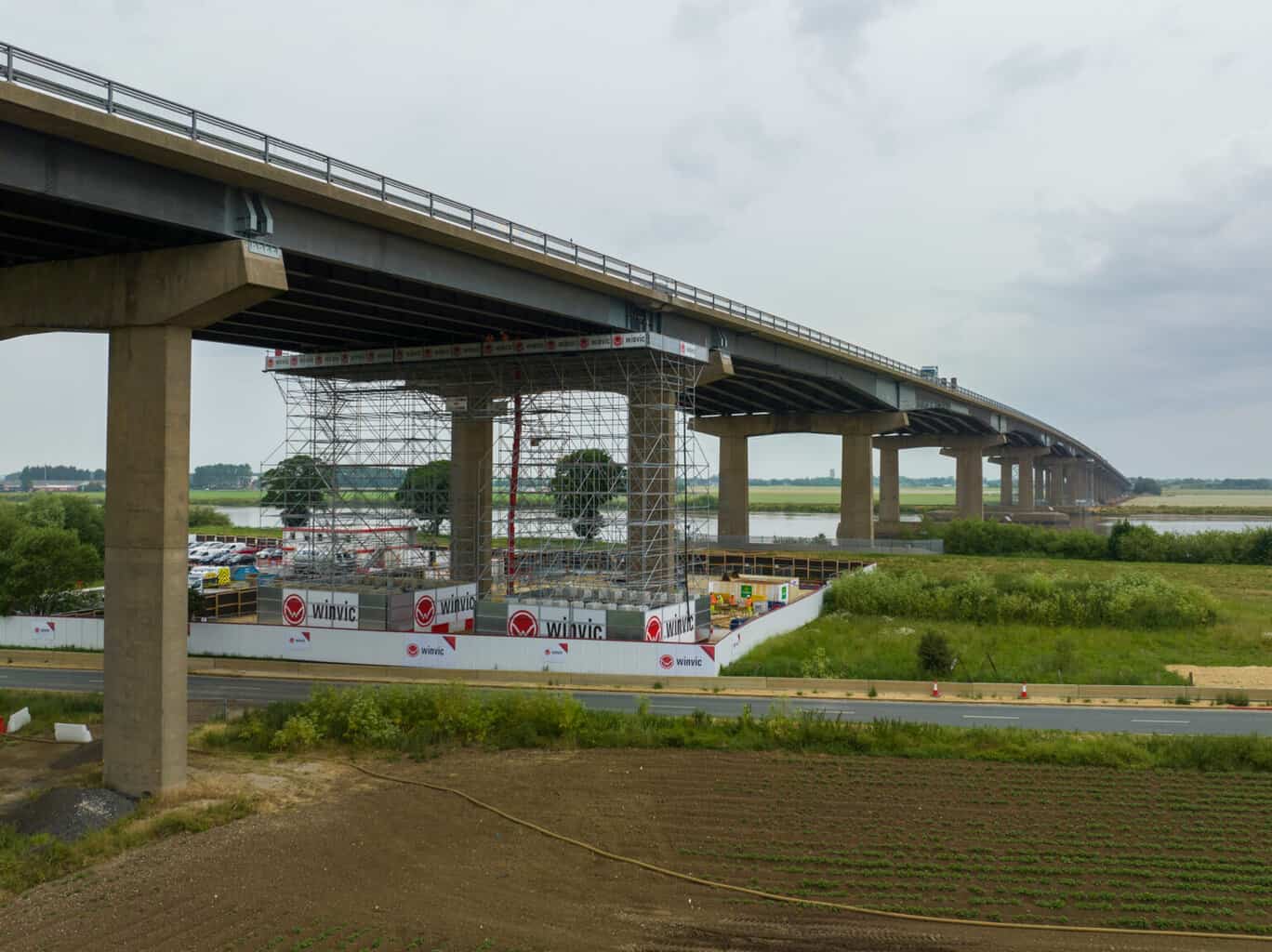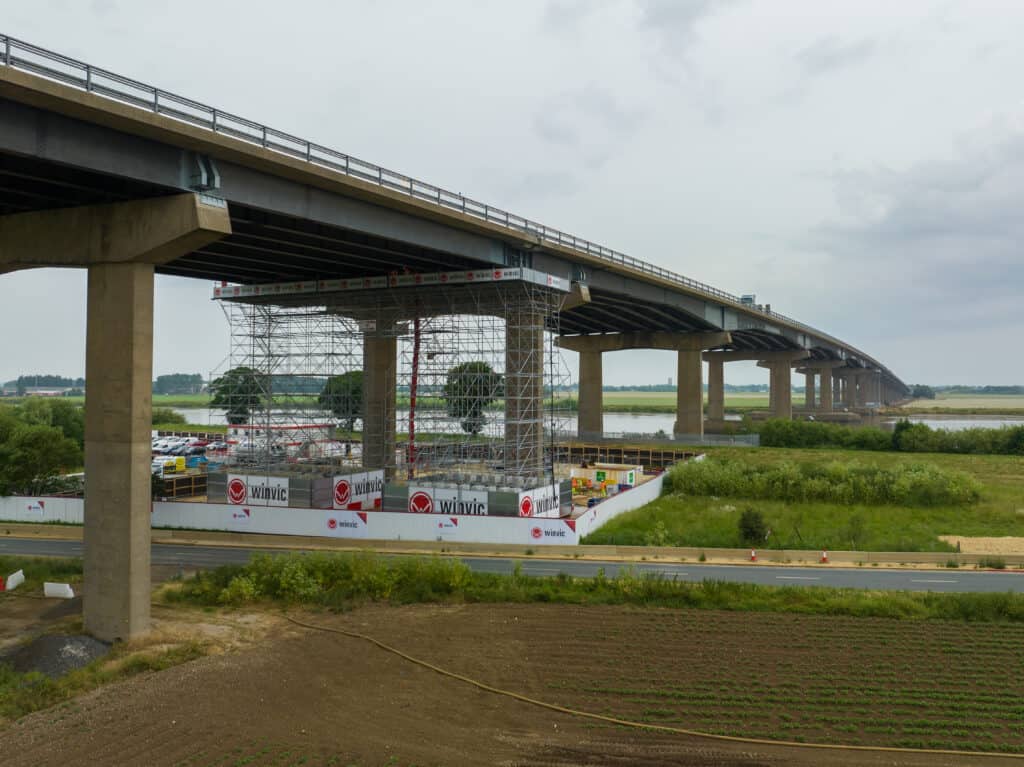 As the dust settles on this monumental project, two things become clear. Firstly, M.R. Scaffolding (Anglia) Ltd has cemented its reputation as a leading scaffolding contractor capable of delivering high-quality solutions under intense pressure. Secondly, Layher Ltd, UK's superior design capabilities and its renowned scaffolding system have shone through, proving once again why they are the leading innovators in their field.
Erected in late March 2023, these massive structures remain as monuments to the collaborative spirit and engineering expertise of all involved.
The M62 Ouse Bridge project stands as a testament to the power of effective collaboration, robust design, and expert execution. And as for M.R. Scaffolding (Anglia) Ltd and Layher Ltd,  UK? They've certainly set the bar high for future endeavours.