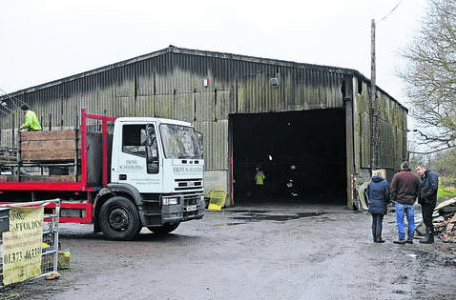 A Wiltshire scaffolding firm is today back in business after a fire partially gutted the firms warehouse
Around 50 firefighters were called to Frome Scaffolding yard in Poplar Tree Lane, Trobridge, Wiltshire, which the company rent from a local farmer, and houses some of their vehicles.
The fire is thought to of started  at about 7pm last night and could of been caused by an electrical fault on a company van which was inside the warehouse.
Arron Morgan, of Frome Scaffolding, told the local paper (thisiswitshire.co.uk): "The emergency services managed to catch it and we've been back to normal today. The lads have done really well this morning and we've shown a great bit of teamwork."
The news agency also reported that: five fire engines and an incident control unit was at the scene with ambulances on standby.
Nobody was injured in the incident but the warehouse was damaged in the fire as was two Frome Scaffolding vans.
Fire crews left the scene at around 11.30pm while fire and police officers are currently investigating the scene to establish how the fire started.