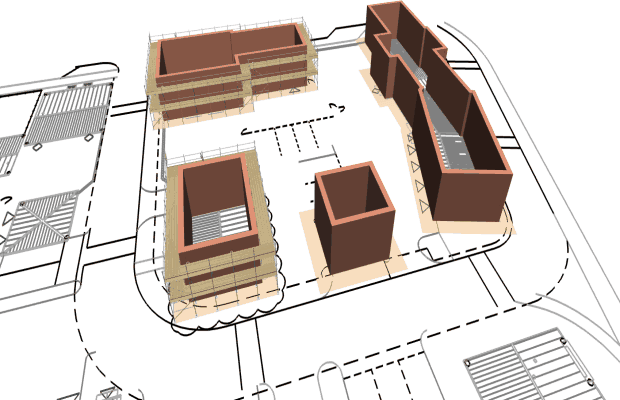 CADS launch latest update to SMART Scaffolder business software with some great new features.
Fresh on the heels of the TG20:13 work undertaken by CADS on behalf of the NASC, their versatile SMART Scaffolder business software continues to grow. The latest update introduces some handy new functionality. SMART Scaffolder v5.3 contains many new exciting features, not least of which is the ability to bring 2D site plans in to the software and with a few clicks model entire scaffolding structures! In addition, with many clients responding to the government drive for BIM adoption, SMART Scaffolder now enables the creation and export of 3D files compatible with software such as Autodesk Revit, Navisworks and structural design and analysis software such as Scia Engineer. BIM stands for Building Information Modelling, the design technology that is sweeping the construction industry by storm! The new BIM Toolbox module helps SMART Scaffolder users share their 3D models with their customers. Users can exploit the increased productivity and improved communication benefits of 3D BIM modelling now; with this powerful fully integrated module for SMART Scaffolder! BIM Toolbox features: Import of 2D Files
Import 2D CAD files in DXF, DWG and PDF file formats.
Quickly position scaffolds over site layouts and existing buildings.
Quickly trace over building outlines helped by a 'Intersection Snap' tool.
Easily manipulate and scale the imported drawing to suit.
Filter out unwanted information by switching off layers and colours.
Export of 3D Files
Provide customers with 3D IFC files they can use in Revit etc.
Export 3D IFC files for import into Structural Engineering software.
If you wish to learn more there is more information including a great video illustrating the import of a 2D site plan and modelling of a scaffold on the SMART Scaffolder website. Just visit www.smartscaffolder.com/bimtoolbox to learn more about BIM, IFC files and BIM Toolbox. CADS is also holding two FREE seminars in June. These will be in Nottingham 11th June and Hull 17th June, with registration open now. For further information contact: Email: [email protected] Tel: 01202 603031 Web: www.smartscaffolder.com