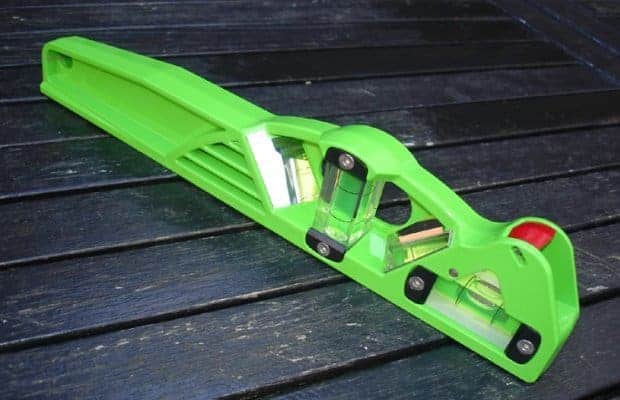 The ProView Dragonfly is the first Product to be launched by X-Pro Tools and it introduces the Multi-Award Winning and Patented Innovation, the 'ProView' Safety Viewing Feature.
Paul A Sparrow, the Inventor, is a Professional UK Tradesman with over 27 years of experience on the tools, where he used 'Spirit Levels' all day every day in his own Trade working as a self-employed Window Fitter on both domestic and commercial installations.
He came up with the idea whilst fitting a Window; without thinking he leaned in to view the bubble on his level and impaled his lower eyelid onto a painted nail sticking out of the Wall.
Coming so close to what could easily have been a very serious life changing incident he immediately realised that having strategically placed mirrors installed into the level would prevent the user from having to get into such awkward and risky positions in the first place.
Also due to the way conventional levels have to be viewed it makes it virtually impossible if the user is wearing a Hard Hat or Glasses. ProView takes that awkwardness out of the product.
The Dragonfly, along with all other X-Pro Spirit Level Designs now incorporate Paul's new ProView Technology, which in this case will provide two extra and unique viewing features.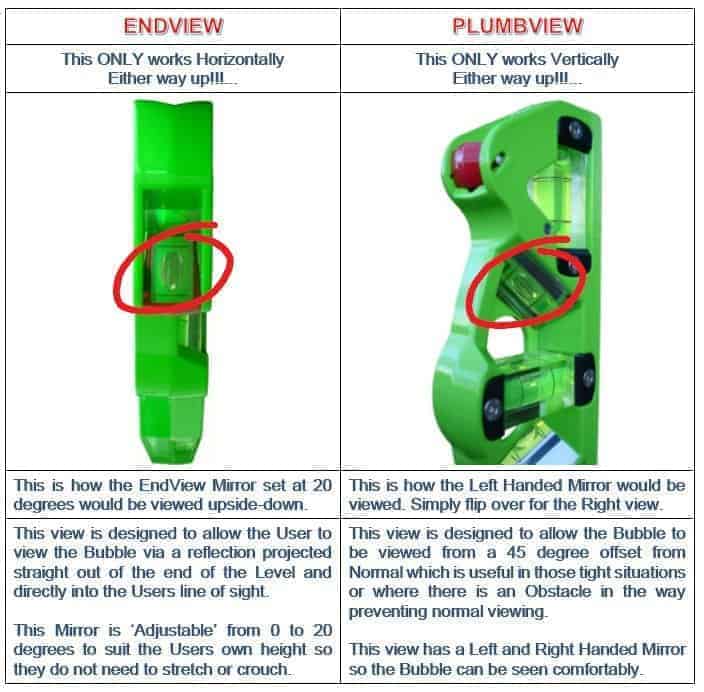 The ProView Dragonfly has been specifically designed for the Scaffolding Industry at the request of Professional Scaffolders that had seen the earlier 'Proof of Concept' CNC Machined ProView Torpedo version at various Tradeshows.
Paul set about designing one and over time received a lot of feedback about what was needed.
It had to have the same accuracy as the traditional Stabila, which although originally designed for Brickies, had also been adopted by the Worldwide Scaffolding Industry.
It had to have High Impact Strength as they often get dropped.
It had to have 2 Powerful Neodymium Magnets so as not to drop off a Tube.
It had to be 250mm long as they are used to measure the drop for lower Handrails.
It had to fit Existing Standard Frogs and have Good Grip in the Wet.
With these points in mind it went through several design iterations before ending up at the Dragonfly design currently being launched, and this design has come about in Consultation with Professional Scaffolders who now have a Level specifically designed for their Trade.
The ProView Dragonfly can be purchased online via our own Website at; www.x-protools.com where it is currently still available at the 'Pre-Order' price of £29.95 + Shipping.
Alternatively it will be going 'Live' in the Toolstation Online Store as of 1st August 2014 where it will be available at the full Retail price of £39.90 + Shipping. At which time the X-Pro website will increase their price to match the Toolstation price.
Follow; www.facebook.com/XProTools and/or @Octopeye on Twitter for more updates.
The first Production Run is just waiting on packaging before being shipped from the factory, so people will get one quicker if they buy from Toolstation as of the 1st August, as shipping normally takes about 6 weeks on the water before reaching a UK Port, so anyone wanting to buy at the reduced price from the X-Pro website will actually have to wait longer to receive it.
As a Personal Note; ProView was actually conceived in 1986 and it was finally filed for 'Patent' in 2006 and since then even having Won the coveted title of British Invention of the Year in 2009, it has constantly been refused funding from all sources approached on the grounds that it always fell outside of their eligibility criteria. Essentially it was stuck in a 'Catch 22'.
The 'Catch22' explained;
Banks and Investors all refuse to lend until a Project can show actual Orders placed for its products (Proof of Income). Buyers demand sight of Actual Production Samples before they can place those Orders (Proof of Quality). This creates the proverbial 'Catch 22' scenario because the Projects need the Funds <> to make the Tooling – to get the Samples the Buyer demands – before they can place the Orders the Bank demands – before providing the Funds (Go back to <>). As you can see, once a Project falls into this trap there is rarely a way out!!!…
As a result in 2013 I resurrected an old 'Fundraising' idea I'd previously had way back in 1993 whilst pursuing another Project, I renamed it BizKit-Tin and asked my Customers to 'Pre-Order' the Dragonfly to help raise the funding needed to put it into production.
Therefore I would especially like to thank everyone that placed a 'Pre-Order' via BizKit-Tin for their support as without them this great project may never have seen the light of day!..
Thank you!!!… Paul A Sparrow. Founder of 4octopus.com and Inventor of ProView.
NOTE; (It has recently come to light that this 1993 Fundraising Project may potentially be the first 'Recorded' Modern Day Crowdfunding Project (As we now know them) to exist.