TRAD Hire & Sales Ltd held a second, highly successful open day at their Birmingham Depot, showcasing their PLETTAC METRIX Scaffold System and the ALTRIX Temporary Roof System.
Commencing with a thought-provoking indoor presentation by John Paterson, TRAD Hire & Sales' Managing Director, the guests were introduced to the two systems' main features and benefits.
The indoor presentation was followed by an outside live demonstration by TRAD Hire & Sales' Technical Manager, Alan Slater, which displayed to all in attendance how quick, safe and highly adaptable both systems are.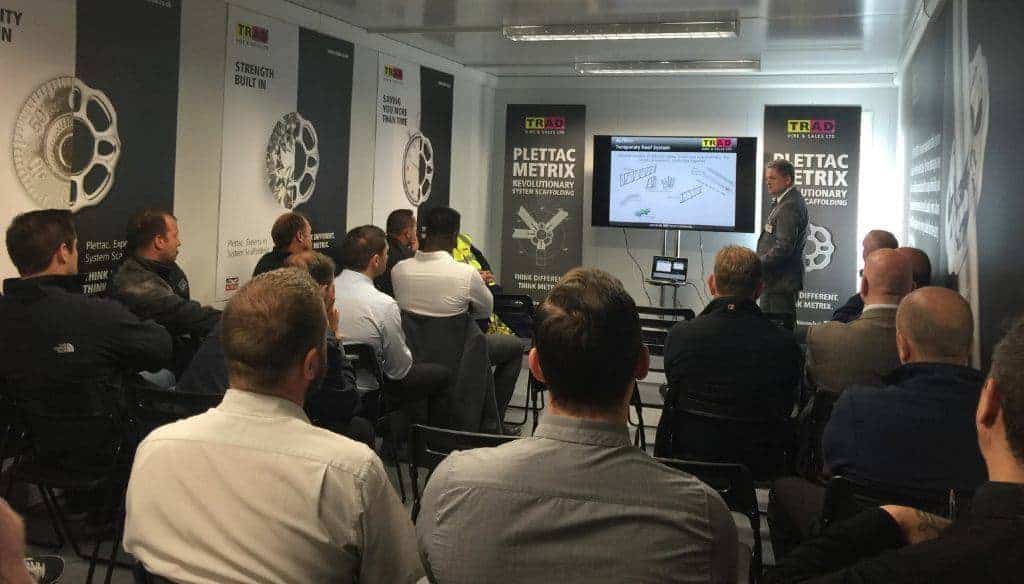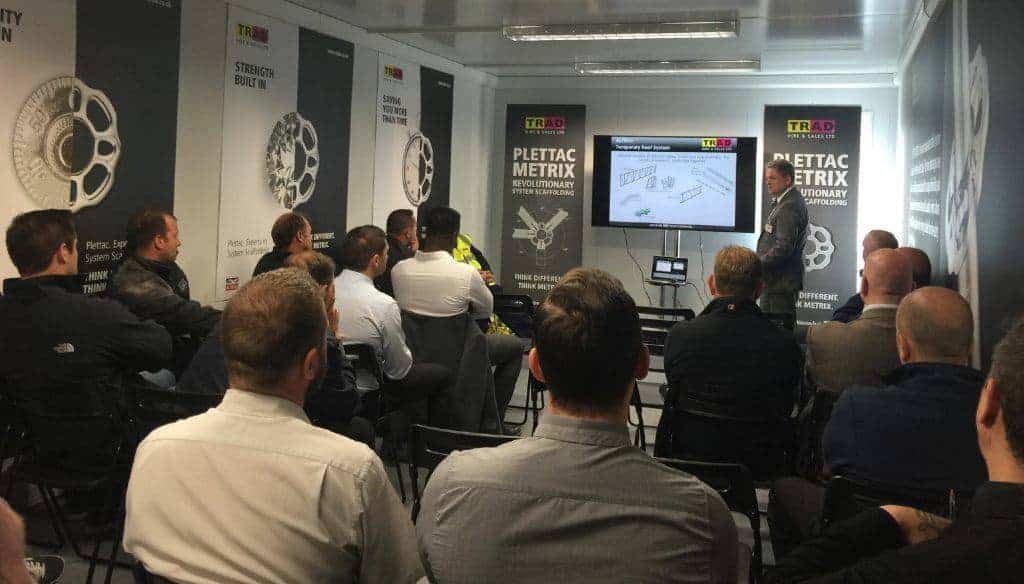 In comparison to other scaffold systems and tube & fitting, the attendees could appreciate the advantages PLETTAC METRIX holds. The versatility, time saving and excellent safety features, such as the optional Permanent Advanced Guardrail makes this scaffold system second to none.
The new ALTRIX Temporary Roof System is suitable for use with all scaffold types, and offers unrivalled weather protection solutions. The lightweight, strong all-aluminium construction, along with simple but effective, colour-coding and Push-Fit technology, enables small or large weather-proofed areas to be constructed safely, quickly and with ease.
"…more than just a roof…"  The ALTRIX system has been designed with stock utilisation in mind. Its components can be employed in other scaffolding applications, such as bridging sections within independent scaffolds, or in the forming of large flush decked areas in conjunction with the PLETTAC METRIX system.
The open day came to a close with a Q & A session with Des Moore, TRAD Group's Managing Director, which covered a wide range of topics including how the use of PLETTAC METRIX and ALTRIX have provided commercial benefits to the TRAD Group's business model.
Book your place today at one of TRAD's Open Days.
To be one of the first to experience the cost saving benefits of TRAD Hire & Sales' new products, book your place at one of their upcoming open days – places are limited, so book now on 0845 899 0845 or email [email protected].
About TRAD Hire & Sales
TRAD Hire & Sales is the UK market leader in scaffold supplies; with Plettac METRIX and the ALTRIX Temporary Roofing System being the newest additions to their extensive product range, which also includes traditional scaffolding tube, fittings and boards, Tradlok, Tradstage and Trad Stair Tower.
For further information on service and products please call 0845 899 0845 and speak to one of our nationwide Sales Team.