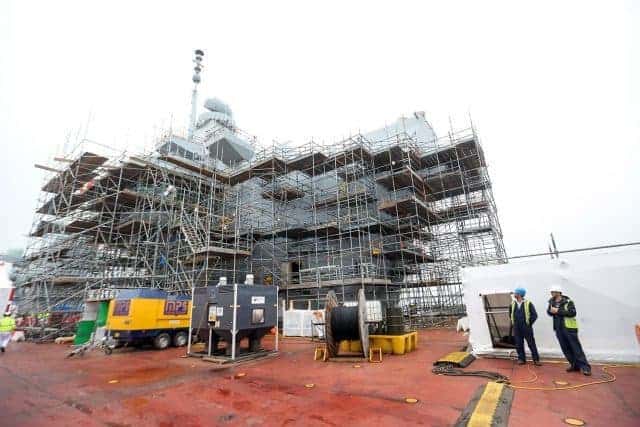 A top UK scaffolding company has won praise for its 100 per cent delivery of services and materials to Britain's new aircraft carrier, the HMS Queen Elizabeth.
Generation, based in the West Midlands was the primary access and scaffolding supplier for the huge project involving the MOD and a number of carefully chosen contractors. The global company provided partners, the Ship Support Services, a joint venture between Pyeroy (WGIS) and Cape Industrial Services, with more than 5,500 tons of scaffolding equipment.
Generation made more than 4,000 deliveries including a range of Aluminium products and their Genlok System Scaffold, supplying more than a million pieces of scaffolding and 14.5 million feet of scaffolding tube. This was all possible thanks to their outstanding haulage fleet. Laid end to end it reached 2,718 miles, the same as travelling from Land's End to John O'Groats three times.
The sheer scale and complexity of the operation required great discipline and organisation. Generation had the largest supply of European Standard compliant scaffolding hire and sale stock, combined with its UK wide branch and distribution network. This meant the firm could guarantee a constant supply of scaffold to the four main build and assembly yards.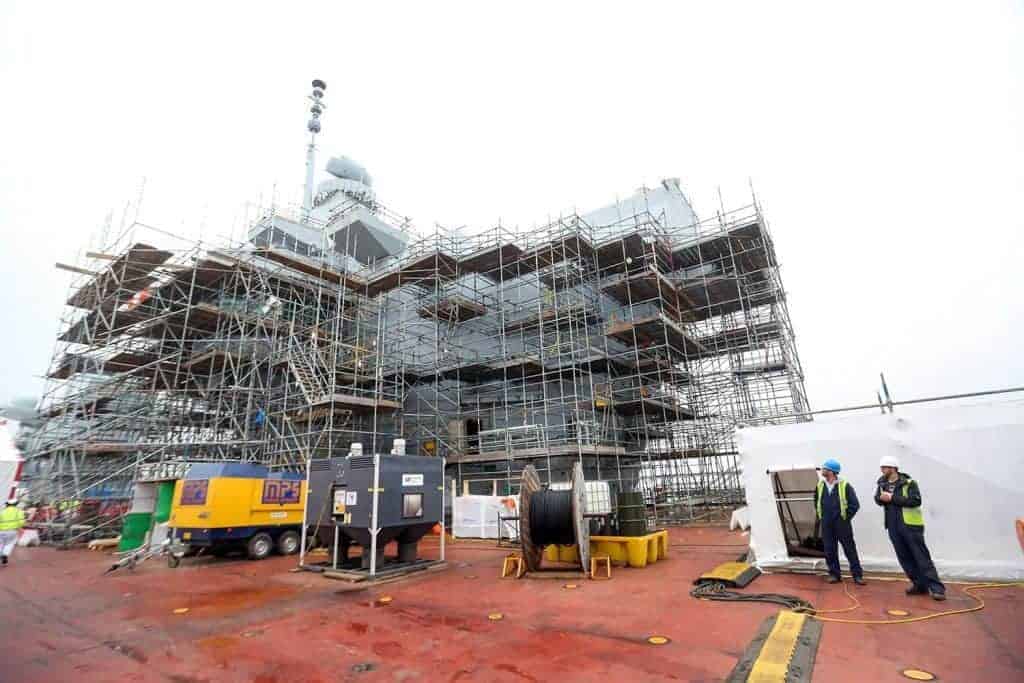 It simply wasn't possible to construct the ship in one yard, so six modules were built across Glasgow, Appledore in Devon, Hebburn in Tyneside, Birkenhead in Merseyside, and Portsmouth before  everything was assembled and completed at Rosyth in Fife. It is hard to understand the scale of the Super-carrier unless at close quarters.
The HMS Queen Elizabeth is longer than the Houses of Parliament and taller than Niagara Falls. Inside the ship, specially designed hand-held navigation devices help crew and workers find their way around. This state of the art cutting edge super-carrier, the UK's first,  set sale from Rosyth for the start of sea-trials on the 26th June. Because of the efficiency displayed by Generation, partners lost no time through a lack of the correct access and scaffold equipment being available.
With a complex supply-chain none of this would have been possible without the full commitment of everyone involved.  A company spokesperson said: "It has been a privilege to be part of the construction of the back bone of our Nation's naval force for years to come. We wish the crew the best of British as they set sail."
It's also proof British scaffolding is the best in the world, generating success for the industry here in the UK.