Scaffolding is now visible as a three-year programme of essential works to conserve the Elizabeth Tower, the Great Clock and the Great Bell, also known as Big Ben gets underway.
Over the next three to six months scaffolding will continue to creep up the UK's most famous clock tower. In a carefully planned program of works in consultation with Historic England, The scaffold will reach a height of 96 meters to enable access for contractors to carry out essential external works lasting three years.
The scaffolding will be progressively dismantled from the top, and at least one clock face will be on show at all times.
Extensive conservation works was last carried out on the 160-year old tower more than 30 years ago between 1983 – 1985, significant work and an investment of £29m is now required to ensure it remains in good condition and is safeguarded for future generations.
Steve Jaggs, Keeper of the Clock, said: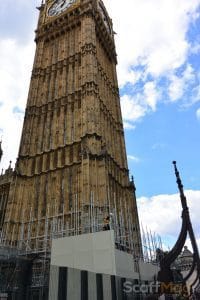 "This historic clock is loved by so many people. It is both an honour and a great responsibility to keep it in good working order for public enjoyment. Every day our team of highly skilled clock mechanics cares for this Victorian masterpiece but, in order to keep the Clock ticking, we must now take the time to thoroughly inspect and restore it.
These essential works balance value for money with Parliament's custodial responsibility to the building as well as to those visiting and working in the Elizabeth Tower. This project will enable us to give one of Britain's most famous landmarks the TLC it so desperately needs and deserves."