From strength to strength, JECS triples its turnover year on year.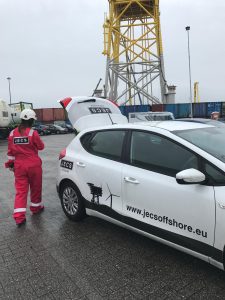 JECS Offshore Services supply Scaffolding Services Solely to the European Offshore Wind Industry – Exclusively. Since the companies formation in 2014 by mother of four children Latasha Whiting, the firms founder and current Managing Director, the business has managed to triple its turnover each year to a staggering $1.6m turnover in its third year whilst only trading for 4 months of their first financial year.
Even more surprising is the fact that every single client of JECS Offshore to date is so large that every one of their clients is listed on a Major Stock Exchange somewhere in the world.
JECS Offshore Scaffolding Ltd has over the past 3 years been supplying Scaffolding Access Services solely to the Developers and Contractors involved in the construction of Offshore Wind Farms across 5 European Countries. The firm were Finalists of CN Specialist Awards for Access & Scaffolding Contractor of 2017 and are in the final again for 2018, SKY TV are also currently filming their operations for a documentary regarding British Business to be aired next year.
JECS say that the reputation that the business has gained within the European Offshore Wind Industry has obviously built up momentum due to the companies amazing success. The company currently has European Framework Agreements with Corporations such as E-ON, ENGIE & EIFFAGE and has now grown to have locations in the UK, Germany as well as Spain.
JECS Offshore Scaffolding LTD Managing Director, Latasha Whiting said: "We have been extremely successful as a business which took the massive risk of throwing all our eggs in one basket, so to speak. We decided to place 100% of our focus and attention into this particular Industry offering a service which was indeed a niche market, and it paid off! We offered a service that our competition couldn't, Believing that Scaffolding or Access requirements were often overlooked by contractors who were more focused on their task of fitting a cable worth $5m, we offered our services 24/7, with immediate response at any hour, our assumptions were correct and the calls kept coming and with our ability and motivation to mobilize immediately our company grew along with our reputation.
Considering that we started with a extremely small fund of $5k, I am extremely pleased with our success to date and try and share our success as much as possible. JECS Offshore contribute as much as possible to local charities that are close to our hearts and sponsor a few local youth sports teams, we also invest heavily in the training of individuals who are having trouble seeking employment but who we believe will be an asset to our company for the future."
JECS also added that already have plans in place to extend on its range of services offered to the Industry that they have focused so much on.