As dramatic as it is innovative, the scaffolding access installed during the renovation of Lindisfarne Castle in the north east of England is impressive by any measure. It is also a demonstration of the benefits associated with Layher's modular scaffolding system and the skills of contractor John Laidlaw and Sons Ltd.
The need to address a long history of water ingress related issues – the structure, which in part dates back to the 1400's, sits at the end of a tidal causeway some three miles from the mainland – was clear-cut. With the focus on conservation works to stonework, windows and roofing, this major project has been designed both to halt further damage and to secure the building's long-term future.
"The work presented a series of challenges which have seen Layher's on-site support services and our own design team combining to fulfil specific objectives, not least to provide access to virtually every part of the external structure for the specialist conservation teams," says Alan Laidlaw, Managing Director at John Laidlaw and Sons, who were appointed by main contractor Datim Building Contractors, working for The National Trust, which cares for Lindisfarne Castle.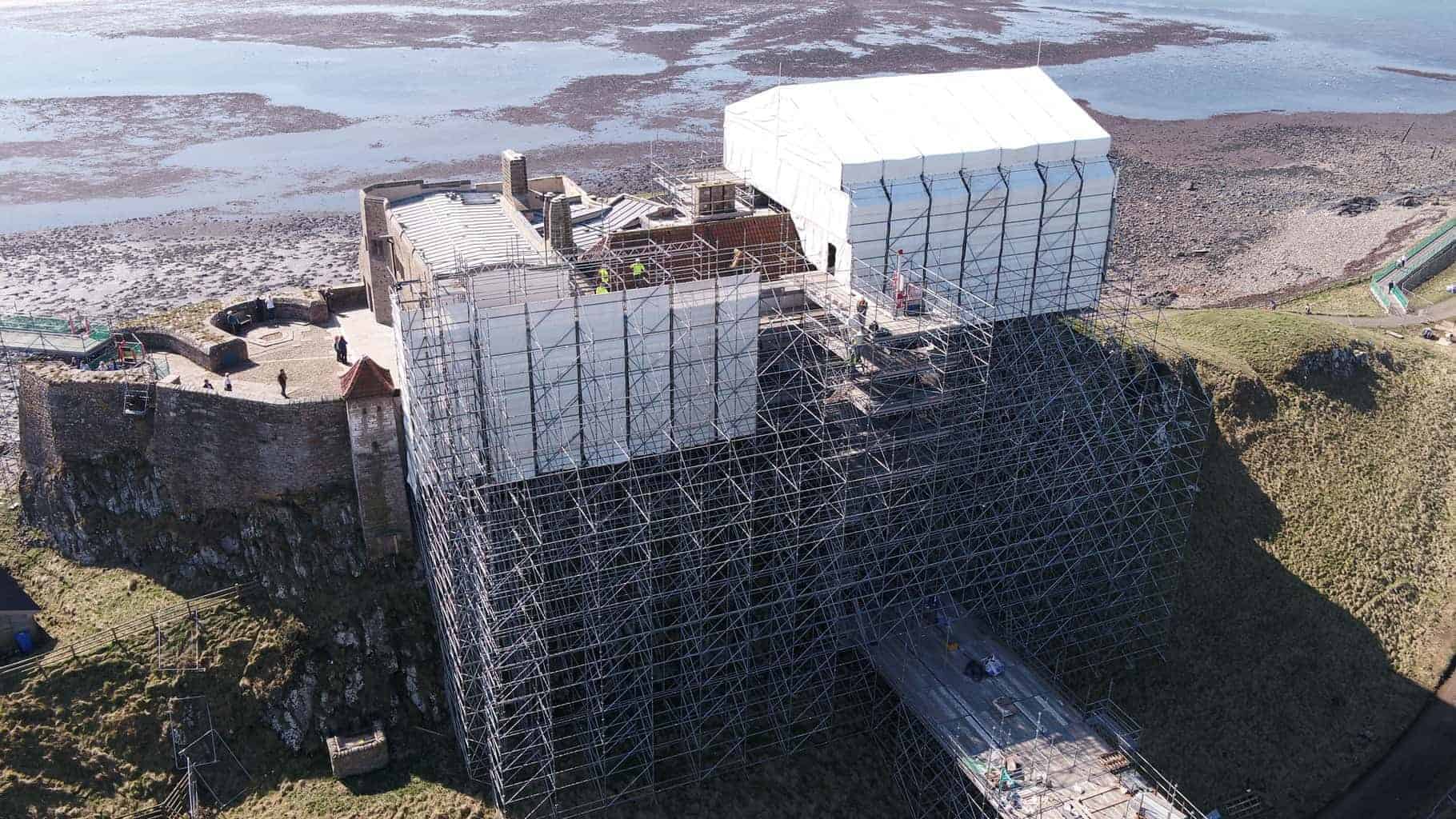 The three-phase programme is scheduled to run over a period of some 18 months. Sitting high on a volcanic extrusion, it is characterised by a steep south-facing cliff-face against the North Sea with a further slope on its northern side. This variation in terrain had to be reflected by the scaffolding designs, as Alan Laidlaw continues –
"We were unable to tie-in into the cliff-face as this would have caused permanent damage to the rock so we used a combination of buttresses and kentledge," he says. "This allowed us to build a firm base to a height of 24 metres up to the walls of the castle itself upon which the access lifts could then be erected. On the opposite side, we pushed the scaffold further back from the walls to provide sufficient room for an installation that sloped gradually upwards towards the castle. Again, buttresses were used."
The latter face is also adjacent to the access road along which scaffolding components were transported. With no crane access possible, the lightweight design of Layher's Allround systems proved highly beneficial as components were manually loaded on to two platforms, positioned at key locations in the structure. Layher's staircase systems were also used to simplify worker access and movement around the fully decked scaffold design.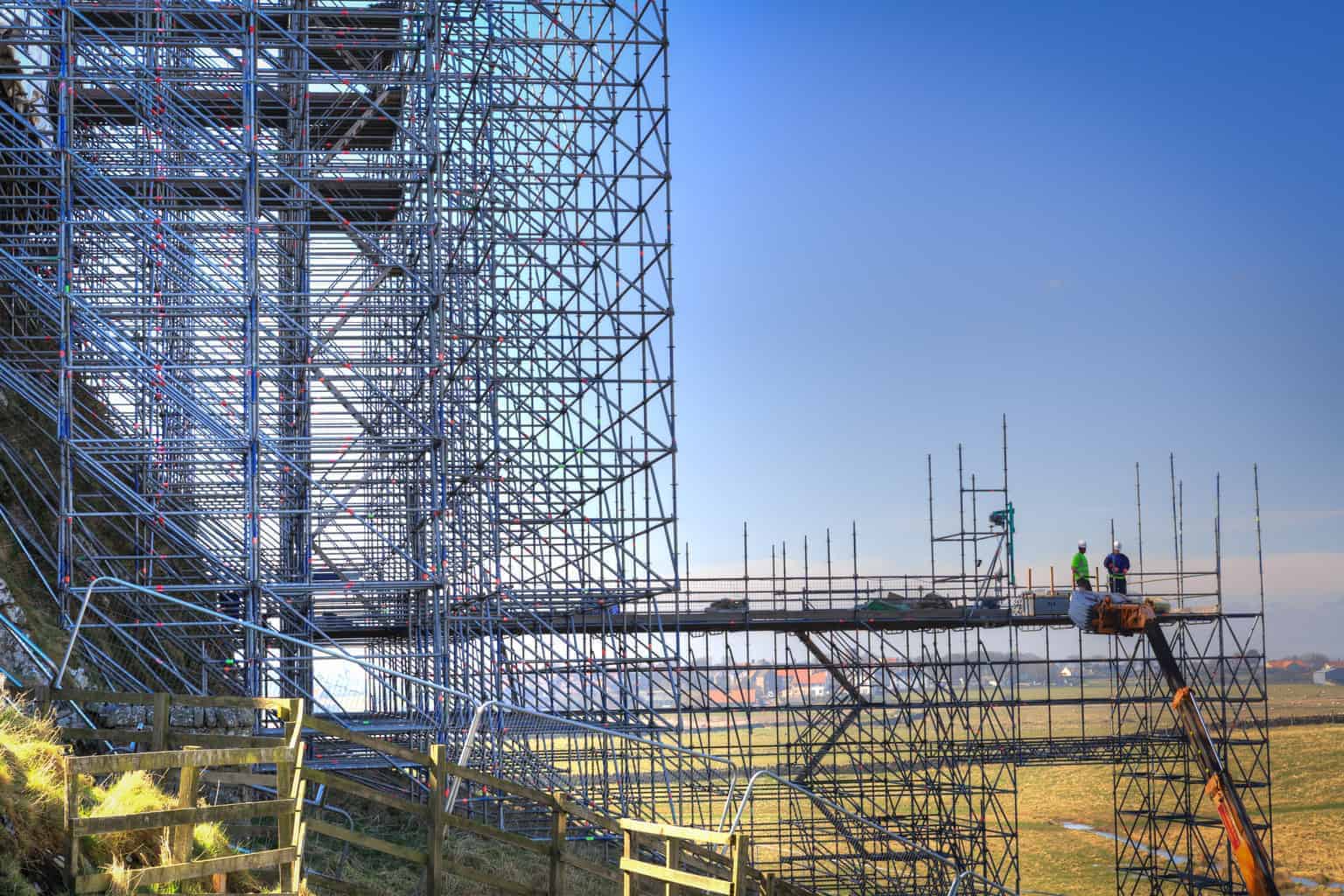 "This is a highly impressive installation and we are delighted to have contributed to the majority of the access scaffolding solution," says Sean Pike, Layher's UK Managing Director. "Our temporary roofing system has also been a key part of the project. With a span of almost 19 metres and a length of 40 metres, the Keder Classic roof was designed in a rolling configuration in phase one and then fixed in position for the remaining two phases." He points out that the company's equipment was also used to create a temporary viewing platform for public use within the castle grounds.
With tidal issues to accommodate and inclement weather for much of the project period – wind speeds could vary by 40mph between the ground and the temporary roof some 48 metres higher – the Lindisfarne restoration work pays credit to all concerned. During the winter, the high level site weather station recorded winds in excess of 90 miles per hour. At one time a military fort before becoming a somewhat unique holiday home and now cared for by The National Trust, it has a long, varied and dramatic history.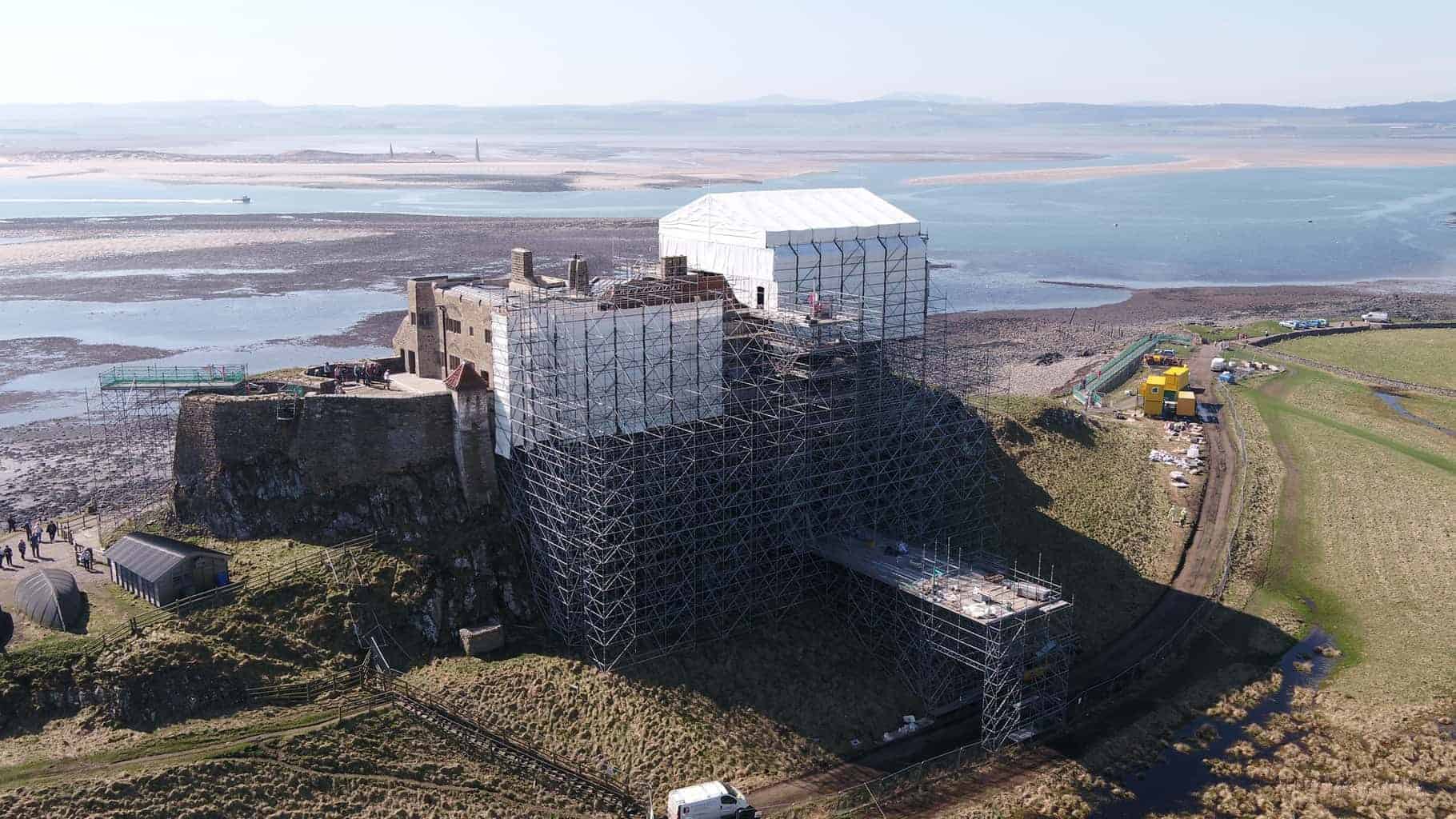 "It is an important part of both local and national heritage, and one that is now gaining from the combination of our own installation skills and Layher's scaffold systems which, in my opinion, fully prove their versatility and quality with a project such as this," concludes Alan Laidlaw.